CoreLogic: Annual Home Price Growth Hits 18% in September as Supply/Demand Imbalances Intensify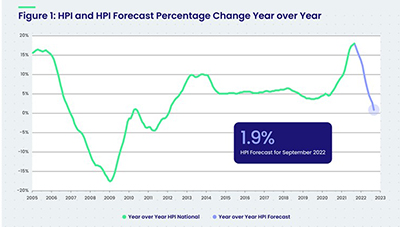 Demand for homebuying remained strong in September, said CoreLogic, Irvine, Calif., with limited housing supply creating challenges for those looking for homes.
The monthly CoreLogic Home Price Index said ongoing housing supply shortages continued to drive up prices, which increased by 18% year over year in September to record highs. In turn, said CoreLogic Chief Economist Frank Nothaft, this created additional challenges for entry into the homebuying market. High demand and low supply levels for entry-level homes, in particular, are sidelining many would-be first-time buyers.
The report said as millennials continue to make up a large part of homebuying demand and flock to tech hubs such as Seattle; San Jose, California and Austin, Texas, the challenges could intensify challenge intensify. A recent CoreLogic consumer survey said 47.9% of this cohort said they cannot afford to purchase a home in their preferred area.
"The pandemic led prospective buyers to seek detached homes in communities with lower population density, such as suburbs and exurbs," said Frank Martell, president and CEO of CoreLogic. "As we head into 2022, we expect some moderation in the current pattern of flight away from urban cores as the pandemic wanes."
Other report findings:
• Nationally, home prices increased 18% in September from a year ago. On a month-over-month basis, home prices increased by 1.1% from August.
• Appreciation of detached properties (19.6%) was 7.4 percentage points higher than that of attached properties (12.2%).
• Home price gains are projected to slow to a 1.9% increase by September 2022, as ongoing affordability challenges deter some potential buyers.
• Home prices continued to rise sharply in Twin Falls, Idaho, which logged the highest year-over-year increase at 36.3%. For the first time since May, Michigan City, Ind., outpaced Bend, Ore., to claim the second-highest ranking for home price gains at 35.5% year over year.
• At the state level, the Mountain West continued to dominate the top spots, with Idaho and Arizona showing strongest price growth at 30.1% and 29.6%, respectively, with Utah third at 26.2%.
"Remote work has allowed many employees to buy homes further away from their office," Nothaft said. "These homes are often in the suburbs or exurbs, where property prices and population density are lower and single-family detached housing more common."