Home Prices Up For Now; Analysts See Slowdown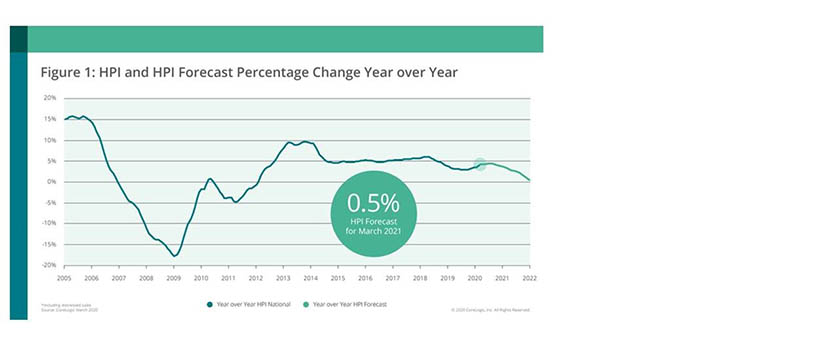 Two new home price reports speak to the new sense of volatility caused by the coronavirus pandemic.
CoreLogic, Irvine, Calif., released its Home Price Index this morning, showing home prices increased annually by 4.5 percent through March; month over month, prices increased by 1.3 percent from February. But over the next year, home price appreciation is expected to slow to just 0.5 percent.
A separate report from Zillow Inc, Seattle, predicts a 2-3 percent drop in home prices amid softening home buyer demand, although it says home price appreciation will recover by 2021.
CoreLogic noted closed home sales fell 26% in the last two weeks of March as the economy "officially" entered a recession. Following the spike in homebuying activity in the first two months of 2020, home price growth continued to accelerate in March,
The report said increased homes sales in January and February accounts for the sustained acceleration of home prices seen in the March HPI. According to the CoreLogic Market Condition Indicators, an analysis of housing values in the country's 50 largest metropolitan areas based on housing stock, 36% of metropolitan areas had an overvalued housing market in March, while 28% were undervalued and 36% were at value.
"Home prices for March reflect transactions negotiated primarily in the previous two months, prior to the implementation of the shelter-in-place policies. Rapid decline of purchase activity starting in the middle of March can be seen in other CoreLogic data and is consistent with our HPI forecast of slowing price growth in April," said CoreLogic Chief Economist Frank Nothaft. "The first quarter GDP results showed that the country entered a recession in March. Unemployment claims have reached record highs and this economic environment will further impact the housing market into the foreseeable future."
Looking ahead, the CoreLogic HPI Forecast suggested annual price growth will slow to 0.5% through March 2021, with a month-over-month increase of 0.6% between March and April. It said shifts in the housing market and economy in light of COVID-19 suggests in the coming weeks, homebuying activity will likely continue to be tempered by unemployment and recommended ongoing social distancing practices. "We can expect to see home price growth slow drastically in response to this declining demand, with the HPI Forecast predicting less than 1% annual increase in home prices by March 2021," the forecast said.
"Although the economic fallout from lockdown orders, put in place to fight the spread of COVID-19, will be profound, the basic supports for a rebound in home purchase activity remain in place," said CoreLogic President and CEO Fran Martell. "Once the shelter-in-place policies are lifted, we expect millennials, who submitted home-purchase applications well into the crisis, to lead the way back to a positive, purchase-driven housing cycle."
That would appear to be Zillow's conclusion as well. It predicted transactions to fall by up to 60% this spring, then steadily tick back up, with a rebound by the end of 2021.
Zillow said buyer demand and healthy housing-market dynamics should prevent U.S. home prices from dropping more than 1.7 percent year over year in the wake of the coronavirus.
"The recovery is likely to look like a checkmark, with transactions building at a pace of about 10% each month through the end of 2021," said Zillow Chief Economist Svenja Gudell.
Until March, Zillow said. spring was expected to be the hottest home shopping season in years, with record-low inventory and interest rates, and high buyer demand fueled by ongoing demographic trends, such as an ever-growing share of millennials entering prime first-time homebuyer age. "Those underlying dynamics still exist to fuel the recovery — already new listings and pending sales have ticked up, as well as increasing adoption of tech tools to enable social distancing — and others provide resilience against the potential for widespread distressed sales," Zillow said. "So the effect on prices will be modest compared to the nearly 25% drop and five-year recovery that defined the housing-led Great Recession."
"Much uncertainty still exists, particularly with some states beginning to reopen and experts warning of a possible second wave of the coronavirus in the fall. However, housing fundamentals are strong — much more so than they were leading into the Great Recession — and that bodes well for housing in general," Gudell said. "Despite the difficulties, we're seeing several signs that there is still a good amount of demand for housing, and buyers, sellers and agents are growing more comfortable moving transactions forward where possible. For those who need to sell, buyers are out there, and there are ways to embrace technology and practice social distancing to ensure a safe process."