MBA Chart of the Week: Loans in Forbearance as Percent Share of Servicing Portfolios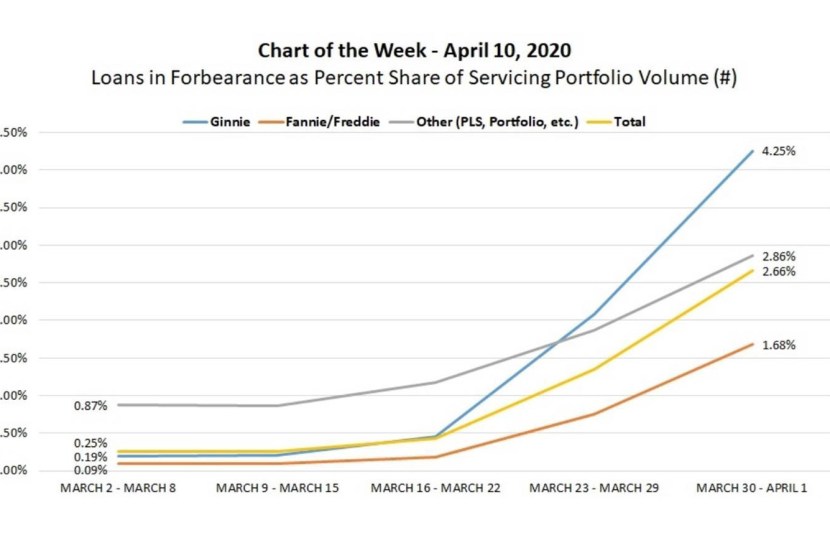 Source: MBA Forbearance and Call Volume Survey.
New survey findings released by MBA this week highlight the unprecedented, widespread mortgage forbearance already requested by borrowers affected by the spread of the coronavirus (COVID-19).
According to MBA's Forbearance and Call Volume Survey, the total number of loans in forbearance grew from 0.25% to 2.66% among companies that provided data for the entire period from March 2 to April 1. Mortgages backed by Ginnie Mae saw the largest growth, escalating from 0.19% to 4.25%.
The results reflect an increase in the number of forbearance requests from borrowers since the onset of COVID-19 and the passage of the CARES Act. Forbearance requests grew by 1,270% between the weeks of March 2 through March 16, and another 1,896% between the weeks of March 16 through March 30.
The survey, initiated the week of April 1, covers data on 22.4 million loans serviced as of April 1 and represents nearly 45 percent of the first mortgage servicing market. Going forward, the survey will follow a Monday through Sunday cadence; the next cycle's results will reflect data through April 5. To participate in this weekly survey, please contact MBA Research.
Marina Walsh mwalsh@mba.org; Jenny Masoud jmasoud@mba.org; Jon Penniman jpenniman@mba.org.