Industry Briefs Apr. 14, 2023: FHA Extends COVID-19 Forbearance, HECM Extension Policies through May 31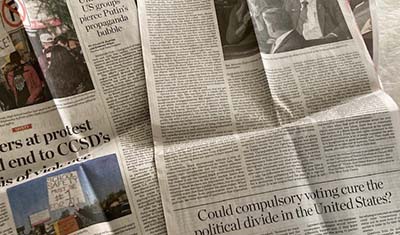 FHA Extends COVID-19 Forbearance, HECM Extension Policies through May 31
The Federal Housing Administration published Mortgagee Letter 2023-08: Extension for COVID-19 Forbearance and COVID-19 Home Equity Conversion Mortgage Extensions, setting May 31 as the final date for borrowers requesting a COVID-19 forbearance or a COVID-19 Home Equity Conversion Mortgage Extension.
FHA said this gives borrowers with FHA-insured mortgages who need assistance additional time to request forbearance or a HECM extension. It also provides mortgagees with additional time to offer and process these requests.
MCTlive! Lock Volume Indices: Purchase Lock Activity Up 23% from February
Mortgage Capital Trading Inc., San Diego, issued its MCTlive! Lock Volume Indices for March, showing after a downward trend in February, lock volume increased across the board for the month.
Purchase lock activity was up 23% compared to February, rate/term refinance volume was up 39%, and cash-out refinance volume was up 28%. Lock activity in total was up 24% versus February. The fall of Silicon Valley Bank and the expectation of the fed to ease rate hikes resulted in a modest drop in mortgage rates in March. "As the fed reaches for its terminal fed funds rate and we begin moving into the spring, we should see the [effect] on purchase activity," the report said. "As it stands, total lock activity is still down 32% from a year ago."
FHFA to Host May 19 Appraisal Subcommittee Hearing on Appraisal Bias
The Federal Housing Finance Agency will host the Appraisal Subcommittee on Friday, May 19, for its second public hearing on appraisal bias in coordination with ASC member agencies. The intent of this hearing is to explore the current regulatory framework for the appraisal industry by focusing on appraisal standards, appraiser qualification criteria, barriers to entry into the profession, and appraisal practices.
The hearing will take place from 10:00 a.m. – 1:00 p.m. ET at FHFA Headquarters, 400 7th St S.W., Washington, D.C 20219, and requires advanced registration. It will also be live streamed and recorded for those who cannot attend in person. More information can be found at https://www.eventbrite.com/e/appraisal-subcommittee-hearing-on-appraisal-bias-registration-607544701557.
Black Knight Originations Market Monitor: Rate Lock Volumes Jump 43% in March
Black Knight Inc., Jacksonville, Fla., released its monthly Originations Market Monitor report, showing overall rate lock dollar volume up 43% over February, with purchase locks rising 44%, cash-out refinances up 31% and even rate/term refis, which had been hovering near historic lows, up 36%. Despite the rebound, refinance locks fell to just 13% of the month's activity, a new low for this cycle, due to the disproportionate rise in purchase locks.
"This continues to be an incredibly rate-sensitive housing market, and March's rate lock activity perfectly illustrates this dynamic," said Andy Walden, vice president of enterprise research at Black Knight. "Early in the month, when rates started their climb back toward 7% – reaching 6.8% in the process – we saw pronounced downward pressure on originations. In the wake of uncertainty in the banking sector and investors' flight to the safe haven of U.S. Treasuries, rates came down roughly a quarter of a point. The result? Another quick surge in originations, particularly in the purchase market."
Lodestar, FeeWise Integration to Streamline Disclosure Process for Lenders, TPOs
LodeStar Software Solutions, Philadelphia, announced an integration between its closing fee calculator and MortgageCTO's FeeWise disclosure platform.
The integration will provide mortgage lenders with access to LodeStar's Closing Cost Calculator within FeeWise, a platform that enables loan officers and brokers to safely self-serve disclosure package generation and consumer delivery. FeeWise is accessible from a lender's Point-of-Sale and Loan Origination System. The integration will streamline and accelerate generation and delivery of the Loan Estimate disclosure.
SOC 1, SOC 2 Reports Affirm Dovenmuehle's Mortgage Subservicing Operations
Dovenmuehle Mortgage Inc., Lake Zurich, Ill., announced public accounting and business advisory firm Plante Moran PLLC completed an annual review of Dovenmuehle's subservicing operations and published its findings via Service Organization Control (SOC) 1 Type 2 and SOC 2 Type 2 reports.
The new SOC 1 and SOC 2 reports affirm that Dovenmuehle has appropriate internal systems, organization and information security controls for financial reporting and to protect clients' confidential data based on the specific requirements of these independent third-party reviews. The SOC 1 Type 2 report covers Dovenmuehle's internal controls related to financial reporting. The SOC 2 Type 2 report examines the security, availability and confidentiality relevant to the company's subservicing operations,
MMI Expands Real Estate Data Analytics Capabilities
Mobility Market Intelligence, Salt Lake City, Utah, launched its Custom Dashboard Hub and expanded the business intelligence tools available on its platform, increasing users' ability and ease in developing strategy, recruiting, nurturing talent and discovering new opportunities.
The expanded dashboard capabilities will allow users to: analyze the market to find hidden pockets of opportunity and gain a competitive advantage at a local market level; delve deeper into their organization's existing data to uncover hidden trends; align sales strategies with overall business goals, including affordable lending initiatives; determine where to adjust pricing to maximize performance in a particular metropolitan statistical area; develop business development and/or operational strategies using current market data; recruit using up-to-date production metrics; provide quantitative feedback on loan originator (LO) performance; and identify top overall growth opportunities.
Guaranteed Rate Expands Reverse Mortgage Program
Guaranteed Rate, Chicago, expanded its reverse mortgage program.
The expansion provides more systems of support to loan officers as well as a new training program to certify loan officers in this type of product.
MCT Automates Digital TBA Trade Assignments
Mortgage Capital Trading Inc., San Diego, automated the process of digital TBA trade assignment during the loan sale process for both mortgage lenders and participating correspondent investors.
This automation makes assignment of trade loan sales (AOTs) faster, more convenient, and easier for investors to offer, and is expected to further expand on the $19.5 million in cumulative savings experienced by MCT's lender clients as a result of AOTs in 2022.
FPN Offers Loan Pre-Qualifying Platform
Fraud Protection Network, Aventura, Fla., now offers PreQual, a tri-bureau loan prequalification product to lenders across all industries in the U.S. PreQual's fully customizable platforms pull data from Experian, TransUnion and Equifax, to provide a customer experience of prequalifying applicants without impacting their credit score.
Lenders can now produce a variety of offers with greater speed. Using FPN's expanded soft-inquiry platforms, lenders can generate instant and accurate results—including FICO and VantageScore credit scores.