Industry Briefs May 19, 2022: Narrow Gauge Capital Acquires Inco-Check LLC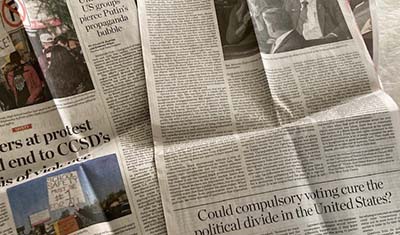 Narrow Gauge Capital Acquires Inco-Check LLC
Inco-Check LLC, Boston, announced Narrow Gauge Capital completed acquisition of a majority interest in the company.
A consortium of investors led by Ocean Avenue Capital Partners L.P provided equity capital in the transaction alongside Narrow Gauge Capital. Berkery Noyes & Co. LLC and Keefe, Bruyette & Woods Inc. served as financial advisors to Inco-Check LLC. Winston & Strawn LLP served as legal counsel to NGC.
Black Knight Empower LOS Integrates with DocMagic
DocMagic Inc., Torrance, Calif., announced an integration with Empower, Black Knight's loan origination system, to help automate the DocMagic document generation process for lenders and provide access to additional DocMagic services.
Lenders now have access directly from Empower to DocMagic's intelligent document generation solution, supporting compliance, data integrity and trackability. DocMagic's data-driven technology leverages its sophisticated audit engine for automated data validation testing and regulatory compliance audits to analyze relevant compliance rules, regulations and applicable laws, assisting lenders with compliance on pertinent loan documents throughout the lending process.
HUD Expands Asset-Building Support for Families
HUD will publish a rule to implement changes to the Family Self-Sufficiency Program. The changes include permanently expanding the definition of an eligible family to include tenants of privately owned multifamily properties subsidized with Project-Based Rental Assistance.
In addition to permanently expanding the Program to multifamily owners and allowing them to compete directly for services funding, the rule also expands eligibility for Program enrollment to include any adult member of the household—rather than only the Head of Household—to be more inclusive of households where the Head of Household is unable to work or increase work activity due to issues such as health conditions, disabilities, or family care taking responsibilities. The rule also expands the definition of "good cause" for a FSS client contract extension to include participants who are in active pursuit of a long-term goal that will help them get ahead, such as a college degree, as opposed to only reasons outside of the family's control. Additionally, among other positive statutory and regulatory changes, the rule removes administratively burdensome requirements for enrollment and revises graduation requirements.
Guild Mortgage Launches CashPass Program
Guild Mortgage, San Diego, introduced CashPass, a program to help homebuyers compete with all-cash offers. The program allows homebuyers to write a cash offer with no financing or appraisal contingency required.
The program is available in 11 states: Arizona, California, Colorado, Massachusetts, Missouri, Nevada, Oregon, Pennsylvania, South Carolina, Texas and Washington, with more states coming soon. It is available for Conventional financing options to homebuyers with credit scores of 680 and above.
Fannie Mae Issues $5 Million 'Innovation Challenge' to Help Advance Racial Equity in Housing
Fannie Mae, Washington, D.C., launched its 2022 Sustainable Communities Innovation Challenge, the company's second such initiative, committing $5 million to attract innovative ideas that will help advance racial equity in housing. The company expects to receive proposals from across the public, private and nonprofit sectors and from individuals and teams focused on addressing supply, funding, and credit barriers.
The Innovation Challenge is part of Fannie Mae's Sustainable Communities Partnership and Innovation initiative, which focuses on developing collaborative, cross-sector approaches to advancing sustainable communities. IC22 will award contracts to organizations, companies, and individuals implementing or scaling projects that remove barriers currently preventing many households, including Black households, from purchasing or renting a home.
BlackFin Group Publishes New Reverse Mortgage Report
BlackFin Group, Denver, published a report on the Reverse Mortgage Lending business authored by industry experts Wendy Peel and Rachel L. Smith. The paper, "Serving Clients for Life with HECMs," explains why every lender should have these loans on its product menu and explains how this can now be easily accomplished.
The authors explain the loan program and its history, compare it to other loan programs suitable for this demographic, break down some outdated myths, fully define the opportunity and now the ease with which these programs can be leveraged by lenders to offer solutions that meet the current demands of the borrowers they serve.
SunStream Business Services Selects Fiserv to Modernize Operations
Fiserv Inc., Brookfield, Wis., announced SunStream Business Services, St. Paul, Minn., will move to Fiserv to meet loan servicing needs of its shareholders and react more quickly to regulatory and compliance updates.
SunStream shareholders will use DNA from Fiserv as their common core loan accounting platform, providing these specialized lenders with increased flexibility and more options. DNA will give SunStream and its shareholders the ability to react quickly to a dynamic and ever-changing lending market. The built-in commercial servicing capabilities of the DNA core platform will allow SunStream shareholders to provide more robust payment and loan offerings to their customers, who are almost entirely comprised of farm and ranch operators. Additionally, the platform's open architecture and APIs will make it easier for SunStream shareholders to integrate other solutions such as third-party lending instruments, build and launch products quickly, and add new capabilities using downloadable DNAapps.
FirstClose to Accelerate Growth with $35 Million Investment from Lateral
FirstClose Inc., Austin, Texas, closed a $35 million investment from growth equity firm Lateral Investment Management to accelerate its product and growth strategies.
FirstClose provides underwriting workflow automation technology, point-of-sale software, and data services for the U.S. home equity and mortgage markets. It will use the funds to expand its financial services footprint to leverage property data intelligence, partnerships and technology to enable lenders to compete for and close consumer loans.
Fiserv Launches Digital Mortgage Center
Fiserv Inc., Brookfield, Wis., launched its Digital Mortgage Center, enabling digital application access from a desktop, laptop or mobile device.
Building on the existing capabilities of Mortgage Director, the core of the Fiserv lending ecosystem, and in collaboration with BeSmartee, a digital mortgage point-of-sale provider, the technology allows lenders to manage pipelines wherever they are. Digital Mortgage Center has more than 165 integrations to help streamline the mortgage process and increase efficiency through fee aggregation, a product pricing engine, automated underwriting system, data validation and appraisal.
HUD Announces $10.3 Billion in Housing/Community Development Grants
HUD announced $10.3 billion in Fiscal Year 2022 formula grants to communities across the United States for housing and community development activities ranging from affordable housing development to public housing modernization to economic opportunities for people with low and moderate incomes.
The grants include:
–$6.3 billion in allocations to eligible grantees across the following grant programs for all states, the District of Columbia, Puerto Rico and the U.S. Insular Areas.:
–$3.2 billion to 2,813 Public Housing Agencies for development, financing and modernization of public housing developments and for management improvements. PHAs receiving CFP formula awards are located in all 50 states, the District of Columbia, Guam, Puerto Rico and the U.S. Virgin Islands.
— $775 million to 594 eligible tribes under the IHBG Formula Program to provide funding for affordable housing activities on Indian reservations, in Indian communities and in Alaska Native villages. Eligible activities include housing development, assistance to housing developed under the Indian Housing Program, housing services to eligible families and individuals, crime prevention and safety, and model activities that provide creative approaches to solving affordable housing problems.
OneKey MLS Partners with Down Payment Resource
OneKey MLS, Babylon, N.Y., the largest multiple listing service in New York, announced it partnered with Down Payment Resource, Atlanta, a nationwide database for U.S. homebuyer assistance programs, to indicate MLS residential listings that may be eligible for down payment assistance and other homebuyer affordability programs.
Through its new partnership with DPR, OneKey MLS will now flag listings eligible for homebuyer assistance programs on both its public- and subscriber-facing search pages. Down Payment Resource has already identified 54 programs available in OneKey MLS' area coverage for which 62% of its residential listing inventory is potentially eligible.