MBA Chart of the Week Aug. 19 2022: IMB Average Quarterly Production Profits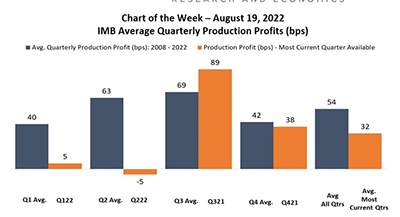 Source: MBA's Quarterly Mortgage Bankers Performance Report; www.mba.org/performancereport
Independent mortgage banks and mortgage subsidiaries of chartered banks reported losses of 5 basis points ($82 per loan) in the second quarter, according to MBA's Quarterly Mortgage Bankers Performance Report. 
Average production volume in the second quarter was $705 million per company, down from $808 million per company in the first quarter. Total loan production expenses – commissions, compensation, occupancy, equipment and other production expenses and corporate allocations – increased to a study-high of $10,937 per loan in the second quarter, up from $10,637 per loan in the first quarter.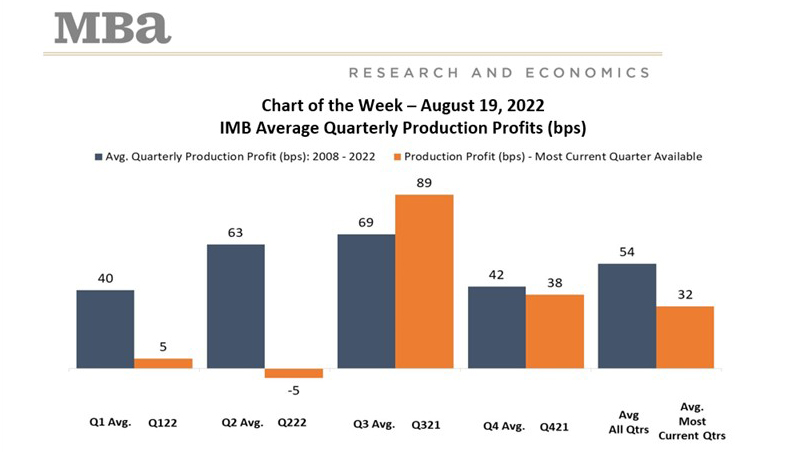 This week's MBA Chart of the Week illustrates the average historical pre-tax production profits for each respective quarter of the year, from Q3 2008 to Q2 2022.  These historical quarterly averages are then compared to the most current net production profit corresponding to that quarter.  Higher profitability is typical for the second and third quarters – coinciding with the traditional homebuying season.  Lower profitability is more typical in the first and fourth quarters, barring a large refinance boom.  For comparison, production profits have historically averaged 63 basis points in the second quarter and 69 basis points in the third quarter, compared to 40 basis points in the first quarter and 42 basis points in the fourth quarter. 
In the second quarter, net production losses were posted for the first time for any second quarter since the inception of the study in 2008.  (While net production losses have been reported in the past, they were either in the first quarter or fourth quarter.)  Similarly in the first quarter and fourth quarter 2021, production profits were significantly lower than their historical averages.  It is only in third quarter 2021 that production profits of 89 basis points exceeded the historical third quarter average.
Over the past four quarters (Q3 2021 to Q2 2022), net production profits averaged 32 basis points, which was 40 percent below the all-quarter average of 54 basis points. 
Jenny Masoud jmasoud@mba.org; Marina Walsh, CMB mwalsh@mba.org