Dealmaker: BWE Secures $100M for Orange County Multifamily
Bellwether Enterprise Real Estate Capital LLC, Cleveland, closed a $100 million construction-permanent loan to finance Cloud House, a Class A residential development in Stanton, Calif.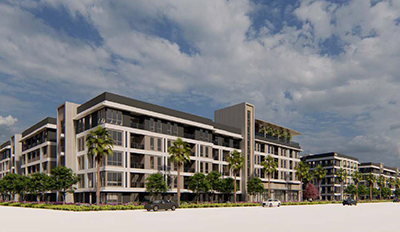 BWE Executive Vice President Tom Kenny and Assistant Vice President Alex Gregoire originated the loan through a correspondent life company for borrower Bonanni Development, Huntington Beach, Calif.
Cloud House is a proposed five-story, 321-unit apartment property with studio, one- and two-bedroom units. The building will wrap around a seven-story parking structure on a 3.7-acre site. Amenities will include a rooftop sky deck with a pool, outdoor community spaces and co-working space. The property will sit just north of the Beach Boulevard-Lampson Avenue intersection as part of the Stanton neighborhood's Beach Boulevard revitalization.
Loan terms included a three-year construction period followed by a 10-year permanent loan with interest-only payments for the first eight years. The 4.50 percent fixed rate was locked at loan application.