Housing Market Roundup Sept. 28, 2021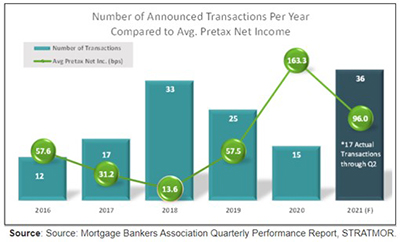 (Graphic courtesy STRATMOR Group.)
Here's a roundup of recent housing reports that have come across the MBA NewsLink desk:
STRATMOR: 2021 May be Biggest Year for Industry Consolidation in Years
In its September Insights Report, mortgage advisory firm STRATMOR Group, Greenwood Village, Colo., points to data that suggest that this year will be one of the biggest years for industry mergers and acquisitions activity.
In "Mortgage Industry Consolidation: Fact, Fiction or Frenzy?" David Hrobon, STRATMOR Group Principal and former Chairman and CEO of Wintrust Mortgage, connects the dots between industry profitability and M&A activity.
"The historical relationship is clear," Hrobon writes. "When profitability increases, owners hold onto their companies. When it falls, more look to sell. The biggest year in recent history for M&A was 2018 with 33 deals, when the industry only made 13 basis points of net income. By the end of the second quarter of this year, 17 deals had already closed. We expect to see a total of at least 36 deals close by the end of the year."
Hrobon says that this is happening because, while profitability is still high from a historical perspective, it is already far below what lenders earned last year. STRATMOR expects to see lender net income average about 90-100 basis points by year's end, compared to just over 163 net basis points in 2020.
To access the report, click here.
Redfin: Interest in Relocation Dips Slightly
Nationwide, 30.1% of Redfin.com users looked to move to a different metropolitan area in July and August, down slightly from 31.1% in the second quarter but up from 28.7% during the same two-month period in 2020.
The report said while house hunters continue to relocate at a higher rate than they did early in the pandemic, migration has cooled this summer as life in the U.S. has returned, at least somewhat, to normal. The slight dip in migration coincided with a slowdown in the broader housing market: Homebuyer competition, home-sales growth and interest in second homes, for example, are all on the decline. It's worth noting that the housing market typically slows at this time of year.
"We're not seeing the level of movement we saw at the end of 2020 and the start of 2021, but a lot of people are still looking to move to new cities," said Redfin Lead Economist Taylor Marr. "Worker turnover is one reason interest in relocating remains high. Scores of Americans are quitting their jobs in search of better salaries, benefits and flexibility. Once they find their next gig, people are often able to move for affordability or a better lifestyle."
Miami, Sacramento, Phoenix, Las Vegas and Tampa were the most popular migration destinations of any major U.S. metros in July and August, meaning they had the largest net inflows. A net inflow is a measure of how many more Redfin.com home searchers looked to move into a metro than leave.
CFPB: Consumer Complaint Patterns Vary by Demographics
The Consumer Financial Protection Bureau released its first in-depth report analyzing complaint submission patterns by U.S. Census tract.
The report, "Consumer complaints throughout the credit life cycle, by demographic characteristics," finds that the complaints from wealthier communities and communities with higher percentages of white, non-Hispanic residents were more frequently about loan origination and performing servicing, while the complaints from communities of color and lower income communities were more frequently about credit reporting, identity theft, and delinquent servicing.
The findings are based on the nearly 1 million consumer complaints submitted to the CFPB between 2018 and 2020.
"Today's report confirms that the experiences and concerns of communities, with consumer financial products and services, vary by race and wealth," said CFPB Acting Director Dave Uejio. "Our consumer complaint data is a crucial tool for understanding varying consumer experiences, including across racial and economic divides."
The report finds that consumers from lower income and predominantly Black and Hispanic communities submitted credit reporting and delinquent servicing complaints at a higher rate per resident than consumers from higher-income and predominantly white, non-Hispanic communities, who were more likely to submit complaints related to loan origination and performing servicing. Asian American and Pacific Islander communities had higher rates of submitting credit reporting complaints than predominantly white, non-Hispanic communities; however, they also had a lower share of delinquent servicing complaints.
The report can be accessed here.
FHFA: More than 6 Million Homeowners Helped Since Conservatorship
The Federal Housing Finance Agency (released its second quarter Foreclosure Prevention and Refinance Report, which shows Fannie Mae and Freddie Mac completed 217,020 foreclosure prevention actions in the second quarter, bringing the total number of homeowners who have been helped during conservatorships to 6.030 million.
The report also shows that 47 percent of loan modifications completed in the second quarter reduced borrowers' monthly payments by more than 20 percent. The number of refinances decreased from 2.016 million in the first quarter to 1.614 million in the second quarter.
The Enterprises' serious delinquency rate dropped from 2.48 percent to 1.99 percent at the end of the quarter. This compares with 9.48 percent for Federal Housing Administration loans, 5.02 percent for Veterans Affairs loans and 4.03 percent for all loans (industry average).