Record-High Repeat: August Home Price Growth Reaches Another High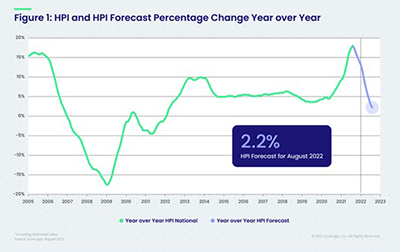 It's been quite a year for record-high home prices, and the latest report from CoreLogic, Irvine, Calif., keeps the hot streak going.
The company's monthly U.S. Home Price Index reached a record-setting 18.1% in August, the highest in its 45-year history. On a month-over-month basis, home prices increased by 1.3% from July. Detached properties (19.8%) were again the highest measured since inception of the index and 7.8-percentage points higher than that of attached properties (12%).
CoreLogic Chief Economist Frank Nothaft said ongoing affordability challenges within the supply-constricted market have also been exacerbated by an influx in homebuying activity from investors. As the home purchase market continues to boom and buoy the post-pandemic economy, these market factors are unevenly affecting access for some buyers. This is reflected in a recent CoreLogic consumer survey, where 59% of consumers looking to purchase a home reported combined household earnings of at least six figures, compared to the 10% of consumers looking to purchase earning less than $50,000.
"Single-family detached homes continue to be in high demand," Nothaft said. "These properties offer more living space and distance from neighboring homes than that of attached properties. On average, detached homes have 28% more inside space compared to single-family attached properties and about twice as much space as apartments in multifamily structures."
The report said home price gains are projected to slow to a 2.2% increase by August 2022, as ongoing affordability challenges deter some potential buyers
"Home prices continue to escalate at a torrid pace as a broad spectrum of buyers drive demand for a limited supply of homes," said Frank Martell, president and CEO of CoreLogic. "We expect to see the trend of strong price gains continue indefinitely with large amounts of capital chasing too few assets."
The report said home prices rose sharpest in the Pacific Northwest with Bend, Ore., seeing the highest year-over-year increase at 37.2%. Twin Falls, Idaho, ranked second with a year-over-year increase of 35.8%. At the state level, Idaho and Arizona again led the way with the strongest price growth at 32.2% and 29.5%, respectively.