CoreLogic: Annual Home Price Growth at Record 18%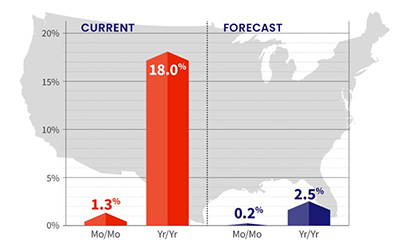 CoreLogic, Irvine, Calif., said annual home price growth remained strong at 18% in October, the highest recorded in the 45-year history of its monthly Home Price Index.
"Single-family detached houses remain the preferred home for buyers during the pandemic," said Frank Nothaft, chief economist with CoreLogic. "This is reflected in the 19.5% annual price rise for detached houses, which marks another record-high."
Nonetheless, CoreLogic said, monthly price growth has slowed from its April peak and signals a moderation in price growth that the CoreLogic HPI Forecast projects will continue to slow in coming months.
Despite affordability challenges, a recent CoreLogic consumer survey shows that more than half of respondents across every age cohort said that owning a home has always been a goal of theirs — further supporting the outlook that consumer desire for homeownership remains.
"New household formation, investor purchases and pandemic-related factors driving demand for the limited supply of available for-sale homes continues to propel the upward spiral of U.S. home prices," said Frank Martell, president and CEO of CoreLogic. "However, we expect home price growth to moderate over the near term as many buyers take a break for the holidays."
Key report findings:
• Nationally, home prices increased 18% in October from a year ago. On a month-over-month basis, home prices increased by 1.3% from September.
• In October, appreciation of detached properties (19.5%) was 6.6 percentage points higher than that of attached properties (12.9%).
• Home price gains are projected to slow to a 2.5% increase by October 2022 as affordability and economic concerns deter some potential buyers and additional for-sale inventory becomes available.
• In October, home prices continued to rise sharply in Twin Falls, Idaho, which logged the highest year-over-year increase at 35.8%. For the first time in 2021, Florida made it to the top of the list for home price gains, with Naples logging the second-highest ranking at a 33.5% year-over-year increase.
• At the state level, the Mountain West continued to dominate the top spots, with Arizona and Idaho again leading the way with the strongest price growth at 28.8% and 28.7%, respectively, and Utah ranking third at 24.5%.