Small-Cap Industrial, Retail Leasing Activity Takes Off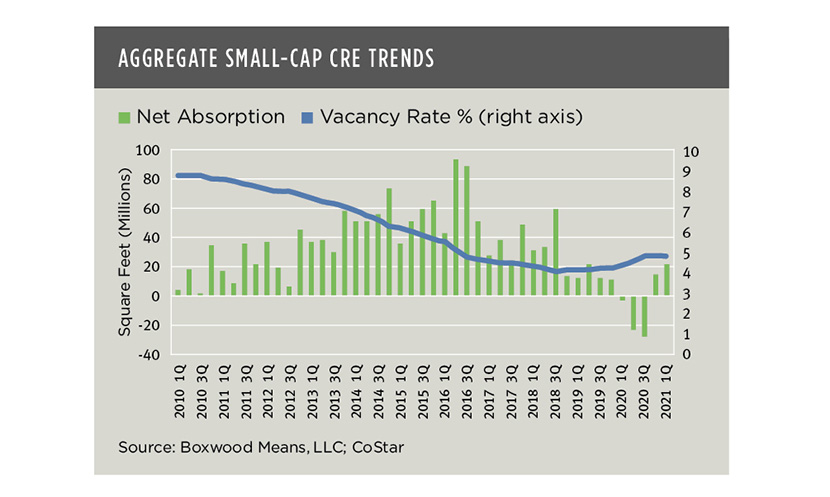 Boxwood Means LLC, Stamford, Conn., said leasing in the small-cap real estate domain showed strong momentum during the first quarter as the economy bounced back from the pandemic.
The firm defines small-cap CRE space as buildings under 50,000 square feet.
"The Main Street economy is clearly looking up," said Boxwood Means Principal Randy Fuchs. "Vaccinations are accelerating, federal support for small businesses and families was extended, more businesses have re-opened and small business job growth is improving."
Aggregate small-cap CRE leasing demand across industrial, retail and office sectors improved for a second consecutive quarter after three periods of negative net absorption, Boxwood Means reported. Net occupancies jumped 52 percent to 21.3 million square feet, the highest volume in 10 quarters.
As demand boomed for small warehouse and manufacturing facilities, industrial net absorption soared to 14.4 million square feet, 22 percent higher the long-term quarterly average, Fuchs said. Retail occupancies also increased as store openings accelerated, but the 9.9 million square feet of net absorption gains was 27 percent below historical norms.
But Fuchs noted small-cap office sector fundamentals remain depressed in part because the trend toward remote work impedes a leasing demand revival.
With recovering demand and little new supply, aggregate vacancies across the three sectors ticked down 10 basis points to 4.7 percent. The national industrial vacancy rate (3.6 percent) and retail rate (4.5 percent) remained substantially below historical averages, Boxwood reported.
Looking at pricing trends, Boxwood reported small-cap CRE prices accelerated during the quarter. The firm's Small Commercial Price Index covering 160 metros posted price gains for a fourth month in a row to a 4.9 percent annualized rate as of January. "This is the highest level in nine months and corresponds with increased investor confidence in the restoration of the Main Street economy," Fuchs said.
Fuchs noted some parts of the Main Street economy such as construction, manufacturing, transportation and professional services are presently "humming," while others including restaurants and non-internet retail still need to catch up. "But signs of an economy poised for takeoff are everywhere," he said. "Startups are burgeoning, store opening are widespread and job growth generally is booming. A small business resurgence seems awfully close at hand."