'MBA Is Meeting this Crisis Head-On'
WASHINGTON, D.C.—"These are no normal times."
With those words, Mortgage Bankers Association Robert Broeksmit, CMB, not only described the past few months, but also set the tone for the future of the real estate finance industry and life in general.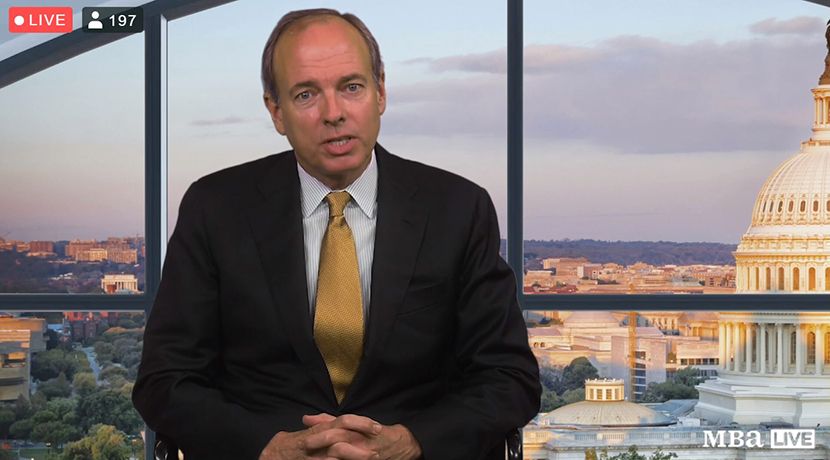 "The mortgage industry, like the entire country, is facing unprecedented challenges," Broeksmit said Tuesday during MBA Live: State of the Industry, the Association's first in a series of virtual events taking place over the next few months. "In many respects, this crisis is worse than the Great Recession. Then, the crisis played out over two-plus years. Now, everything is happening in less than two months. The effects can be seen at every single one of your companies."
Since the coronavirus pandemic struck in February, the country has been turned upside down. To wit: more than 36 million Americans have lost their jobs; the MBA Forbearance & Call Volume Survey reports mortgage forbearance reports have jumped past 8 percent (from zero); large portions of the U.S. economy remain shut down.
Broeksmit said circumstances have called for an "extraordinary" response from MBA and its members. "None of this bodes well for your companies, the economy and the country," he said. "But the state of the industry isn't just one of difficult times and tough choices. Yes, over the past two months, you have faced tremendous challenges. But you have also risen to meet those challenges. Frankly, your response to the coronavirus pandemic has been inspiring to the nation."
MBA members, Broeksmit said are "finding new ways to serve your customers and strengthen your communities. You've transitioned from in-person meetings to virtual ones. You're striving to meet the surging demand for refinancing. Across the board, you're offering real solutions to real problems. Taken together, your actions are stimulating the economy when it's needed most. If this were baseball, I'd say you were thrown a real curveball, and you still got a base hit. A lot of people are cheering for you right now. And America itself is grateful for what you're doing."
Broeksmit said MBA is "meeting this crisis head-on."
"The Mortgage Bankers Association exists for times like this," he said. "We've spent decades building relationships and trust with elected officials and government agencies. We know who to call, what to say, and how to work the process — all while cutting through the noise that's everywhere right now. From the moment this pandemic arose, we leveraged our experience, expertise, and connections to spur quick and decisive action."
Broeksmit noted one of the first steps MBA took was with Ginnie Mae. MBA predicted early on that forbearance rates would rise, hurting servicers' ability to pay their investors. FHA and VA loans are the most at risk, with over 11% in forbearance already.
"So we quickly urged Ginnie Mae to set up a liquidity facility," Broeksmit said. "As we told its Administrator, Seth Appleton, this step was essential for servicers and their customers. Our advocacy worked. Ginnie Mae announced a facility in late March and opened it in early April. Ginnie Mae also heeded our call to allow greater flexibility with liquidity and delinquency standards, and it no longer considers participating servicers to be in default. Most recently, earlier this month, Ginnie Mae extended this facility to multi-family servicers. MBA helped make this happen, and we are grateful to Administrator Appleton and his team for their leadership."
MBA continues to push for a similar facility for the whole market, including Fannie Mae and Freddie Mac servicers. "We helped lay the groundwork for one in the stimulus bill that passed Congress in late March," Broeksmit said. "Since then, we have been in constant conversation with FHFA, Treasury and the Federal Reserve. We've told them that without their intervention, the economic consequences could be severe."
Broeksmit noted the administration hasn't activated a broad liquidity facility yet, "as they wait to see how forbearance take-up rates change. The situation is evolving, and discussions are ongoing. In the meantime, with our support, policymakers have provided relief in other important ways. Last month, FHFA capped the number of months that servicers must advance on Fannie loans that are in forbearance. The new requirement is only four months, down from a year. MBA strongly supported this measure, even as we continued to call for additional steps."
MBA also fought hard for FHFA to purchase mortgages in forbearance; FHFA Director Mark Calabria agreed to MBA's request in April (and extended it today). "Clear, common-sense policies in these areas will not only benefit millions of Americans," Broeksmit said. "They will strengthen the recovery in the years ahead. Know that on these issues, we will continue to advocate on your behalf."
After MBA advocacy, FHFA directed Fannie Mae and Freddie Mac to give lenders more flexibility, waiving appraisal and interior inspection requirements for many loans. FHFA also approved a payment deferral option for GSE borrowers that will not only help servicers better explain forbearance options to borrowers, but will also make it smoother when borrowers are ready to end their forbearance.
Broeksmit said beyond the halls of government, MBA launched a consumer awareness campaign. "We're letting consumers when they should and shouldn't call their mortgage lenders to request forbearance," he said. "If they do need forbearance, we're helping them understand what they should they expect and what questions they should be ready to ask their servicers. Our goal is to make the process smoother for both you and your customers. We're determined to help you get relief from every angle."
"Like all of you, I hope the coronavirus pandemic passes soon," Broeksmit said "We're fighting for you because we know how much you matter. You're indispensable to the country's economy. You're the cornerstone of communities large and small. And when this crisis is behind us, and the recovery truly starts, I know one thing will be true. Your companies will be at the forefront. And America will be stronger for it."