MBA Chart of the Week: Mortgage Delinquency and Foreclosure Rates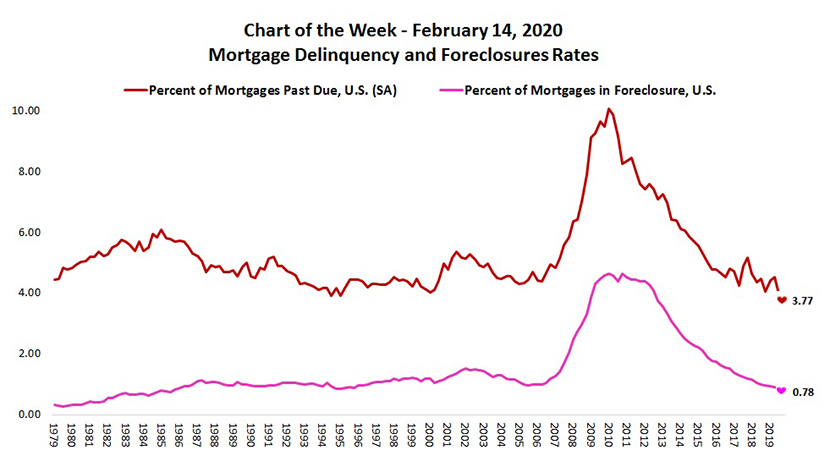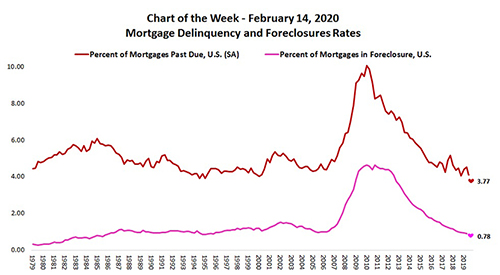 Last week MBA released its latest National Delinquency Survey for the fourth quarter. Mortgage delinquencies track closely to the U.S. unemployment rate, and with unemployment at historic lows, it's no surprise to see so many households paying their mortgage on time.
In the final three months of 2019, the delinquency rate for mortgage loans on one-to-four-unit residential properties decreased to a seasonally adjusted rate of 3.77 percent of all loans outstanding.
Measured as loans that are at least one payment past due but excluding loans in the process of foreclosure – the delinquency rate was down 20 basis points from last year's third quarter and 29 basis points from one year ago. Moreover, this delinquency rate measure fell to its lowest level since the current survey series began in 1979.
Signs of healthy conditions were also seen in other parts of the survey. The foreclosure inventory rate – the percentage of loans in the foreclosure process – was at its lowest level since 1985, at 0.78 percent of all loans outstanding. States with lengthier judicial processes continued to chip away at their foreclosure inventories, and it also appears that with home-price appreciation and equity accumulation, distressed borrowers have had alternative options to foreclosure.
(Marina Walsh is vice president of industry benchmarking and research with MBA; she can be reached at mwalsh@mba.org. Anh Doan is senior financial analyst with MBA. She can be reached at adoan@mortgagebankers.org.)