People in the News May 22, 2023: NotaryCam Names Suzanne Singer Director of Sales and Marketing
NotaryCam Names Suzanne Singer Director of Sales and Marketing

NotaryCam, Newport Beach, Calif., appointed Suzanne Singer director of sales and marketing, responsible for leading sales and customer success efforts focusing on large strategic relationships in the mortgage and real estate sectors.
Singer brings more than 30 years of experience in financial services to NotaryCam after serving as senior vice president of capital markets sales with Solidifi. She also held executive positions in business development and marketing with New Diligence Advisors, Clayton Holdings and Auction.com.
Ginnie Mae Adds Laura Kenney, Britt Van
Ginnie Mae, Washington, D.C., named Laura M. Kenney as Senior Advisor for Strategic Operations and Britt Van as Special Advisor to the President.
Kenney was most recently Executive Director in the Digital Direct Chief Operating Office with Morgan Stanley. Previously, she led E*TRADE's efforts to design and implement a future-state regulatory reporting platform. She has more than 15 years of experience in housing finance and risk management, also having held leadership roles with JPMorgan Chase and Fannie Mae.
Van will help shape the public policy and engagement strategy aimed at key intergovernmental stakeholders and Congress. She joins Ginnie Mae with 10 years of Capitol Hill, public policy, and financial services experience, most recently serving as Policy Director for the New Democrat Coalition in the U.S. House of Representatives. In that capacity, she led a vast policy portfolio on issues such as economic development, climate, housing, tax, and infrastructure for the coalition of roughly 100 members of Congress.

JLL Capital Markets Adds Lee Harris to Nashville Office; Promotes Alex Sharrin in Miami Office
JLL Capital Markets, Chicago, added Senior Director Lee Harris to its multi-housing team in Nashville, Tenn. He will focus on agency debt, while also providing full capital stack services to multi-housing, mixed-use and MHC clients.
Prior to his new role, Harris served as a Director with Greystone, where he focused on nationwide Fannie Mae and Freddie Mac debt transactions. He has also held previous roles at RED Capital Group and Lument, bringing 13 years of real estate experience.

JLL also appointed Senior Managing Director Alex Sharrin to co-lead its national net lease platform, alongside Senior Managing Director Coler Yoakam.
Currently sitting in the Miami office, Sharrin has spent nearly eight years with the firm. He joined JLL's Corporate Capital Markets and Net Lease platform as an analyst in 2015 in Chicago. He currently focuses on investment sale advisory, alternative financing solutions and build-to-suit structures for owners of single and multi-tenant net lease real estate across all markets, product types and geographies. He has closed more than 500 transactions totaling more than $4 billion in deal volume since being promoted to producer in 2018.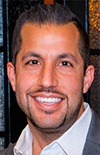 Dovenmuehle Taps Ron Malik as Senior Vice President of Default Servicing
Dovenmuehle Mortgage Inc., Lake Zurich, Ill., named Ron Malik as the company's new senior vice president of default servicing. He will oversee Dovenmuehle's special servicing initiatives and maintain compliance and service satisfaction in all areas of default servicing.
With 15 years of experience, Malik has focused on special servicing efforts since the beginning of his career. After serving as Dovenmuehle's vice president of loss mitigation & collections for nearly a decade, Malik most recently served as the senior vice president of servicing administration for Wintrust Mortgage. Before his first stint with Dovenmuehle, he worked in default administration with HSBC Mortgage Services at the height of the subprime mortgage crisis.

Jonathan Nahil Joins FormFree as Chief Technology Officer
FormFree, Athens, Ga., hired Jonathan Nahil as chief technology officer.
Nahil has more than 20 years of experience as a software architect and leader of development teams at technology organizations. Previously, he worked at Accenture, where he spent more than a decade as global head of architecture for the Mortgage Cadence suite of enterprise loan origination applications. He has also held senior software leadership positions at publicly traded companies Twilio and Amazon. Immediately before joining FormFree, he was a software architect at customer service automation platform Ada.
Texas Mortgage Bankers Association Elects Matt Kiker as 2023-2024 President; Installs Officers, Directors
The Texas Mortgage Bankers Association, Austin, Texas, elected Matt Kiker as President for 2023-2024. He was installed during the 107th Annual Convention at the Hyatt Hill Country Resort & Spa in San Antonio.
Kiker began his mortgage banking career more than 35 years ago. He has held executive positions at various mortgage companies and has served as President of Network Funding LP, Houston, since 2015. He has been involved with the TMBA for more than a decade and has served in a number of roles including board service beginning in 2016. He has also served as co-chair of the Southern Secondary Marketing Committee and most recently served as chair of the Industry Relations Committee, on the Budget and Finance Committee, and is active with Texas Mortgage Bankers Political Action Committee.
New TMBA Officers assisting Kiker include Vice President – Jodie D. Morgan, CMB, AMP with Comerica Bank – Warehouse Lending; Secretary-Treasurer Erin Dee with LoanPeople; and Associate Representative Doug B. Foster with Polunsky Beitel Green, LLP.
The 2023-2024 TMBA Board members are: Michael J. Barber with CohnReznick; Rhiannon Bolen, CMB, AMP with ICE Mortgage Technology; Brandi M. Chambers with Benchmark Mortgage; Amy J. Coke, AMP, with EquityShare Alliance; Jeremy Dean with FirstBAnk Southwest; Jared E. Edmonds, CMB AMP with Gateway First Bank; Tim Elkins with PrimeLending; Marty Green, with Polunsky Beitel Green, LLC; Scott Henley with Certainty Home Loans; Scott Henley with Certainty Home Loans; Jon Hodge with NexBank, SSB; Pamela Jenkins with Primis Mortgage; Michael Jones, CPA, Thrive Mortgage, LLC.; Cissy Larkin; Gil Lopez, III, Amerihome Correspondent; Colin Luba with Texas Capital Bank; Stacey Maisano, CMB, AMP, CML with Polunsky Beitel Green, LLP; Dustin Pfluger, CPA with CWDL; Cherie Pheiffer, CMA, Highlands Residential Mortgage; Blake Priest with Premier Nationwide Lending; Ruth Ruhl with RUTH RUHL, P.C.; Joanna Shelton with Southwest Funding LP; David Taughinbaugh with Cadence Bank; Nolan Turner, CMB, with Carrington Mortgage Services; Regina Uhl, CMB with Sandler Law Group; Dionne Ward with Cornerstone Home Lending, Inc.; Amy White with Republic State Mortgage Company; Donna Wright with Republic State Mortgage Company; and Kimberly Yowell with Fairway Independent Mortgage Corporation.