Recession Fears Fuel Dip in Consumer Confidence
The Conference Board, New York, said its Consumer Confidence Index fell in January following an upwardly revised increase in December.
The Index now stands at 107.1 (1985=100), down from 109.0 in December. The Present Situation Index—based on consumers' assessment of current business and labor market conditions—increased to 150.9 from 147.4 last month. The Expectations Index—based on consumers' short-term outlook for income, business, and labor market conditions—fell to 77.8 from 83.4 partially reversing its December gain. The Expectations Index is below 80, which Conference Board Senior Director Ataman Ozyildirim said often signals a recession within the next year. Both present situation and expectations indexes were revised up slightly in December.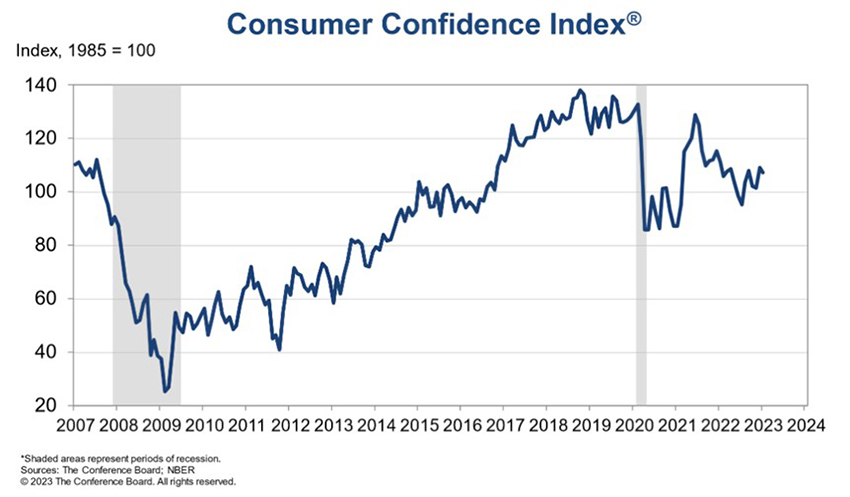 "Consumer confidence declined in January, but it remains above the level seen last July, lowest in 2022," Ozyildirim said. "Consumer confidence fell the most for households earning less than $15,000 and for households aged under 35."
"Inflation may be slowing, but consumers remain downbeat about the future," said Shannon Seery, Economist with Wells Fargo Economics, Charlotte, N.C. "A 5.6-point drop in expectations caused the Consumer Confidence Index to slip in January, and the gap between current and coming conditions speaks to consumers' fear of recession."
The report said consumers' assessment of current business conditions improved in January: 20.2% of consumers said business conditions were "good," up from 19.2%, while 19.2% said business conditions were "bad," down from 19.7%.
Consumers' appraisal of the labor market was also more favorable: 48.2% of consumers said jobs were "plentiful," up from 46.4%; 11.3% of consumers said jobs were "hard to get," down from 11.9%.
Consumers became more pessimistic about the short-term business conditions outlook in January: 18.6% of consumers expect business conditions to improve, down from 20.9%, while 21.6% expect business conditions to worsen, up from 19.9%.
Consumers were less upbeat about the short-term labor market outlook: 17.9% of consumers expect more jobs to be available, down from 20.0%, while 20.1% anticipate fewer jobs, up from 18.7%.
Meanwhile, consumers' short-term income prospects held steady: 17.2% of consumers expect their incomes to increase, compared to 17.3% last month, while 13.4% expect their incomes will decrease, similar to 13.3% last month.