MBA Chart of the Week Jan. 6, 2023: CRE Lending/Borrowing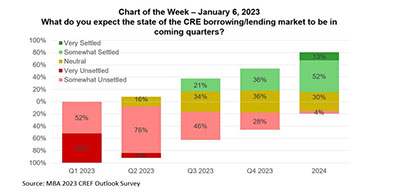 Commercial real estate markets are entering 2023 amid a great deal of uncertainty and, as a result, a significant slowdown in activity. Leaders of top commercial real estate finance firms believe that overall uncertainty will dissipate over the course of the year, but with a host of factors that will drag – rather than boost – the markets in 2023.
These are some of the key findings of MBA's 2023 Commercial Real Estate Finance (CREF) Outlook Survey that collected insights from leaders of the top commercial/multifamily origination firms.
Every survey respondent considers today's market either somewhat or very unsettled, but the majority expect the market to stabilize over the course of 2023. Other high-level findings include:
Among property types, the office market is viewed as most negatively affecting today's borrowing and lending markets while a majority of respondents view the industrial market outlook as having positive impacts.
Cap rates and valuations, base interest rates, and mortgage spreads are all viewed as having negative impacts on today's financing activity.
In 2023, lenders are expected to have a (slightly) stronger appetite to lend than borrowers will have to borrow.
Borrowing and lending volumes are expected to decline in 2023.
No capital sources are broadly expected to see increases.
There are more deals looking for debt than there is debt looking for deals.
Across a variety of factors affecting the markets, more are seen as negative than positive for 2023.
MBA members can download a copy of the report at https://www.mba.org/news-and-research/forecasts-and-commentary/cref-outlook-survey.
We'll be discussing these trends and more at MBA's Commercial/Multifamily Finance Convention and Expo, February 12 – 15 in San Diego. We hope to see you there!
–Jamie Woodwell jwoodwell@mba.org