MBA Chart of the Week Feb. 24 2023–Delinquency Rates by Credit Type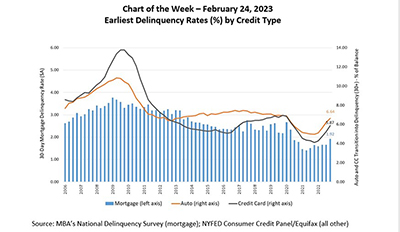 Last week, MBA held its 2023 Servicing Solutions Conference and Expo in Orlando, Florida.  The conference brought together servicing executives, operations managers, service providers, policymakers and others. 
There were several themes discussed at the conference, which included housing affordability challenges (helped by the FHA's welcomed announcement of a mortgage insurance premium reduction) and the future of post-pandemic loss mitigation in a higher interest rate and higher delinquency environment.  Indeed, MBA's latest forecast assumes a recession in 2023, along with an increase in unemployment as well as financial challenges for low-to-moderate-income (LMI) households.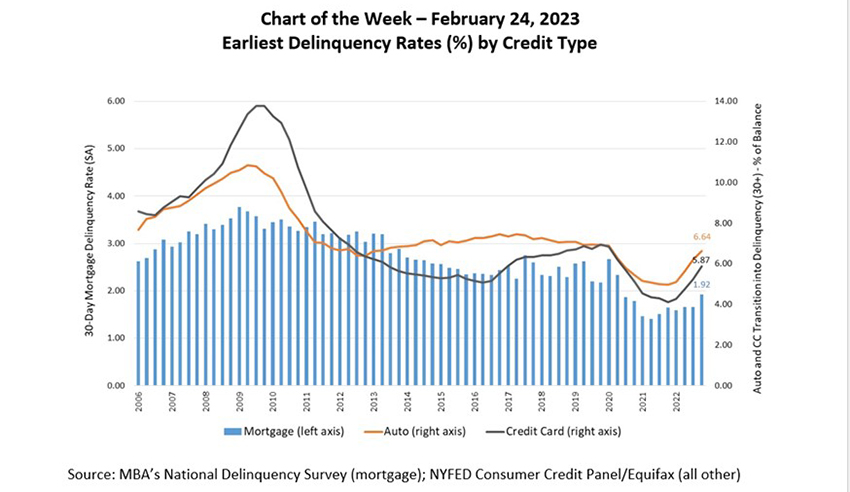 The latest credit delinquency data from both MBA and other sources indicates that delinquencies are rising.  In MBA's National Delinquency Survey, covering national and state delinquencies through the fourth quarter of 2022 revealed that the delinquency rate for mortgage loans on one‐to‐four‐unit residential properties rose to a seasonally adjusted rate of 4.96 percent of all loans outstanding at the end of the fourth quarter. The delinquency rate was up 51 basis points from its previous quarterly survey low.  Half of that increase resulted from the earliest stage delinquencies (30-days) rising 26 basis points from 1.66 percent in the third quarter to 1.92 percent in the fourth quarter. While still low relative to historical averages, the trend in the 30-day delinquent rate has been moving upward since the second quarter of 2021.
Other types of credit products are also demonstrating similar trends in earliest delinquencies. According to the Federal Reserve Bank of New York, the share of credit card balances moving into delinquency rose from 5.2% in the third quarter to 5.9% in the fourth quarter of 2022. At the same time, the share of auto loan balances moving into delinquency rose from 6.21% in the third quarter to 6.64% in the fourth quarter of 2022.
These latest data suggest that despite recent indicators of resiliency in the job market, including the unemployment rate declining to 3.4 percent in January, homeowners are already experiencing some financial distress due to the economic slowdown, ongoing inflationary pressures, and for some, household expenses exceeding incomes.
Notes on Definitions:
MBA's 30-day delinquency rate tracks the number of loans that are contractually 30 days delinquent as of the end of the quarterly reporting period. It is based on loan count.
The NYFED Consumer Credit Panel / Equifax delinquency rate tracks the quarterly flow of debt balances transitioning into early delinquency (30+ days) by credit type.
For a copy of MBA's recent white paper on the Future of Loss Mitigation, click here.
—Ahn Doan adoan@mba.org; Marina Walsh, CMB mwalsh@mba.org.