Black Knight: Foreclosure Inventory Very Low, Serious Delinquencies Down in July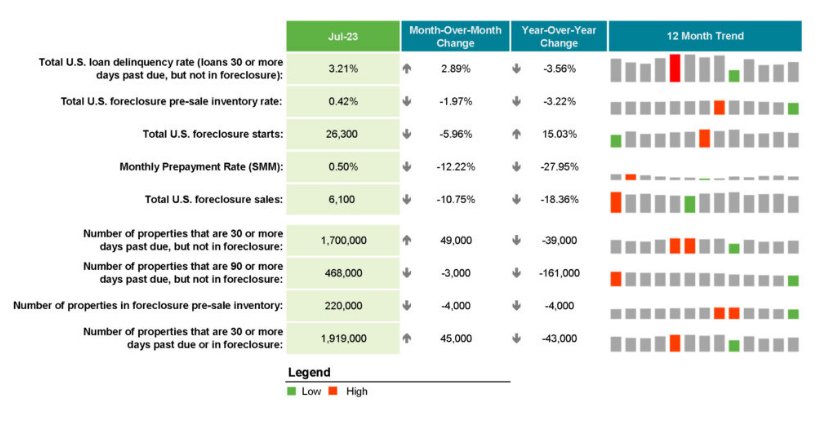 (Image courtesy Black Knight)
Black Knight, Jacksonville, Fla., reported its "first look" at July 2023 mortgage performance statistics, finding that serious delinquencies continue to improve. At only approximately 468,000, they're at the lowest level since the pre-Great Financial Crisis housing peak and down 26% year-over-year.
The national delinquency rate–while up slightly from June–is down 12 basis points year-over-year. It also remains within 12 basis points of the record low set in March.
Thirty-day and 60-day delinquencies rose by 35,000 and 17,000, respectively, while 90-plus-day delinquencies fell by 3,000.
Loans in active foreclosure fell to 220,000–the lowest level since right after the end of the federal foreclosure moratoria.
There were 26,300 foreclosure starts, 39% below pre-pandemic levels and 4% below the trailing 12-month average. Foreclosure starts were 5.6% of 90-plus-day delinquencies.
There were 6,100 foreclosure sales/completions during the month, down 11% from June.
However, prepayment activity fell, with prepayments down 28% from July 2022.