Dealmaker: Mesa West Capital Provides $49M in Palm Beach County
Mesa West Capital, New York, provided $49.2 million in first mortgage debt to recapitalize Monteverde at Renaissance Park in Palm Beach County, Fla.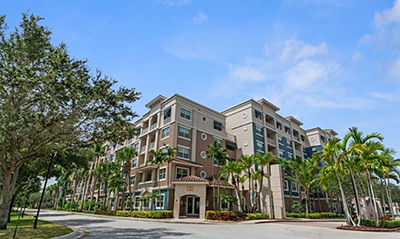 ESG Kullen and Angelo Gordon, both headquartered in New York, refinanced the 219-unit property. CCL Capital Principal Michael Lupo arranged the financing.
Monteverde at Renaissance Park at 1625 Renaissance Commons Blvd. in Boynton Beach is less than 15 miles south of West Palm Beach. Built in 2006 as a condominium, the 2.5-acre property offers one-, two- and three-bedroom apartments housed in three six-story buildings.
The property sits within the Renaissance Commons master-planned community, which also includes dining, shopping and entertainment venues. More than two million square feet of retail including Boynton Beach Mall, Renaissance Commons and multiple grocery-anchored centers, lie within two miles of the community.
Palm Beach County–the third most populous county in Florida–has seen 16-plus percent population growth since 2010. Some call the county "Wall Street South" because more than 2,400 financial services firms have offices there. Monteverde at Renaissance Park is close to five major medical centers and four colleges and universities.
"Monteverde offers the sponsor an outstanding value-add opportunity in reimagining the common and amenity spaces to bring them in line with market current standards," said Mesa West Executive Director Russell Frahm, who led the New York City-based origination team with Vice President Brian Hahn and Analyst Jacob Rosen. "In addition, the property will benefit from strong multifamily demand drivers including continued Sun Belt migration, especially to no income tax states like Florida, and greater appeal of multifamily living in this higher interest rate economy."