Consumer Confidence Falls to 4-Month Low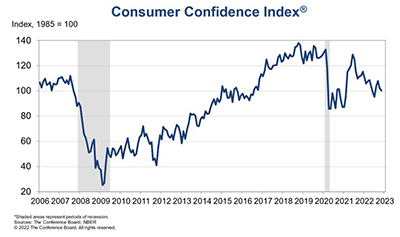 The Conference Board, New York, said its Consumer Confidence Index fell in November, its second consecutive monthly drop to its lowest level since August.
The Index now stands at 100.2 (1985=100), down from 102.2 in October. The Present Situation Index—based on consumers' assessment of current business and labor market conditions—decreased to 137.4 from 138.7 last month. The Expectations Index—based on consumers' short-term outlook for income, business, and labor market conditions—declined to 75.4 from 77.9.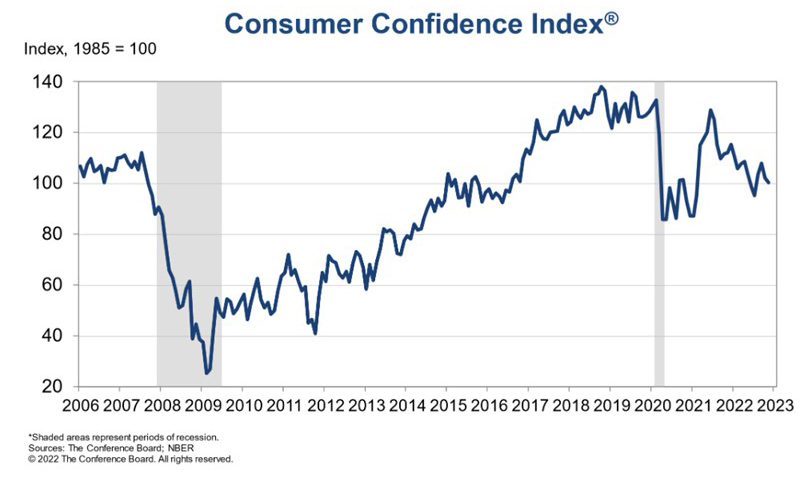 Lynn Franco, Senior Director of Economic Indicators with The Conference Board, said higher gas prices likely led to consumer pessimism. "Inflation expectations increased to their highest level since July, with both gas and food prices as the main culprits," she said. "Intentions to purchase homes, automobiles and big-ticket appliances all cooled. The combination of inflation and interest rate hikes will continue to pose challenges to confidence and economic growth into early 2023."
"Over the course of the next several months we expect confidence to trend lower, but if the dip in gas prices holds, we could see a reprieve in December," said Tim Quinlan, Economist with Wells Fargo Economics, Charlotte, N.C. "Even with the decline in November, confidence is still 4.9 points higher than it was in July, following the June peak in gasoline prices."
Quinlan noted though fuel expenditures represent a small share of consumer spending, "gas prices have a way of getting into consumers' heads. Not only would a sustained drop in fuel prices support confidence, it could also help quell fears about inflation."
Other report data:
–Consumers' assessment of current business conditions was mixed in November; 18.2% of consumers said business conditions were "good," up from 17.7%. On the other hand, more consumers, 26.7%, said business conditions were "bad," up from 24.0%.
–Consumers' appraisal of the labor market was somewhat more favorable; 45.8% of consumers said jobs were "plentiful," up from 44.8%, while 13.0% of consumers said jobs were "hard to get," unchanged from last month.
–Consumers remain pessimistic about the short-term business conditions outlook in November; 19.9% of consumers expect business conditions to improve, up slightly from 19.6%, while 22.7% expect business conditions to worsen, down from 24.3%.
–Consumers were more downbeat about the short-term labor market outlook; 18.6% of consumers expect more jobs to be available, down from 19.5%, while 21.4% anticipate fewer jobs, up from 20.8%.
–Consumers were also more pessimistic about their short-term income prospects; 17.2% of consumers expect their incomes to increase, down from 19.6%, while 16.6% expect their incomes will decrease, up from 15.2%.