Industry Briefs Nov. 18, 2022: Revvin Releases HELOC-Ready Workflows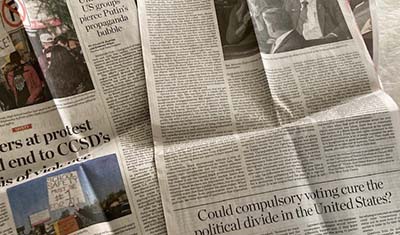 Revvin Releases HELOC-Ready Workflows
Revvin, Chicago, released a set of HELOC-specific workflows that make it easier for lenders to attract home equity line of credit applicants and gather the required information for delivery to the lender's LOS.
The pre-built workflows can be deployed in a day or two and can be customized to the lender's specific requirements. HELOC lenders can also leverage the Revvin Customer Experience Engine agility to craft and deliver an intuitive experiences.
SouthState|DuncanWilliams Securities Joins Agile Broker-Dealer Network
Agile, Philadelphia, announced SouthState|DuncanWilliams Securities Corp., a FINRA-regulated wholly owned subsidiary of SouthState Bank N.A., joined Agile's broker-dealer network.
SouthState|DuncanWilliams Securities Corp. has been conducting TBA trades with better efficiency to execute at competitive pricing via Agile as of August.
Stronghill Capital Expands into Residential Lending
Small-balance lender Stronghill Capital, Austin, Texas, launched a new residential lending division with Non-QM, Non-Agency Jumbo and Investor Residential Programs.
Stronghill Capital's Non-QM loan programs include: Debt Service Coverage Ratio program for 1-4 and 5-8 unit properties; Bank Statement, Asset Depletion, Non-Agency Jumbo and Credit Achiever; Business and consumer-purpose entity transactions; Support from LoanNex Pricing and Product Engine; and Ability to price loans with premium rebates back to broker/originator.
RiskScout Announces Platform Enhancements
RiskScout, Austin, Texas, announced several platform enhancements.
The new features allow clients to onboard, verify and conduct ongoing compliance on higher-risk individuals, including pre-existing higher-risk clients in portfolio. Onboarding filters applicants to fit the institution's risk appetite and target client composition through customizable template applications. RiskScout's platform conducts a comprehensive red flag screening on the application, tailored to the financial institution's policy.
MCT Launches BAMCO Co-issue Loan Sale Marketplace for Shadow Pricing
Mortgage Capital Trading Inc., San Diego, released BAMCO, a new marketplace for co-issue loan sales. BAMCO brings co-issue transactions directly into MCT's whole loan trading platform and improves price transparency by connecting unapproved sellers to live executions from potential buyers.
BAMCO supports live, flow-based, loan-level MSR pricing, expanding execution options for sellers while creating new client acquisition opportunities for buyers. While co-issue executions via agency integrations have always been and will continue to be included in lenders' loan sale best execution analysis, BAMCO brings in a new section featuring direct co-issue pricing for both approved and unapproved buyers. Co-issue buyers have the choice to deliver standard grid-based co-issue pricing or loan-level bid tape co-issue pricing.
Bankrate.com: Majority of Adults Delay Financial Milestones in Current Economy
According to a new Bankrate.com report, a majority of U.S. adults (53%) have delayed a major financial milestone due to the state of the economy. This includes 25% delaying home improvements/renovations and 15% putting off purchasing a home (respondents could select more than one response).
An overwhelming number of Americans (57%) say that their quality of life has been negatively impacted by the state of the economy. This includes 34% that feel the economy has had a "somewhat negative" impact on their quality of life in the past year and 22% indicating a "very negative" effect.
Best Metros for Downsizing: San Jose, San Francisco Residents Stand to Cash In Most From Switching To Smaller Living
StorageCafe, Santa Barbara, Calif., said homeowners across the country can save nearly $196,000 through downsizing from a 4-bedroom to a 2-bedroom home. The San Jose metro area takes the first spot, ensuring downsizing savings of $778,000, followed by San Francisco and Urban Honolulu
The lowest amount of downsizing savings can be found in the Rochester, N.Y. metro area – roughly an eighth the amount that can be gained in San Jose
The San Jose-Sunnyvale-Santa Clara metro area ranks first nationally for downsizing savings – moving within the metro area from a 4-bedroom residence to a 2-bedroom home can amount to average savings of almost $778K.
Leaving the suburbs and heading to the city can give you even better chances of swelling your bank balance. Switching from a 4-bedroom home in Sunnyvale to a 2-bedroom in San Jose can result in savings of nearly $1.6 million.
FHFA Issues Report on Enterprise Single-Family Guarantee Fees in 2021
The Federal Housing Finance Agency issued its annual report on single-family guarantee fees charged by Fannie Mae and Freddie Mac. For all loan products combined, the average single-family guarantee fee increased by 2 basis points to 56 points in 2021. The upfront portion of the guarantee fee, which is based on the credit risk attributes (e.g., loan purpose, loan-to-value ratio, and credit score), increased by 2 basis points to 13 basis points on average in 2021.​
The average guarantee fee in 2021 on 30-year fixed rate loans rose by 1 basis point to 59 basis points, while the average guarantee fee on 15-year fixed rate loans rose by 6 basis points to 42 points. Fifteen-year loans were disproportionally affected by the adverse market refinance fee because 15-year loans were more likely to be refinance loans. This fee was eliminated on Aug. 1, 2021.
CFPB Supervisory Examinations Find Credit Reporting Failures, Junk Fees, Mishandling of COVID-19 Protections
The Consumer Financial Protection Bureau released a new Supervisory Highlights report on legal violations identified during the CFPB's supervisory examinations in the first half of 2022. CFPB examiners found that one or more of the nationwide consumer reporting companies failed to report to the CFPB the outcome of their reviews of complaints about inaccuracies on consumers' credit reports.
In response to these findings, the consumer reporting companies changed their policies, procedures, and practices to be more transparent in handling such complaints. Additionally, CFPB examiners found violations of the accuracy obligations of the Fair Credit Reporting Act by furnishers, including finding that auto loan furnishers were reporting inaccurate information about consumer loans despite knowing that the information was inaccurate. In response to these findings, furnishers corrected the inaccurate information for affected consumers and made it easier for consumers to submit disputes directly to the furnishers.
Redfin: Rents Rose 7.8% in October—Slowest Growth in 14 Months
Redfin, Seattle, said the median U.S. asking rent in October rose 7.8% year over year to $1,983, the smallest annual increase since August 2021. October marked the second-straight month of single-digit rent growth following roughly a year of double-digit gains. It was also the fifth-consecutive month in which annual rent growth decelerated, with rents rising at about half the pace they were six months earlier. Rents declined 0.9% on a month-over-month basis.
"Demand for rentals is slowing because economic uncertainty is prompting many renters to stay put, and persistent inflation is shrinking renter budgets. That's causing rent growth to cool," said Redfin Deputy Chief Economist Taylor Marr. "There are signs that inflation is starting to ease, but it will likely be a while before renters see meaningful relief given that rents are still up more than wages."
Zillow: Thursday Best Day for Home Price Cuts
Home buyers looking for a Black Friday deal may want to shop on Thursdays. That's the day of the week when sellers are most likely to slash their list price, according to new research from Zillow. This fall, a record 28% of sellers had cut their list price, meaning bargain hunters who can afford today's mortgage rates are more likely to snag a discount.
Zillow found when sellers cut prices, 18.5% of them do so on a Thursday. However, the timing can be slightly different depending on the metro area. For instance, in Philadelphia and Baltimore, price cuts most often happen on Tuesday, while Monday is the best day for deals in Detroit, Cleveland and Buffalo. Buyers nationwide can be sure to see fewer price cuts on Fridays and the weekends when sellers are busy with showings and open houses.
"Fall and early-winter sellers likely understand the market is slower during the colder months and may have built that into their pricing strategy, resulting in fewer price cuts," said Zillow senior economist Orphe Divounguy. "This year may be the exception. This fall, a record number of sellers have already adjusted their list price to keep up with the rapidly shifting market. The price they set just weeks ago may no longer be attainable in light of rising mortgage rates and falling demand."
FHFA Releases FY 2022 Performance and Accountability Report
The Federal Housing Finance Agency released its annual Performance and Accountability Report, which details FHFA's activities as regulator of the Federal Home Loan Bank System and as regulator and conservator of Fannie Mae and Freddie Mac during fiscal year 2022.
For the 14th consecutive year, FHFA received an unmodified audit opinion on its FY 2022 financial statements from the U.S. Government Accountability Office. Included in the unmodified opinion, GAO noted no material weaknesses or significant deficiencies in FHFA's internal controls. GAO also found no instances of reportable noncompliance with the applicable laws and regulations it tested.
2022 Shatters Last Year's Records with 14 Zip Codes Surpassing $4 Million Median
PropertyShark released its annual report on the 100 most expensive U.S. Zip Codes, noting an upswing in even more locations this year than last, with 86% of zips experiencing increases.
Despite a slower pace of growth, a record 128 zip codes posted the 100 highest median sale prices this year (the result of 22 ties). And they also reached new heights that might have been unimaginable just a few years ago. Among them were Atherton, Calif.'s $7.9 million median; the $2.9 million median in Paradise Valley, Ariz.; and $4.75 million median in 98039 in Medina, Wash.
As has been the case for years now, California remained the unchallenged leader of the most expensive zip codes to buy a home in the U.S., providing 90 zips to its ranking, the equivalent of 70% of the country's leading zips. The country's four priciest counties; the most expensive metro; four of the five priciest cities; and seven of the 10 most exclusive zips were all in California. Furthermore, the sharpest median increase was also in California: 92014 in San Diego County grew 39% year-over-year.
New York contributed the second-highest number of zips with 17 entries, representing 13% of the richest zip codes for real estate in the U.S. It was followed by Massachusetts with six zips, where the ultra-pricey 02199 zip code slipped out of the top 10 after undergoing the most radical price drop on our list at -41%. Additionally, Washington and New Jersey tied with four zips each to increase their presence among the most exclusive zips.
Black Knight Originations Market Monitor: Credit Scores Fall, Increased Demand for ARMs, Affordability Challenges Continue as Interest Rates Top 7% in October
The Optimal Blue Mortgage Market Indices from Black Knight, Jacksonville, Fla., tracked 30-year rates as they rose 34 basis points overall throughout the month to finish October at 7.06%, the highest level in more than 20 years
The impact of elevated rates has been clear on overall lock volumes, which dropped more than 14% in October, and are now down 30% over the past three months and 61% off last year's level. October's decline was led by yet another steep drop (-25.1%) in cash-out locks and further deterioration (-15.7%) in the rate/term market – ultimately, refis made up just 14% of the month's lock activity. Interest rates and affordability challenges continue to put downward pressure on purchase lending as well, with the dollar volume of such locks 13% off the prior month and down 39% from October 2021
"With interest rates now at their highest level in 20 years, the refi market is rapidly approaching a bottom," said Scott Happ, president of Optimal Blue.
Redfin: Annual Home Price Growth Slows to 3%
Home-sale prices rose 3.2% year over year during the four-week period ending November 6, the smallest increase since July 2020, according to a new report from Redfin, Seattle. The median home sale price has fallen 8.4% from its record high in June, when the average 30-year fixed mortgage rate was more than a point lower than it is now. Home prices rose half a percent during the same period last year.
The report said early-stage demand may be leveling off as serious homebuyers who must be in the market now grow accustomed to mortgage rates near 7% and their ability to negotiate with sellers on price and terms improves. Mortgage purchase applications ticked up last week after six weeks of declines. Redfin's Homebuyer Demand Index—a measure of requests for home tours and other home-buying services from Redfin agents—increased 2.8% in the week ending November 6.
CFPB Issues Guidance to Address 'Shoddy Investigation Practices' by Consumer Reporting Companies
The Consumer Financial Protection Bureau issued a circular to affirm that neither consumer reporting companies nor information furnishers can skirt dispute investigation requirements. The circular outlines how federal and state consumer protection enforcers, including regulators and attorneys general, can bring claims against companies that fail to investigate and resolve consumer report disputes.
The CFPB has found that consumer reporting companies and some furnishers have "failed to conduct reasonable investigations of consumer disputes and to spend the time necessary to get to the bottom of inaccuracies." These failures can affect, among other things, people's eligibility for loans and interest rates, for insurance, and for rental housing and employment.
"One wrong piece of information on a person's credit report can have destructive consequences that follow a consumer for years," said CFPB Director Rohit Chopra. "Companies that fail to properly address consumer disputes in accordance with the law may face serious consequences."
VeriFast Achieves SOC 2 Type 1 Status
VeriFast, New York, achieved its System and Organization Controls 2 Type 1 compliance in accordance with American Institute of Certified Public Accountants.
VeriFast provides a single-source configurable API platform that allows companies to immediately validate customers' ability to pay and legal status while eliminating growing fraud concerns. It provides consumer – borrower insights beyond conventional credit checks.
Exceleras Software Update Improves Collaboration
Exceleras, Glencoe, Ill., released a software update for its DispoSolutions software designed to increase the ability of users to collaborate and accelerate the property disposition process.
In the new "Conversational View," the notes functionality begins to feel more like a social network in that it organizes the notes into an expandable and collapsible hierarchy. This allows users to follow the thread of messages, starting with the original message at the top of the hierarchy, and then drill down to see each person's reply or whether they forwarded the message, and then all future commentary in the thread. Alternatively, they can collapse all but the notes important to them and their work.
In addition to the notes functionality, the newest release also includes a new "Alerts" feature that can be used to update an entire team by placing notices on all of the major pages in the system, and regardless of what property a user is viewing, if something important occurs. Instead of driving users back to their own Action Lists, they can respond to the event immediately, without leaving their current page in the platform. Once the issue has been addressed, the user can easily return to where they were previously to continue their original work.