Pending Home Sales Fall 6th Straight Month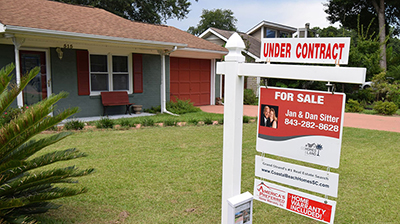 Pending home sales fell by nearly 4 percent in April—the sixth consecutive monthly drop—the National Association of Realtors reported Thursday.
The Pending Home Sales Index (www.nar.realtor/pending-home-sales), a forward-looking indicator of home sales based on contract signings, fell by 3.9% to 99.3 in April. Year-over-year, transactions fell by 9.1%.
Regionally, results were mixed. In the Northeast, the index fell by 16.20% to 74.8 in April and fell by 14.3% from a year ago. In the Midwest, the index rose by 6.6% to 100.7 last month but fell by 2.8% from a year ago.
Pending sales in the South fell by 4.7% to 119.0 in April and by 10.3% from a year ago. In the West, sales fell by 4.3% in April to 85.9 and fell by 10.5% decrease from a year ago.
"The latest contract signings mark six consecutive months of declines and are at the slowest pace in nearly a decade," said Lawrence Yun, NAR chief economist. "The vast majority of homeowners are enjoying huge wealth gains and are not under financial stress with their home as a result of having locked into historically low interest rates, or because they are not carrying a mortgage. However – in this present market – potential homebuyers are challenged and thus may attempt to mitigate the rising cost of ownership by opting for a five-year adjustable-rate mortgage or by widening their geographic search area to more affordable regions."
"Rising mortgage rates deter potential buyers," said Mark Fleming, Chief Economist with First American Financial Corp., Santa Ana, Calif. "But it's not just the impact of declining affordability on demand that's reducing the pace of sales in the housing market. There's another 'supply' side to this story. Sellers are facing a 'prisoner's dilemma.'"
Fleming noted many existing homeowners are staying put. "Average tenure length in the U.S. is over 10.5 years, and rising rates will further discourage existing homeowners from selling their homes," he said. "There is limited incentive to sell if it will cost more each month to borrow the same amount of money. Higher mortgage rates leave existing homeowners feeling 'rate locked-in' to their existing homes and existing homeowners are the largest source of buyers, so the greater the rate lock-in effect, the fewer homes for sale and fewer home sales."