Housing Market Roundup Mar. 16, 2022: Demand for Vacation Homes Falls to 2-Year Low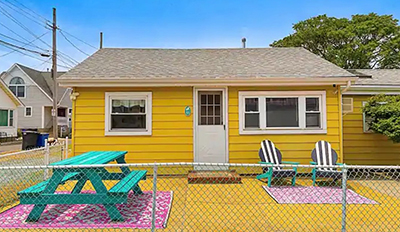 Here's a quick recap of housing market stories that have recently come across the MBA NewsLink desk:
Demand for Vacation Homes Drops to Lowest Level in Nearly Two Years
The vacation-home boom started fading in February, partly because of rising mortgage rates, said Redfin, Seattle, Still, it reported demand for second homes is 35% above pre-pandemic levels.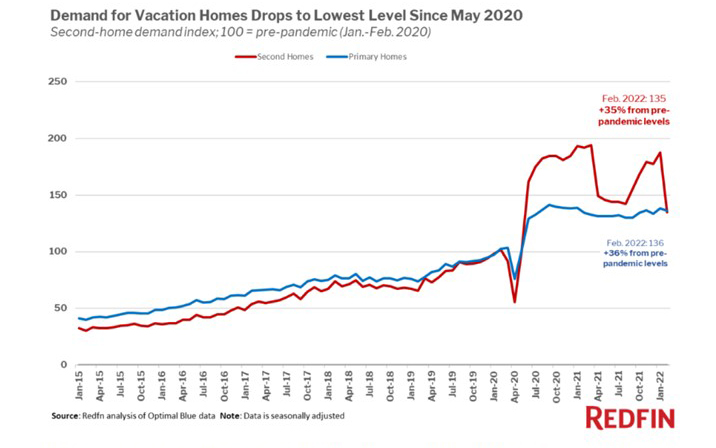 The report said demand for vacation homes dropped sharply in February, with mortgage-rate locks for second homes reaching their lowest level since May 2020. February also marked the first month since the start of the pandemic that growth in demand for primary residences outpaced that of vacation homes, albeit only slightly, with mortgage-rate locks for primary homes up 36% from pre-pandemic levels.
"Rising mortgage rates, combined with rising home prices, are hitting the second-home market much harder than the primary-home market," said Redfin Chief Economist Daryl Fairweather. "That's largely because vacation homes are optional. People don't need a second home, but they do need a place to live. Still, people are buying up vacation homes more than they were before the pandemic, as work remains more flexible than it used to be."
Fairweather said demand for second homes could continue to decline in coming months as loan fees for second homes go up. The Federal Housing Finance Agency announced fees for second-home loans will increase by 1% to 4% starting in April. The change will add about $13,500 to the cost of purchasing a $400,000 home for the typical second-home buyer, which can either be paid upfront or rolled into a mortgage (about $60 per month).
Survey: COVID Transforms Home Buying Market
ICE Mortgage Technology, Pleasanton, Calif., released its 2022 Borrower Insights Survey, showing the COVID pandemic transformed the home buying market – permanently and drastically changing the way borrowers use technology and what they expect from a lender.
"They are relocating to find more space and to work remotely," the survey said. "And after two years of video conferencing, nearly three-quarters think an online mortgage process is easier than an in-person process."
Findings of the December 2021 survey of 2,000 Americans – 1,000 borrowers and 1,000 renters – describe a changed society in which the pandemic has accelerated work and technology trends already underway. They also describe the impact of a new generation of home buyers. Of note to lenders, the findings indicate that, since adapting to a new way of life due to COVID and the rapid emergence of virtual experiences and remote working, borrowers expect the same digital experience when purchasing a home.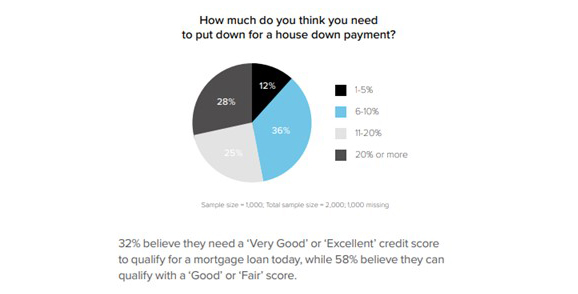 "What we've learned over the last two years is our lives will never go back to the way they were," said Joe Tyrrell, President of ICE Mortgage Technology. "Borrowers are more accustomed to ordering everything online from groceries to appliances to automobiles. It's no surprise that when asked, they prefer to go virtual with home buying as well. As an industry, we need to continue to deploy digital offerings – but not at the expense of relationships, which are still an important factor in choosing a lender."
Other survey findings:
–Borrowers cited a number of reasons for buying a home. Among those who secured their mortgage during the past two years – that is, during the pandemic – a significant number (38%) cited the need for more space.
–Another closely related pandemic phenomenon – the "great resignation" – seems to be driving the "great relocation." Both borrowers and renters alike are willing to be on the move, looking for different or more rewarding work or chasing work that's available.
–The pandemic and remote work are driving mobility. More than a quarter of borrowers who have gone through the mortgage process in the past two years say they are considering selling their home due to a job change or relocation (26%). Of those respondents, 60% say the ability to work remotely is the main reason for their job change and/or relocation.
–The impact of the pandemic seems to be ongoing. For all homeowners surveyed in 2021, the numbers are similar, and seem to reflect a "new normal." 28% of homeowners reported that their decision to sell was driven by a job change or relocation. And – again in this case – a major proportion (61%) of that group responded that the ability to work remotely was the main reason for changing their job and/or relocating.
–Renters and borrowers are enthusiastic about the idea of an online mortgage process. They think it would make home buying easier. And their enthusiasm has gone up in the course of the pandemic.
–74% of "pandemic era" borrowers (those who have gone through the mortgage process in the past two years) think an online mortgage process makes, or would make, buying a home easier than an in-person process. By contrast, three or more years ago – in the pre-pandemic era – borrowers were less likely to use an online application (52% vs. 64% during the pandemic), an online portal for uploading documents (56% vs. 67% during the pandemic) and online portals for signing and notarizing documents (56% vs. 64% during the pandemic).
–Three in five borrowers reported that they were influenced in their choice of lender by whether the institution offered online mortgage applications (60%), online portals for uploading documents (59%), and online portals for signing and notarizing documents (60%). While important, interest in mobile apps was not as strong – 46% reported they were influenced by whether the lender offered a mobile app.
Buyers Pay Nearly 4% More for Homes that 'Work Hard, Play Hard'
Zillow, Seattle, said in a market where home values are hitting new record highs, multifunctional homes with features that accommodate both work and play are fetching even higher prices than the competition.
The company's 2022 Home Features That Sell analysis finds listings mentioning remote work-friendly features and amenities that make it easier to unwind and entertain at home can sell for more than expected, while features associated with energy efficiency and sustainability can help a home sell faster.
"Home buyers are investing in features that reflect the changes in their lives," said Amanda Pendleton, Zillow's home trends expert. "While the world slowly exits the pandemic, this data provides some insight into the new normal. Our lives now revolve around where we live, as opposed to where we work. It's a realignment with wide-ranging impacts, including these changing home preferences that put value on function over style."
Zillow looked at nearly 230 features and design terms mentioned in listing descriptions for 3.1 million home sales in 2020 and 2021. Sellers whose homes have these desired features would be wise to highlight them in their listing description if they're looking to sell for top dollar. The pandemic-led shift to remote and hybrid work has put a premium on certain features that allow buyers to work from home. A strong internet connection has become essential as movers seek out relative affordability and more space farther away from city centers. High-speed broadband access, when mentioned in a listing description, is associated with a 2.5% sale premium. A Zoom room or home office space can add 1.6% to a home's sale price.
Features that add functionality to the kitchen can also help homes achieve higher sale prices. Steam ovens topped the list for a second consecutive year as the pandemic launched a new generation of home chefs. When mentioned in a listing description, this high-end kitchen appliance, which quickly cooks food with steam instead of oil, can contribute to a home selling for 3.7% more than expected. Buyers appear willing to pay more for other functional kitchen features that make cooking and cleanup faster and easier, such as new appliances (2.6%) and quartz countertops (2.3%).
Retreat spaces at home, once considered a luxury, are now wish-list items for buyers at all price points. Homes with a "she shed," the female equivalent of a man cave, where women can relax and unwind, can command 2.2% more than expected, while homes with a meditation room could see a 1.7% price premium.
Outdoor space with areas for lounging, dining and entertaining continues to be a priority for pandemic-era home buyers. Homes mentioning pizza ovens and outdoor kitchens can sell for 2.3% and 2.2% more, respectively.
While vacation areas are increasingly popular, buyers nationwide appear willing to pay more for homes that feel like a getaway, even if they're hundreds of miles from the beach. Nautical style was associated with a 2.4% price premium, while a saltwater pool can help a home sell for 2.1% more than expected.