Housing Market Roundup Mar. 15, 2022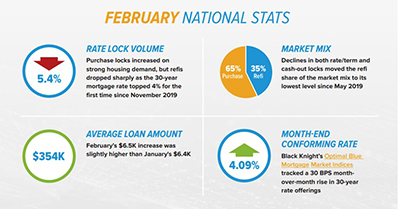 Here's a quick recap of housing market stories that have recently come across the MBA NewsLink desk:
Redfin: In a Bidding War, Cash is King
Redfin, Seattle, said prospective homebuyers who offered all cash were more than four times as likely to win a bidding war as those who didn't in 2021, making it by far the most effective strategy to win a home when there are multiple offers.
The report noted waiving the financing contingency and conducting a pre-inspection, both of which help a deal close faster, are also effective strategies. Buyers who used those strategies were 31% and 25% more likely to win than those who didn't, respectively.
However, the report noted scalation clauses and waiving the inspection contingency don't increase potential homebuyers' chances of winning a bidding war. That's likely because those strategies are so common in a competitive market, and often don't benefit one buyer relative to the competition.
Redfin reported more than half of offers faced competition each month of 2021 and competition has intensified, with this past January marking the most competitive month on record. Competition for homes is contributing to rapidly rising home prices, with more than 30% of U.S. homes selling above list price each month last year. The share has since increased, climbing to 43% in February. It cautioned while competition could ease some by the second half of the year if the supply of for-sale homes increases and mortgage rates rise, but bidding wars are still likely to be commonplace.
Black Knight: Refi Rate Locks Drop as Rates Edge Above 4%
Black Knight, Jacksonville, Fla., issued its monthly Mortgage Market Indices report, noting overall rate lock activity fell by 5.4 percent in February from January as interest rates jumped above 4 percent for the first time in two years.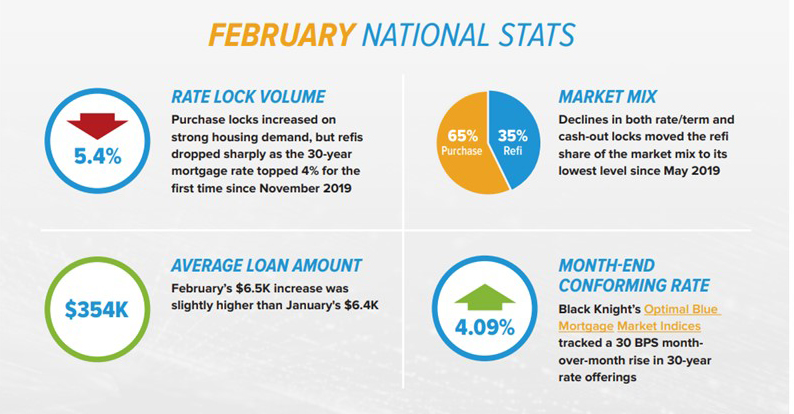 Black Knight said the drop in rate lock activity was driven by declines in both cash-out and rate/term refinance locks, which saw month-over-month drops of 15.3% and 34.1%, respectively. Purchase volume showed resilience as strong homebuyer demand drove a 7.2% month-over-month increase, with February volumes up 5.6% from the same time last year
"The Federal Reserve's unwinding of its bond buying program has been having a stronger impact on mortgage rates than Treasury yields," said Scott Happ, president of Optimal Blue, a division of Black Knight. "Driven by Fed policy and exacerbated by global instability, we've seen the spread between 30-year conforming rates and 10-year Treasury yields climb more than 40 basis points in just three months, topping 2.25% in February.