MISMO Winter Summit: Servicers Step Up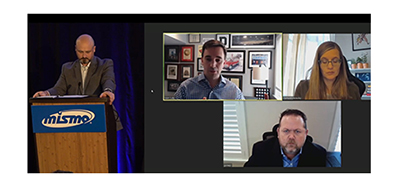 Clockwise from l-r: Moderator Chad Powers, Matthew Tully, Rachael Macaulay, Jay Jones
CLEARWATER, FLA.–As the mortgage market moves from refinances to purchases and loans move out of forbearance into modifications and workouts, servicers are stepping up, MISMO Winter Summit participants said.
"2021 and 2020 were very much the same, but I really think that when we look back, our ability as an industry to pivot quickly–especially around loans in forbearance–was a huge success," said Rachael Macaulay, Director of Client Administration and Senior Vice President with Flagstar Bank, Troy, Mich. "The whole industry stepped up. Also, 2021 showed how sustainable a remote and flexible working model is. Most servicers saw an increase in our productivity and that of our employees and our teams and I really think was a huge win."
Macaulay noted 2021 had a "bumpy" start, "but I think the industry has matured into our roles now with the forbearance loans and resolutions, and I think 2022 is going to look great," she said.
Jay Jones, Executive Vice President and Head of Servicing with mortgage servicing firm Mr. Cooper, Coppell, Texas, credited technology for helping servicers rise to the challenge. "The big answer for us in 2021 was technology," he said. "Being able to handle all the change that Rachael talked about and being able to communicate with the customer at the same time; I think technology covered both ends of that spectrum. A lot of times in servicing you see technology cover one or the other, but in 2021 you really saw it cover both."
Technology helped servicers react quickly to keep the borrower engaged and allowed them to complete forbearance requests and modifications, "which was meaningful for everyone," Jones said.
Looking toward 2022, Macaulay said she expects a new mortgage landscape where products that help borrowers tap their home equity rather than refinancing will become more important.
"On the challenge side, the two things on my mind [for 2022] are making sure our organization is staffed and ready for the ongoing regulatory compliance demand," Macaulay said. "The other thing that leads to is ensuring we have employee retention. We've all read about 'The Great Resignation,' well, mortgage servicing is highly, highly specialized. So the organizational memory of longer-term, experienced employees is going to be so important to retain."

Matthew Tully, Senior Vice President Agency Affairs and Compliance with Sagent, King of Prussia, Pa., said "digital self-service" will be important this year. "The interesting thing with some of our clients is that those who were on our digital portal were able to leverage tech very effectively while clients that were not on it are now very interested in it. Traditionally, it's been thought of as more of an originations construct to have a phone app to check rates and apply for a loan, but now, after the pandemic, the dynamic has changed. You really need an app for servicing as a retention tool."
Servicing call volume jumped in the pandemic's early days, Tully noted. "How much easier would it have been if a person could simply log onto an app and request forbearance?," he asked.
Tully said the app should include frequently asked questions. "The CFPB has criticized servicers for giving out inaccurate information," he said. "Well, in the fog of war, not everyone will always have the right answer, but an FAQ document that has been vetted by counsel can very quickly be posted on a portal to address basic questions."
In addition, an app can come in handy as weather-related risks increase, Tully said. "Whether that's hurricanes, earthquakes, fire or cold temperatures, the ability of a borrower to go on an app and report they've been affected by a weather event grows more important," he said. "If your house is underwater, you can't get on your phone and call your servicer. But on an app you could say 'my house is underwater; I need three months of forbearance.' I think there is going to be a lot more interest in leveraging that technology so servicers can provide the online experience that consumers are increasingly expecting."