Consumer Prices Continue to Rise at 'Menacing' Pace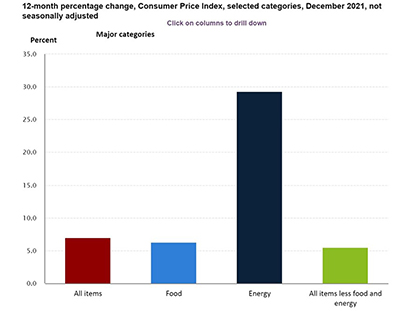 The Consumer Price Index finished 2021 with a bang, the Bureau of Labor Statistics reported on Wednesday. Although overall prices slowed somewhat in December from its brisk pace in November, they continued to show no relief on an annual basis.
The Consumer Price Index for All Urban Consumers increased by 0.5 percent in December on a seasonally adjusted basis after rising 0.8 percent in November—the sixth time in the past nine months that the all-items index has increased by at least 0.5 percent.
Over the past 12 months, the all-items index increased by 7 percent before seasonal adjustment, the largest-12-month increase since June 1982. The all-items less food and energy index rose 5.5 percent, the largest 12-month change since the period ending February 1991. The energy index rose by 29.3 percent over the past year, while the food index increased 6.3 percent.
Although energy prices fell for the first time in months (-0.4 percent), increases in the indexes for food, shelter and for used cars and trucks more than made up the difference.
"December's 0.5% increase in the Consumer Price Index marks a slowdown from November's gain, but the relative size should not detract from the absolute size which shows prices continue to rise at a menacing pace," said Sarah House, Senior Economist with Wells Fargo Economics, Charlotte, N.C. "The ongoing strength of inflation was underscored by the year-over-year change rising to 7%, which is the largest increase in nearly 40 years. If CPI inflation is still around 7% heading into the March [Federal Open Market Committee] meeting, as we expect it to be, it will be hard for the Fed to stand by idly."
House said the breadth of gains in recent months gives inflation inertia that will be difficult to break, noting more than two-thirds of categories have seen prices rise more than 3% this past year. "Inflation is still likely to run at a burdensome pace through the year," she said. "The Omicron variant appears to be sapping demand for in-person services once again, but it is also hitting the supply side of the economy in terms of staffing. Inventory levels are likely to take even longer to normalize as a result, keeping upward pressure of goods prices through the year that is coupled with strengthening services inflation."