Veros: Slightly Slower Home-Price Growth, Still-Booming Market in 2022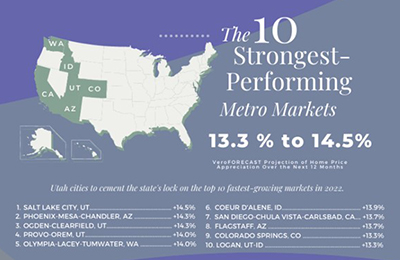 Veros Estate Solutions, Santa Ana, Calif., released its Q4 2021 VeroFORECAST data, projecting home prices will appreciate on average 6.8% for the next 12 months—slightly less anticipated growth compared to its third quarter predicted national average appreciation of 7%.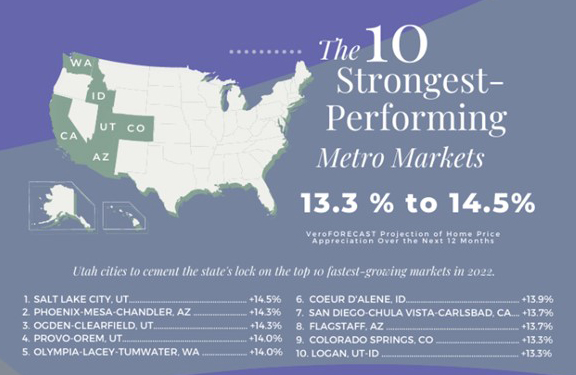 The report said market fundamentals remain in place to sustain higher prices in most parts of the country. Veros Chief Economist Eric Fox said historically low mortgage interest rates, insufficient new housing starts, record low supply of homes for sale, the prevalence of all-cash buyers, and rapidly declining unemployment rates will continue to keep upward pressure on house values. Though recent Fed actions have started to paint a picture of rising mortgage rates throughout 2022, these increases are expected to be very modest and leave the historical low-rate environment generally intact.
"Though many have been forecasting 'gloom and doom' since early 2020, [we have] been consistently saying that prices would be accelerating rapidly, which they have," Fox said. "Nothing has changed in that assessment other than we are seeing rapid levels of price increases stabilizing and slowing down slightly in 2022."
Top markets are still expected to appreciate at nearly a 15% annual rate, the forecast said, with even the weakest-performing markets continuing to see low single-digit appreciation. Western states continue their dominance on the Top 10 Strongest-Performing Markets List; Salt Lake City moved up to the #1 position on the list with anticipated appreciation of 14.5% over the next 12 months, with three other Utah cities making the Top 10. Arizona has two cities on the list; Phoenix moved up to the #2 position with expected house price increases of 14.3%. Washington, California, Idaho and Colorado each have one metro area in the Top 10. Long-time Top 10 entrant Boise, Idaho, dropped out of the Top 10.