Consumer Confidence Falls 2nd Straight Month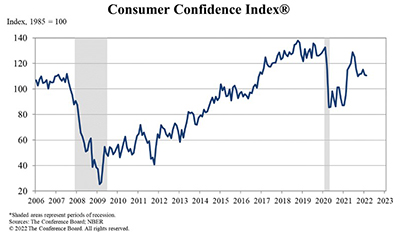 The Conference Board, New York, said its Consumer Confidence Index fell for the second straight month in February to its lowest level since October, as expectations continued to weaken.
The Index fell to 110.5, down from 111.1 in January. The Present Situation Index—based on consumers' assessment of current business and labor market conditions—improved to 145.1 from 144.5 last month. The Expectations Index—based on consumers' short-term outlook for income, business, and labor market conditions—declined to 87.5 from 88.8.
"Concerns about inflation rose again in February, after posting back-to-back declines," said Lynn Franco, Senior Director of Economic Indicators with The Conference Board. "Despite this reversal, consumers remain relatively confident about short-term growth prospects. While they do not expect the economy to pick up steam in the near future, they also do not foresee conditions worsening. Nevertheless, confidence and consumer spending will continue to face headwinds from rising prices in the coming months."
"Although a tight labor market usually keeps consumers in high spirits, the highest inflation in 40 years may be too much of a problem to overlook," said Tim Quinlan, Senior Economist with Wells Fargo Economics, Charlotte, N.C. "While the headline print was not quite as bad as the consensus had been expecting, it comes on the heels of downward revisions to prior months figures and the expectations component slumped the second-lowest reading since the start of 2021."
The report said consumers' appraisal of current business conditions was mixed in February: 18.7% of consumers said business conditions were "good," down from 20.0%; 24.7% of consumers said business conditions were "bad," down from 27.4%.
Consumers' assessment of the labor market was also mixed: 53.8% of consumers said jobs were "plentiful," down from 55.0% but still a historically strong reading. However, 11.8% of consumers said jobs are "hard to get," down from 12.0%.
Consumers' optimism about the short-term business conditions outlook eased in February: 23.4% of consumers expect business conditions will improve, slightly down from 23.6%. However, 18.1% expect business conditions to worsen, down from 19.7%. Consumers were also less optimistic about the short-term labor market outlook: 21.3% of consumers expect more jobs to be available in the months ahead, down from 22.1%; 17.9% anticipate fewer jobs, up from 16.6%.
The report said consumers were less positive about their short-term financial prospects: 15.7% of consumers expect their incomes to increase, down from 16.2%, while 12.1% expect their incomes will decrease, unchanged from last month.