Trepp: Offices Hit 4Q Life Insurance Mortgage Returns Hard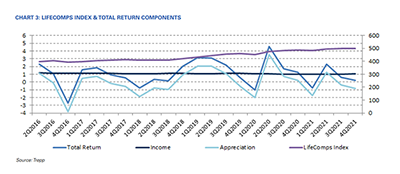 Trepp LLC, New York, said life insurance company commercial mortgage investments saw lower returns in the fourth quarter, largely due to the hard-hit office sector.
The Trepp LifeComps report found life company commercial real estate investments returned just 0.21 percent in the fourth quarter, down from 0.62 percent in the third quarter. Returns varied significantly last year, turning negative in early 2021, then bouncing back in the second quarter, then shrinking but remaining positive in the third and fourth quarters, Trepp said.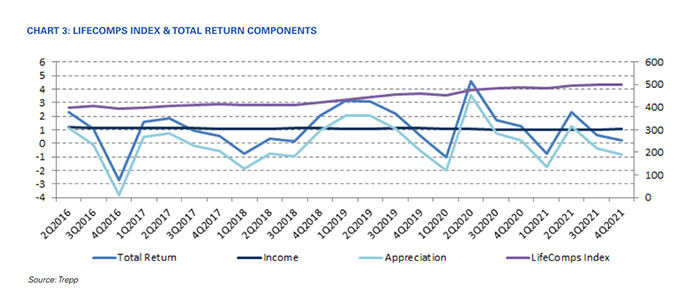 While the low returns hit all property types in the portfolio, office properties experienced the hardest hit with just 0.054 percent in Q4 and a 2.29 percent annual return, Trepp reported. "With continued coronavirus fears in the second half of the year, many offices returned to remote work due to rising cases," the report said.
Trepp Data Analyst Jennifer Dimaano said future questions are imminent in the office sector, "with occupiers re-evaluating renewals as COVID cases ebb and flow and as the work-from-home culture becomes more norm," she said. "This presents a unique opportunity for office building owners to reimagine vacant spaces left by former tenants and transform how loans are underwritten."
Ten-year Treasury yields have declined steadily since hitting a high of 174 basis points in the first quarter. Yields in the fourth quarter did not change from the third quarter, Trepp said.
Dimaano noted Federal Reserve Board of Governors Chairman Jerome Powell announced in mid-December that the Fed would taper back its bond-buying stimulus starting in March to combat the current high inflation rate. "The result of the announcement led to a short-term adverse market reaction," she said. "The decision made by the Federal Open Market Committee could heavily impact commercial real estate investments in the upcoming year."