Servicing22: How the Pandemic Made Government Loan Programs More Nimble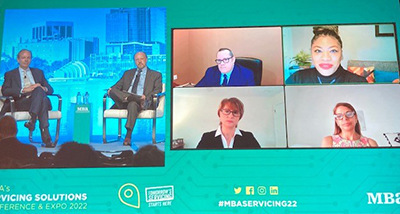 ORLANDO—Perhaps the most innovative adaption in the real estate finance industry during the coronavirus pandemic came not from the mortgage industry itself, but from the historically least agile sector—government loan programs.
While mortgage lenders, servicers and technology vendors and service providers proved to be remarkably nimble through the pandemic, they weren't the only ones: government loan programs—HUD, FHA, Ginnie Mae, VA and USDA—were equally adaptive, cutting through miles of government red tape with speed and efficiency rarely seen, enabling the mortgage industry to keep millions of borrowers in their homes.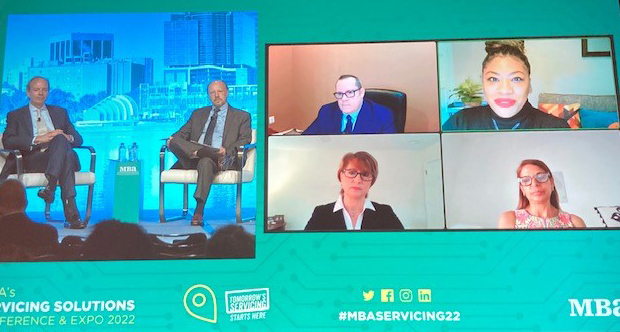 To mitigate the risks of a future crisis, representatives from these government loan programs offered perspectives and potential solutions at the MBA Servicing Solutions Conference & Expo.
"We wanted to ensure that we would stand behind our issuers in time of need; and that time of need indeed happened," said Leslie Meaux Pordzik, Senior Vice President with the Office of Issuer & Portfolio Management with Ginnie Mae. "We understood how important it was for our issuers to maintain liquidity and we were pleased with their response."
Julienne Joseph, Deputy Assistant Secretary in HUD's Office of Single-Family Housing (and former MBA Associate Director of Government Housing Programs and Member Engagement), said weaning off forbearances has been encouraging. "We are reading the tea leaves; we're not out of the woods yet," she said. "That said, we want to be mindful that while we have relaxed some of our guidelines, we are looking at additional options to be advantageous to borrowers and servicers."
Joseph said the forbearance numbers continue to look good—just 179,000, well down from the peak of more than 440,000 in July 2020. Default numbers have fallen as well. "Since the rollout of our mitigation tools, more than one million borrowers have participated in forbearance and modifications. We thank you for the work you have done for us; thank you for not giving up."
John Bell, Acting Executive Director of the Loan Guaranty Service with the Department of Veterans Affairs, said communication was important. "We had to make some quick changes fast to ensure that as many borrowers could understand the issues of how to navigate the financial impact they were getting in," he said. "We also had to ensure that veterans got into homes—that [mission] has to work at the same time for the VA loan program could be successful. We had to talk with our government partners and with you in the industry. Those conversations were paramount in our ability to get the longer-term program up in eight months. It's a testament not only to VA but to everyone who participated with us."
"What COVID taught us was that we could be nimble," said Ingrid Ripley, Executive Director for Single-Family Housing Guaranteed Loan Program with the Department of Agriculture. "We have been able to react and push out guidance quicker. And we worked together better with other agencies—government programs tend to operate in silos; COVID forced us to work together to bring you programs with some consistency and standards."
"I hope there won't be a 'next crisis.' But we know there will be—and we will be ready," Ripley added. "We continue to look at ways to tweak our programs to create ways to make it easier for our customers and our servicers."
Panelists expressed optimism that further alignment can continue. "We've worked with other federal agencies well and we want to things better," Ripley said.
"Making things easier for servicers to implement changes is crucial," Joseph said. "We want to incentivize borrowers to participate, but we don't know how temporary these changes will be. We want to keep our options open. And now that we have mechanisms in place and we are working with other agencies, we are hoping that we can help those borrowers who truly need help."
"While we don't develop servicing policy per se, we work closely with these agencies to provide a complete picture, so that our securitization options remain open," Pordzik said.
"It's not just about policy," Bell said. "The way we can listen to each other is through data…participating in MISMO can help us make smarter decisions."
Digitization is a critical element going forward, panelists said. "We are undergoing a modernization effort right now," Bell said. "For us to truly understand the key components of delivery, the policy decisions that drove us to that point, we need help from MISMO and other technology providers to combine into one way how data drives decision-making."
"Technology is our future, now," Ripley said. "We are reaching out to some of our servicers so that we know what their requirements, because we want to know what could help—or hurt—servicers."
Pordzik noted a Ginnie Mae pilot program has been highly successful with 15 issuers participating involving more than $50 million in securitizations. "We hope to expand the program in about six months and we hope we will get many more participants," she said.
Joseph said HUD is looking into other options, such as a 40-year loan modification program and even a 40-year mortgage program. "We hope to have a rulemaking out on that in the next 60 days," she said. "
Pordzik said Ginnie Mae continues to revamp its strategic plan. "We are part of HUD's strategic plan now, and it is being laid out for the 2022-2026 timeframe," she said. "Ginnie Mae is going to be asked to develop innovative programs and reach out to previously underserved communities. We are looking forward to the possibilities that it can bring, and we will certainly engage with our partners and the industry on this."