MISMO Fall Summit: Bringing Appraisals—and Appraisers—Into the 21st Century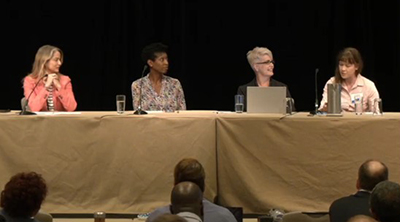 (l-r: Julie Giesbrecht; Elizabeth Green; Jillian White; and moderator Georgia Kromrie.)
WASHINGTON, D.C.—Property appraisals are at the core of the loan origination process—and the real estate finance industry's efforts to make the process more efficient, less expensive and fair for all involved.
"You're focused on the safety of consumers, but you have to inject some flexibility," said Julie Giesbrecht, Senior Policy Analyst with the Federal Housing Finance Agency, Monday at the MISMO Fall Summit. "And appraisers are not the most flexible bunch. They are highly resistant to change—and I can say that, because I'm also an appraiser."
Without greater flexibility during the pandemic, Giesbrecht noted, "appraisals would be a mess. There would have been tremendous backlogs and shortages of appraisers. We've been talking about making changes to the appraisal industry since 2016, and the pandemic forced the industry to change."
Giesbrecht said Fannie Mae and Freddie Mac were "incredibly agile" in adapting during the pandemic and in encouraging appraisers to become more flexible; for example, allowing for desktop appraisals.
"It's all about process change and re-engineering," said Jillian White, Head of Growth with Aloft, Maple Grove, Minn. "The appraiser's role does not necessarily change, because they are still licensed and bound to certain practices. The change is in what they have to learn to use technology and data standards."
"Modernization allows appraisers to spend more time analyzing and less time doing things," said Elizabeth Green, Chief Strategy Officer with Appraisal Logistics, Annapolis, Md. "So much of an appraiser's time is spent driving from place to place. Desktop appraisals make the appraiser's job so much more manageable.
"Today, as long as an appraiser is geographically competent, they could do an appraisal while they're away on vacation," Giesbrecht said.
White said Automated Valuation Models allow for a more accurate and less biased opportunity for appraisers. "It can also serve as an effective check on the appraiser," she said. "You can take the data and compare it to other data and identify issues that an appraiser can go back and check and verify. It protects the borrower, because it provides a more accurate value; and it also protects the appraiser, because it allows for more consistent appraisers.
"There's so much more data out there," Giesbrecht said. "Appraisers need to support their conclusions; data can help them do that."
For the most part, the appraisal industry is embracing change, Giesbrecht said. "Kicking and screaming, perhaps," she said. "Now, with volumes going down and everyone taking a breather, you're going to see more education and technology improve in a positive way."
"One of the problems is with the age of the average appraiser, which is around 59 now," Green noted. "The reason why there is more of a move to a staff model is because you don't have to deal with independent contractors who have different models or who are reluctant to change."
"There has been a lot of resistance to change from the current [appraiser] population," White said. "The change to the appraiser staff model—in which you can train and educate younger and more flexible appraisers and pay them salaries is giving companies more flexibility and agility in the ability to change."
Appraisal bias remains a thorny issue, as demonstrated recently by a case in Maryland in which a Black couple sued a lender and its appraisal company for allegedly undervaluing the appraisal on their home by nearly $300,000. When the couple changed the décor of their home to make it look like it was inhabited by a white family, the subsequent appraisal allegedly jumped the value of the house from $450,000 to nearly $750,000.
"The best way to mitigate risk is to close with the borrower," Green said. "We started looking at the effectiveness of the rebuttals being sent in."
One of the problems is that homeowners "don't speak the language of the appraiser," Green said. "The complaints they make didn't necessarily move the needle. But we realized that we had to do a better job of communicating, not only with the borrower but also with the appraiser."
"It is going to require an effort of everyone involved—the lender and the appraisal company—to combat this," White said.
"The biggest gap out there is that there is a difference between 'bias' and 'behavior,'" Green said. "We've had appraisers say 'but I'm a good person,' and it has nothing to do with whether they're good—it's all about the appraisal. And most of us carry a number of unconscious biases that can have an impact on the process."
Another issue: the appraiser community increasingly does not reflect changing demographics. "The appraisal community is a very homogenous group that is not predisposed to do take on trainees," Green said. "There has been very little incentive for supervisors to help trainees become certified."
"If you become an accountant or a lawyer, you can put up a shingle and start your own practice," White said. "If you become an appraiser, you have to get 2,000 hours of supervised training from someone who is legally liable for the quality of your work. It's not an efficient system."
"It's hard to attract young people today in which your main tools are a clipboard and measuring tape," Green said.
Fannie Mae and Freddie Mac have both developed initiatives with the Urban League and the Appraisal Institute to promote greater diversity in the appraisal field, including job fairs, scholarships and mentoring services. To date, 416 scholarships have been awarded, with nearly as many in the pipeline. "That's incredibly encouraging," Geisbrecht said.