Multifamily Sector Fundamentals Could Moderate
After six months of healthy growth in multifamily fundamentals, Freddie Mac, McLean, Va., said the sector's growth could moderate through the remainder of 2022.
Freddie Mac said it expects multifamily origination volume to contract to $440-450 billion, down from the peak seen in 2021, driven by "macroeconomic headwinds," including inflation and rising treasury rates.
"We believe the multifamily industry is well positioned to weather the economic uncertainty and interest rate volatility impacting the broader economy throughout the rest of the year," said Steve Guggenmos, Vice President of Multifamily Research & Modeling with Freddie Mac. "While we expect total volume projections will be down in 2022, rent growth and occupancy will still remain above their long-run averages."
Last week the Mortgage Bankers Association reported multifamily lenders provided a record $487.3 billion for new apartment buildings with five or more units. The MBA 2021 Annual Report on Multifamily Lending said this total represents a 35 percent increase from 2020.
"Strong property fundamentals, rising values and low interest rates all contributed to the jump in volume, as well as strong demand from every capital source to make multifamily loans," said Jamie Woodwell, MBA Vice President of Commercial Real Estate Research.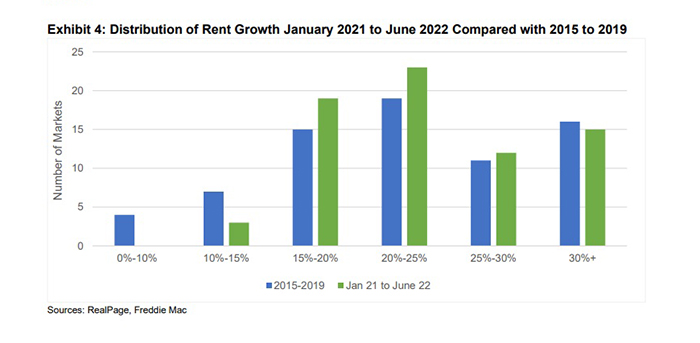 Other key findings from the Freddie Mac Multifamily Midyear Outlook:
–Growth will continue, but it will likely moderate: Multifamily growth beat expectations through the first half of the year after a record-breaking 2021.Freddie Mac said it expects gross income growth to moderate through the rest of the year but noted growth is on pace to outperform year-end inflation projections.
–Gross income gains: Freddie Mac projects every market it tracks will experience gross income gains. "The Florida and Southwest markets are generally expected to outperform the nation, while the smaller markets in the Midwest and few gateway markets are generally expected to be among the comparatively weaker performers," the report said. Overall, the GSE projects 6.8% gross income growth for the year and vacancy rates to remain flat at 4.8%.
–Slight contraction in multifamily lending: Considering the heightened degree of economic uncertainty and volatile treasury rate environment, Freddie Mac expects originations in 2022 to experience a slight contraction to $440-450 billion, down 8-10% from 2021.
Looking at multifamily rents, Yardi Matrix, Santa Barbara, Calif., said average apartment rents increased by $10 last month, the lowest increase since January. The average apartment rented for a record $1,717 in July.
"Rent growth remains lofty just about everywhere by historical standards, but the rate of increase in high-growth metros is falling," Yardi Matrix said. For example, year-over-year rent growth in top-performing Orlando (20.2 percent in July) and Miami (19.5 percent) remained high but dropped three to four percentage points compared to the previous month, the report said.
"The moderating rent growth may be a product of an inevitable return to the mean, coincidental to the suddenly slowing economy, or some combination of the two," Yardi Matrix said. The report noted record-high absorption of 580,000 units drove record rent growth last year. "Absorption is roughly half that pace in 2022, in line with a normal year," the report said.