CoreLogic: Annual Home Price Growth Hits New High; Cooling on the Way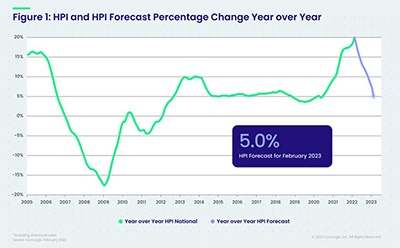 Another day, another report of record-high home price appreciation.
On Monday, Black Knight, Jacksonville, Fla., reported home prices rose by 19.6% annually and by more than 34% since the start of the coronavirus pandemic. On Tuesday, CoreLogic, Irvine, Calif., went higher, reporting annual home price growth topped 20% in February. Month over month, home prices increased by 2.2%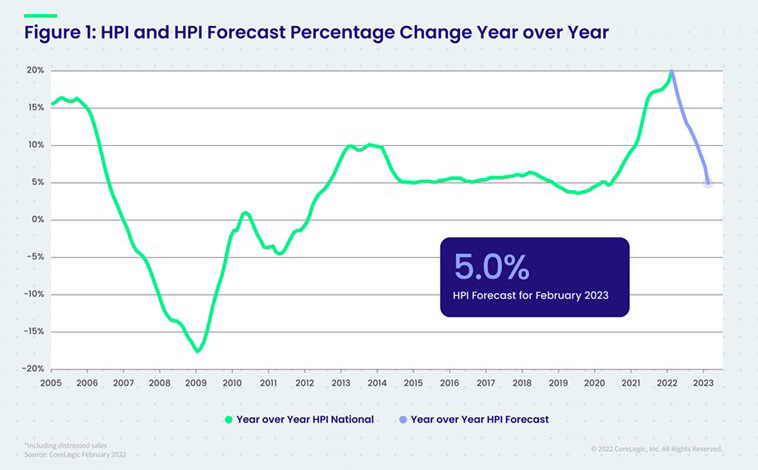 The company's monthly Home Price Index and HPI Forecast said U.S. home price growth posted a year-over-year increase of 20% in February, another series high and marking 12 months of consecutive double-digit gains. Annual price growth has been recorded every month for the past decade.
The report said while prospective buyers outnumber sellers, a record-low number of homes for sale remains the primary culprit for the rapid price gains.
"New listings have not kept up with the large number of families looking to buy, leading to homes selling quickly and often above list price," said CoreLogic Chief Economist Frank Nothaft. "This imbalance between an insufficient number of owners looking to sell relative to buyers searching for a home has led to the record appreciation of the past 12 months.
However, the CoreLogic HPI Forecast shows national year-over-year appreciation slowing to 5% by February 2023, as rising interest rates are expected to sideline even more buyers.
"Higher prices and mortgage rates erode buyer affordability and should dampen demand in coming months, leading to the moderation in price growth in our forecast," Nothaft said.
Other report findings:
–In February, annual appreciation of detached properties (21.1%) was 4.8 percentage points higher than that of attached properties (16.3%).
–Naples, Fla., logged the highest year-over-year home price increase at 41.4%. Cape Coral, Fla., ranked second, with a 40% year-over-year increase. All four metro areas with the largest annual price gains in February are on Florida's Gulf Coast. By contrast, two metros in upstate New York posted the lowest home price increases in the country: Ithaca (5.2%) and Elmira (3%).
–At the state level, warmer regions of the U.S. continued to show the largest increases, with Florida showing the country's strongest price growth at 29.1%. Arizona ranked a close second with 28.6% growth, while Nevada was third, at 25.8% annual appreciation.