Industry Briefs Apr. 21, 2022: Optimal Blue Launches Investor Pricing Insight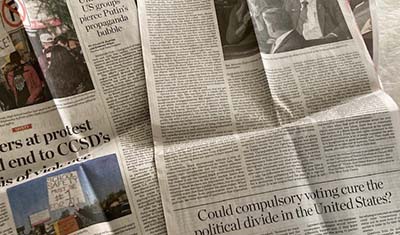 MBA NewsLink Staff
Optimal Blue Launches Investor Pricing Insight
Optimal Blue, Jacksonville, Fla., released Investor Pricing Insight, a benchmarking tool that makes real-time pricing available to wholesale and correspondent mortgage investors on demand.
Leveraging a contributory model, rather than survey data, Investor Pricing Insight enables investors to instantly determine how their pricing and eligibility strategies compare to peer organizations and adjust approaches accordingly to operate more competitively.
Society Mortgage Partners with Adwerx Enterprise
Society Mortgage, a mortgage lender based in Fort Lauderdale, Fla., joined Adwerx's portfolio of mortgage customers. Through Adwerx's Customer Relationship Advertising platform, every loan officer in Society Mortgage's network will receive personalized advertising campaigns designed to keep their brand top-of-mind with their existing database and maximize online exposure to potential clients who have visited the loan officers' web pages. This strategy is designed to ensure that loan officers are continuously in front of the people they've identified as important to their business.
Loan officers have access to pre-approved, brand-compliant ad templates built with the firm's marketing team. Part of the value the firm found in Adwerx includes a compliance dashboard where ads are optimized for regulatory compliance, eliminating the risk and time associated with manual approval.
Fannie Mae: Economic Growth Forecast Downgraded as 'Soft Landing' Appears Increasingly Unlikely
Fannie Mae, Washington, D.C., said expectations of aggressive monetary policy tightening through 2023 by the Federal Reserve are likely to further soften economic output already being weighed down by decades-high inflation and the ongoing effects stemming from the Russian invasion of Ukraine
The Fannie Mae ESR Group's latest forecast includes downgrades of 0.2 and 2.4 percentage points, respectively, to 2022 and 2023 real GDP growth, including an expectation of a period of modest contraction in the second half of 2023. The forecast notes that the projected downturn is not expected to resemble the severity or duration of the Great Recession due to multiple factors, including, from a housing market perspective, stronger mortgage credit quality, a far less-leveraged residential real estate and mortgage finance system, and a better equipped mortgage servicer and public policy apparatus, as well as ongoing housing supply constraints relative to demographic demand for housing.
"We continue to see multiple drivers of economic growth through 2022, but the need to rein in inflation, combined with other economic indicators, such as the recent inversion of the Treasury yield curve, led us to meaningfully downgrade our expectations for economic growth in 2023," said Doug Duncan, Fannie Mae Senior Vice President and Chief Economist. "We expect housing to slow over our forecast horizon, as well. Mortgage rates have ratchetted up dramatically over the past few months, and historically such large movements have ended with a housing slowdown. Consequently, we expect home sales, house prices, and mortgage volumes to cool over the next two years."
Freddie Mac: Purchase Market to Remain Solid Even as Rates Rise
Freddie Mac, McLean, Va., predicted the single-family purchase market will remain solid in 2022 despite increases in mortgage rates. A new Quarterly Forecast estimates rising rates will lead to moderation in homebuyer demand and house price appreciation. But overall, the housing market will remain a bright spot in the U.S. economy.
"The Federal Reserve's actions to address inflationary pressure are certainly impacting mortgage rates, which undoubtedly will affect the housing market," said Sam Khater, Freddie Mac Chief Economist. "While the sharp increase in mortgage rates will lead to a precipitous drop in refinance originations in 2022, demand for housing continues to remain solid, propelled by the large swath of first-time homebuyers and prospective purchasers looking to lock in a mortgage rate before they increase further."
Freddie Mac expects the 30-year fixed-rate mortgage to average 4.6 percent in 2022 and 5.0 percent in 2023. In 2021, the 30-year FRM averaged 3.0 percent. House price growth is expected to average 10.4 percent in 2022, slowing to 5.0 percent in 2023. House price growth was 17.8 percent in 2021. Home sales are expected to be 6.7 million in 2022, decreasing to 6.6 million in 2023. Home sales were 6.9 million in 2021.
SitusAMC Launches Licensed Loan Underwriting
SitusAMC, New York, launched its Licensed Underwriting offering as a component of its Loan Fulfillment Support Services. The expanded service provides turn-key support for a variety of product types and helps lenders improve margins, increase loan volume, and shorten turnaround times.
The new full-service licensed underwriting offering supports all major mortgage products including agency, home equity, jumbo, non-QM and debt service coverage ratio programs. The offering can be customized to align with the lender's specific needs, helping them expand into new product areas efficiently and with confidence while optimizing operations in a fluctuating originations environment.
Visionet's AtClose Division Publishes White Paper on Effective Order Management
AtClose, Cranbury, N.J., a division of Visionet Systems, published a white paper saying mortgage lenders and title companies that partner with them must communicate better if they hope to win business in a purchase money market.
"To remain competitive in this environment requires lenders to offer higher levels of customer satisfaction, lower costs or both. But to do that, the lender must become much more efficient," said AtClose Senior Vice President Adeel Ahmad. "The answer is a cost-effective platform that increases efficiencies to lower costs and provides an opportunity for flexible vendor pricing that does not require additional human intervention. The right platform takes over work that previously was assigned to human staff and makes data more accessible to managers."
The White Paper, "Managing Mortgage Lending Chaos with Better Order Processes" can be downloaded from this link, can be accessed at https://info.visionet.com/live-commerce-brochure-download-0?hs_preview=hVpJPEfg-70646217610.
Planet Home Lending LLC Continues Partnership with National Forest Foundation
Planet Home Lending LLC, Meriden, Conn., renewed for a fourth year its partnership with the National Forest Foundation, the official nonprofit partner of the U.S. Forest Service. Through the partnership, Planet Home Lending will fund planting of more than a quarter-million trees in national forests.
Areas include the Arapaho and Roosevelt, Francis Marion and Sumter, and Chippewa National Forests in Colorado, South Carolina, and Minnesota, respectively. The restoration project will include a wildfire recovery and a native habitat restoration for endangered species.
Vesta Integrates with Docutech
Vesta, San Francisco, a mortgage loan origination system and software-as-a-service company, and Docutech, Scottsdale, Ariz., a provider of document, eSign, eClose and digital-to-print fulfillment technology for the mortgage industry, announced an integration that helps lenders make progress toward end-to-end digital mortgage automation.
The integration empowers lenders using the Vesta LOS platform to accelerate their closing process, generate document packages and support eSignatures via Docutech's suite of digital mortgage and eClosing platforms.
Arc Home LLC Expands Products to Delegated Correspondent Clients
Arc Home LLC, Mt. Laurel, N.J., is now offering its proprietary Access Non-QM and Elite QM Non-Agency products to top-producing Delegated Correspondents. These products are designed to meet the needs of a changing residential finance market.
The Arc Home Elite product suite provides options for high-quality borrowers who fall outside the parameters of a traditional jumbo product or require alternative income documentation options. The Arc Access Suite includes Non-QM features and offers products such as 12-24 month bank statements, DSCR, Agency Plus and Clean Slate options. Each loan comes with strong pricing to make it an attractive option for those seeking a mortgage outside of the traditional means.
Blackstone Agrees to Acquire American Campus Communities for $12.8 Billion
Blackstone, New York, agreed to acquire student housing real estate investment trust American Campus Communities, Austin, Texas, for $12.8 billion, including assuming ACC debt.
Blackstone Core+ perpetual capital vehicles, primarily comprised of Blackstone Real Estate Income Trust and Blackstone Property Partners, will acquire all outstanding American Campus Communities shares for $65.47 per fully diluted share in an all-cash transaction.
The purchase price represented a 22 percent premium to the 90-calendar day volume-weighted average share price ending April 18, 2022 and a 14 percent premium to Monday's closing price.
The ACC portfolio includes 166 owned properties in 71 university markets including Arizona State University, The University of Texas at Austin, Florida State University and the University of California – Berkeley, among others. Most ACC properties are high-quality, purpose-built student housing assets located within walking distance of their respective university campuses; nearly one-quarter of ACC's communities are located on campus.
BofA Securities served as ACC's lead financial advisor. KeyBanc Capital Markets Inc. acted as a financial advisor. Dentons US LLP served as the company's legal counsel.
Wells Fargo Securities LLC, J.P. Morgan Securities LLC and TSB Capital Advisors served as Blackstone's financial advisors and Simpson Thacher & Bartlett LLP acted as Blackstone's legal counsel.
Madison Marquette, Highland Square Holdings Form Madison Highland Live/Work Lofts
Madison Marquette and Highland Square Holdings formed Madison Highland Live/Work Lofts, an investment and development platform to develop live/work loft communities in urban markets across the U.S.
"The change to hybrid work environments, buoyed by technological advances, has altered retail and then office products," said Madison Marquette Chairman Amer Hammour. "To retain and grow value in office buildings, we believe that physical space must provide consumers with the same flexibility, utility and value as cyberspace."
In addition to the Washington, D.C. area, Madison Highland Live/Work Lofts is targeting other U.S. markets that have seen high knowledge and information-based job growth drive increases in housing costs. The platform will initially focus on select markets in California, the southeastern U.S. and New York, Boston, Seattle, Austin, Dallas, Denver and Salt Lake City.
"Having flexible space that can serve more people in more ways is smart business. By expanding loft uses, we increase the number of people we can serve," said Madison Marquette CEO Vincent Costantini. "The net result is a resilient resource that maximizes market demand and stabilizes revenue across changing markets at all times."
Fannie Mae Prices $736M Multifamily DUS REMIC Under GeMS Program
Fannie Mae, Washington, D.C., priced a $736 million Multifamily Delegated Underwriting and Servicing REMIC under its Fannie Mae Guaranteed Multifamily Structures program on April 11. FNA 2022-M8 represented the fourth Fannie Mae GeMS issuance of 2022.
"With the M8, we were able to include a small group of our ARM 7-6 collateral, which is a seven-year, SOFR-based floater with a 6% cap on the pass-through rate," said Dan Dresser, Senior Vice President of Multifamily Capital Markets and Pricing with Fannie Mae. "This product enables smaller borrowers who may not want to manage their own interest rate cap to participate in the popular floating-rate market."
Fannie Mae will guarantee all classes of FNA 2022-M8 with respect to the full and timely payment of interest and principal.
Guild Mortgage Launches GreenSmart Advantage Program
Guild Mortgage, San Diego, introduced GreenSmart Advantage, a program to help homebuyers save on utility costs and manage multiple payments by bundling costs of new energy-efficient appliances into their home loan.
In partnership with The Home Depot, GreenSmart Advantage helps homebuyers reduce potential utility bills by purchasing new energy-efficient appliances, including refrigerators, clothes washers and dryers, dishwashers and smart thermostats. The cost of new appliances is bundled into the homebuyer's loan, reducing the burden of future expenses and multiple payments while investing in more sustainable improvements.
The GreenSmart Advantage program offers options to finance energy or water-efficient improvements up to 5% of a home's appraised value by consolidating the costs into a mortgage and is available for first-time and repeat homebuyers. Primary FHA purchase transactions are eligible. A 3.5% down payment and credit score above 580 is required to qualify.