Housing Market Roundup Apr. 26, 2022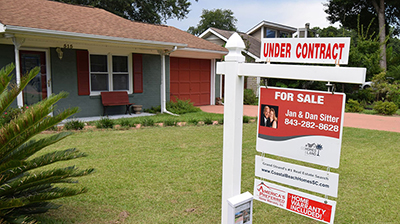 Here is a summary of recent stories of interest to the real estate finance community that have come across the MBA Newslink desk:
Black Knight: Mortgage Delinquencies Hit Record Low in March
Black Knight, Jacksonville, Fla., reported the national mortgage delinquency rate dropped by more than half a percentage point in March, falling to 2.84% and shattering the previous record low of 3.22% in January 2020.
The Black Knight Mortgage Monitor report noted while March typically sees the strongest mortgage performance of any month – with delinquencies falling more than 10% on average over the past 20 years – this year's 15.5% reduction was exceptionally strong. It cited robust employment, continued student loan deferrals, strong post-forbearance performance and millions of refinances into record-low interest rates in putting downward pressure on delinquency rates.
However, the report said while serious delinquencies – those 90 or more days past due but not in foreclosure – fell 12% for the strongest single-month improvement in 20 years, they remain 70% above pre-pandemic levels. It said despite elevated serious delinquencies, foreclosure starts fell by 3% from the month prior and are holding well below pre-pandemic levels
The report said active foreclosures edged slightly higher in March, marking the first year-over-year increase in almost 10 years, though inventories also remain well below pre-pandemic levels. Prepayment activity bucked the recent trend of sharply rising interest rates driving falling prepay speeds, rising by 9% in March, likely driven at least in part by seasonal increases in home sales-related prepays.
First American: Housing Market Adjusting to Waning Affordability
First American Financial Corp., Santa Ana, Calif., said its Real House Price Index jumped by nearly 31 percent in February, the fastest growth in the 30-year history of the series.

The report said real house prices increased by 5.8 percent between January and February and by 30.6 percent between February 2021 and February 2022. Consumer house-buying power (how much one can buy based on changes in income and interest rates) decreased by 3.6 percent between January and February and decreased by 6.8 percent year over year.
First American said median household income has increased 5.1 percent since February 2021 and 70.4 percent since January 2000 and that real house prices are 5.7 percent more expensive than in January 2000. While unadjusted house prices are now 48.8 percent above the housing boom peak in 2006, real, house-buying power-adjusted house prices remain 25.8 percent below their 2006 housing boom peak.
"For home buyers, the only way to mitigate the loss of affordability caused by a higher mortgage rate is with an equivalent, if not greater, increase in household income," said First American Chief Economist Mark Fleming. "Even though household income has increased 5.1 percent since February 2021 and boosted consumer house-buying power, it was not enough to offset the affordability loss from higher rates and rapidly rising nominal prices.
Fleming added recency bias may have many thinking that rates below 3 percent and house-buying power above $450,000 is normal, but it is anything but normal from a historical perspective. "The last two years were the exception, not the rule, and the housing market is adjusting to a not-so-new normal," he said.
The report said states with the greatest year-over-year increase in the RHPI were Florida (+43.1), South Carolina (+42.8 percent), Arizona (+39.0 percent), Georgia (+38.8) and Connecticut (+35.8 percent). Metros with the greatest year-over-year increase in the RHPI were Charlotte, N.C. (+46.1), Raleigh, N.C. (+42.4 percent), Phoenix (+41.3 percent), Tampa, Fla. (+39.6 percent) and Jacksonville, Fla. (+39.1 percent).
Redfin: Demand Slips, Pushing More Sellers to Drop Asking Prices
Redfin, Seattle, said homebuyer demand softened further over the past several weeks, as a typical slump in buying and selling over Easter and Passover weekend amplified a recent slowdown triggered by surging mortgage rates and housing costs.
The report said one in eight sellers cut their list prices during the four weeks ending April 17—the highest share in five months—and asking prices declined slightly from the previous four-week period. Redfin said more buyers have moved to the sidelines as home prices hit historic highs and mortgage rates jumped past 5%.
"The lull in homebuying and selling activity that we saw over Easter and Passover is likely to continue well past the holiday weekend," said Redfin Chief Economist Daryl Fairweather. "The forces causing many homebuyers to pump the brakes are still in place—increasing mortgage rates and record-high home prices. We expect price increases to slow and buyers in bidding wars to face fewer competing offers, but substantial relief for homebuyers is unfortunately still well beyond the horizon since the housing market is still tilted further in sellers' favor than at any time in history."
The seasonally-adjusted Redfin Homebuyer Demand Index fell 4% year over year during the week ending April 17—the first annual decline since June. It dropped 13% in the past four weeks alone, compared with a 4% decrease during the same period a year earlier.
STRATMOR Group: To Win Purchase Business, Lenders Must Engage Borrowers at Beginning
STRATMOR Group, Greenwood Village, Colo., said mortgage lenders have an opportunity to incorporate real estate search and research, referral partners and the lender's financing offers into a single online ecosystem for the convenience of the buyer.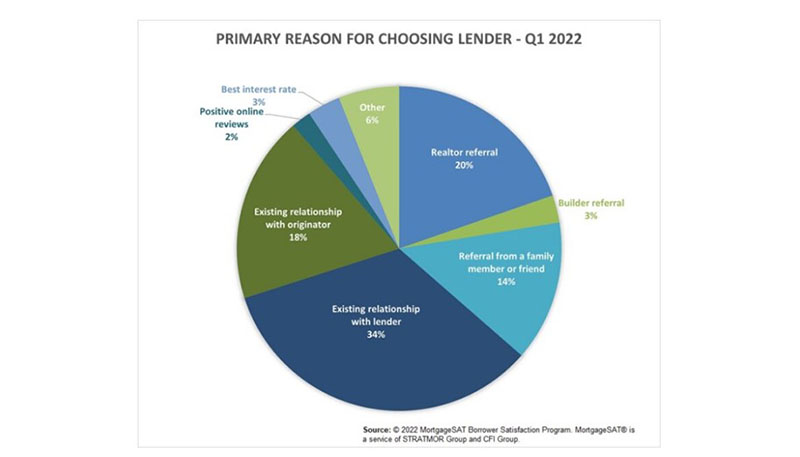 In the company's April Insights Report, Senior Partner Garth Graham makes the case for mortgage lenders to move their marketing efforts to the top of the home purchase funnel.

"Lenders have an opportunity to engage in the borrower relationship from the very beginning of the process," Graham said. "We're witnessing the confluence of the online real estate and mortgage experience, and this is the real play for lenders who will lead in the purchase money market. The opportunity is to become part of the new way consumers search for, select and buy real estate."
According to Graham, lenders can move into this new space by creating and optimizing a new tech stack for purchase money borrowers. The article can be found at https://www.stratmorgroup.com/insights-report/.
Redfin: Homebuyer Competition Drops for First Time in Six Months
Redfin, Seattle, said 65 percent of home offers written by Redfin agents faced competition on a seasonally adjusted basis in March, down from a revised rate of 66.7% in February, marking the first month-over-month decline since September—a sign that demand is starting to cool as soaring mortgage rates and housing prices prompt some buyers to back out of the market.
Still, the report said bidding wars remained more common than they were a year earlier, when 62.2% of offers encountered competition. On an unadjusted basis, March's bidding-war rate was 69.3%, down from 71.9% in February.

"Most homebuyers are still encountering bidding wars, but competition is beginning to cool because surging mortgage rates and home prices are prompting some Americans to back out or put their buying plans on hold," said Redfin Chief Economist Daryl Fairweather. "We expect bidding wars to ease further in the coming months as rising mortgage rates price more buyers out of the market. That should provide some relief for people who can still afford to buy, as they'll likely face fewer competing offers and may no longer need to offer drastically over the asking price in order to win. Unfortunately, the slowdown in competition won't help those who have already been priced out of homeownership and are now grappling with soaring rental costs."
San Jose, Calif., had the highest bidding-war rate of the 36 U.S. metropolitan areas in this analysis, with 79.8% of offers written by Redfin agents facing competition in March. Next came Boston at 79% and Providence, R.I., at 78.3%.
Meanwhile, bidding wars in San Francisco had an average of 7.8 offers in March, down from 10 in March 2021—another sign that homebuyer demand is starting to cool.
"March was the first month in two years that I had a weekend with zero house tours. People are getting priced out," said Maria Giron, a Redfin real estate agent in the Bay Area. "Some buyers are in shock and dropping out altogether. Others are looking at more affordable options like smaller homes or neighborhoods that are farther out. The buyers I'm working with who are most sensitive to the rise in mortgage rates are first-time buyers looking for homes in the $500,000 to $700,000 range."