Home Prices Stay High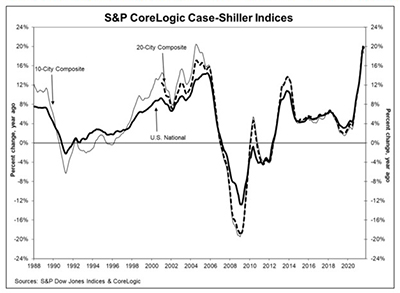 Reports from S&P Dow Jones Indices, New York, and the Federal Housing Finance Agency show home prices across the U.S. continued to appreciate at double-digit percentage rates.
The S&P: CoreLogic Case-Shiller National Home Price NSA Index reported a 19.8% annual gain in August, unchanged from July. The 10-City Composite annual increase came in at 18.6%, down from 19.2% in the previous month. The 20-City Composite posted a 19.7% year-over-year gain, down from 20.0% in the previous month.
Phoenix led all cities with a 33.3% year-over-year price increase, followed by San Diego at 26.2% and Tampa at 25.9% increase. Eight of the 20 cities reported higher price increases in the year ending August from July.
Before seasonal adjustment, the National Index posted a 1.2% month-over-month increase in August, while the 10-City and 20-City Composites posted increases of 0.8% and 0.9%, respectively. After seasonal adjustment, the National Index posted a month-over-month increase of 1.4%, while the 10-City and 20-City Composites posted increases of 0.9% and 1.2%, respectively. All 20 cities reported increases before and after seasonal adjustments.
"The U.S. housing market showed continuing strength in August," said Craig J. Lazzara, Managing Director and Global Head of Index Investment Strategy with S&P DJI. "Every one of our city and composite indices stands at its all-time high, and year-over-year price growth continues to be very strong, although moderating somewhat from last month's levels."
"The U.S. S&P CoreLogic Case-Shiller Index showed a turning point in August," said Selma Hepp, Deputy Chief Economist with CoreLogic, Irvine, Calif. "And while demand remains strong and buyers are still generally paying more for homes than asking price, the slowing acceleration in home prices suggests that buyer fatigue is setting in, particularly among higher-priced homes where the acceleration in price growth from the previous month has been larger compared to low tier homes."
"We have previously suggested that the strength in the U.S. housing market is being driven in part by a reaction to the COVID pandemic, as potential buyers move from urban apartments to suburban homes," Lazzara added. "August data also suggest that the growth in housing prices, while still very strong, may be beginning to decelerate."
The report said as of August, average home prices for the metros within the 10-City and 20-City Composites are exceeding their winter 2007 levels.
Meanwhile, FHFA reported house prices rose nationwide in August, up 1.0 percent from July. The FHFA House Price Index also reported house prices rose 18.5 percent from year over year.
For the nine census divisions, seasonally adjusted monthly house price changes from July to August ranged from -0.1 percent in the New England division to +1.9 percent in the South Atlantic division. The 12-month changes ranged from +14.9 percent in the West North Central division to +25.8 percent in the Mountain division.
"Annual house price gains remained extremely high in August but the pace of month-over-month gains continues to decelerate," said Lynn Fisher, FHFAs Deputy Director of the Division of Research and Statistics. "This does not mean house prices are at risk of declining—far from it, they continue to climb at a double-digit pace in all regions—but it does suggest we may have seen the peak in annual gains for the time being."