Voices: Courageous Conversations With Women of Color
(clockwise from top left): Lisa Haynes, Cerita Battle, Smriti Popenoe, Amber Rao, Laura Escobar
Recent events across our country have elevated the conversation around diversity, equity and inclusion. For women of color, it's time to tell their story.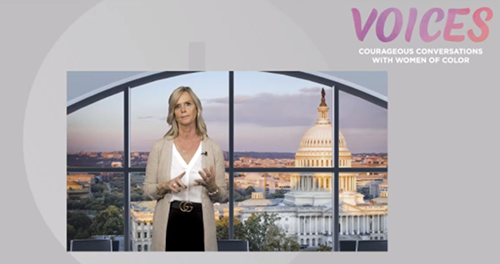 "We all have stories to tell, and having the courage to share them now is more important than ever," said MBA Chief Operating Officer Marcia Davies, who founded mPower–MBA Promoting Opportunities for Women to Extend their Reach–a networking platform for women in the real estate finance industry. "As we tell our stories and listen to one another, we learn from each other."
Davies and MBA Senior Vice President, Chief Financial Officer and Chief Diversity and Inclusion Officer Lisa Haynes hosted the virtual conversation on Jan. 12. The conversation will continue on Jan. 19 with Voices 2: Can We Talk? and on Feb. 2 with Voices 3: Together We Rise.
Davies cited several Harvard Business Review statistics about the power and influence of women of color, noting women of color generate $1 trillion annually as consumers and $361 billion in revenue as entrepreneurs and launch companies at four times the rate of all women-owned businesses.
"Another fact: companies with the most ethnically diverse leadership team are 33 percent more likely to outperform their peers on profitability," Davies said. "Making sure we are leading in an inclusive way is not only the right thing to do, it's good business. It starts at the top with executive involvement with a focus on recruitment, mentorship and promotion."
Davies said the best-led organizations are not afraid to talk about diversity. "Make it deliberate, raw and reoccurring at your organization," she said. "That's why out new three-part virtual series Voices: Courageous Conversations with Women of Color is so critical. We'll hear the experiences of being a woman of color in our industry. We'll be moved by their personal journeys and we'll discuss solutions to bridge the gap."
Amber Rao, Vice President with KeyBank Real Estate Capital, Cleveland, brings a biracial person's perspective to the conversation: her father is Black and her mother is White. "Their union would have been illegal before the 1967 Supreme Court decision in Loving V. Virginia; 1967 is not that long ago, folks," she said. "That gives some perspective as to how things have been in our country. If anyone is interested in learning more about the dynamics of being a biracial person, I highly recommend the book Dreams from My Father, by Barack Obama. It gives an interesting take on it. Regardless of your politics, it's a great book," she said.
Rao also said the book Born a Crime by Comedy Central host Trevor Noah gives good insight into being a biracial person by discussing his youth in South Africa.
"When I think about my start, I started off as teller and worked my way up," said Cerita Battle, Managing Director and Head of Community and Affordable Lending with JPMorgan Chase. "I always did the hard jobs; the ones nobody else wanted to do. I feel that opportunities are not missed, they are just picked up by someone who recognizes the opportunities."
Battle has spent 23 years dedicated to increasing minority and low- to moderate-income lending. "I'm also ordained as a Reverend in the African Methodist Episcopal Church, so it's unique to have the opportunity to be in banking and also be a pastor and a reverend," she said. "It's something that I have to bring to the table often."
Smriti Popenoe, President of mortgage real estate investment trust Dynex Capital, Glen Allen, Va., said she considers herself a child of the world. "I was born in India, grew up in Africa, went to college in India, then moved to the United States at 21. In that 21 years, I was Indian, European and African all packed together," she said. "Being exposed to multiple cultures taught me that people are really the same inside. It taught me to appreciate the common thread that binds us as humans."
Popenoe reported she attended a British school as a young girl. "So I am a native English speaker," she said. "That gave me some unconscious biases. That was an incredible realization, when I realized that I had some unconscious biases."
Women need to make an effort to keep themselves "intact," Popenoe said. "Not one of these things defines who you are. The way I've chosen to do that is saying 'I'm a child of the world, I defy you to define me.' I think it's really important to talk about people who live in multiple worlds."
Rao quoted former U.S. Secretary of State Madeline Albright, who said, 'There is plenty of room for mediocre men; there is no room for mediocre women.' "I think when it comes to women of color, that standard applies two times as much," Rao said. "I always felt like I had to work very, very hard throughout my career. I also sometimes felt a little uncomfortable as a young woman mortgage banker in Dallas who is a minority. I would sometimes feel like the only one going into a conference room full of men in blue blazers. But I learned to focus on where we have common ground. I noticed when I try to find what we have in common it allows me to break through and grow relationships and break through barriers to get to know people."
Popenoe agreed with Rao. "The 'blue blazers' are all comfortable with themselves and each other and you've had to work to get them comfortable with you as well," she said.
Battle quoted one of her mentors, Thasunda Brown Duckett, CEO of Chase Consumer Banking at JPMorgan Chase, who said we "rent" our titles, but we "own" our character.
"When I think about that, especially when we're thinking about the space we are in as women, we are always reaching to be respected based on the roles we are in," Battle said. "But if we think about it, we rent those titles, but we own who we are in our character. That's the one thing that we have control over, it's the one thing that controls our response to everything. It's how we view ourselves and how we can change our outlook on things so we can change our life experiences."
"One of the things I've always lived by is that you need to know where your value lies and don't compromise," said Laura Escobar, President of Eagle Home Mortgage, LLC, Miami.
Women should not be afraid to fail, Escobar said. "Failure makes you stronger and wiser and makes you human," she said. "Listen. Listen, listen, listen. Embrace your strength, but more importantly, embrace your struggles. And pay it forward. You owe it to the ones that paved the way for you and the woman coming behind you."
Lastly, have a purpose, Escobar said. "Be prepared to be so good they can't ignore you," she said.