MBA Chart of the Week: Seriously Delinquent Rate by States for Q3 2020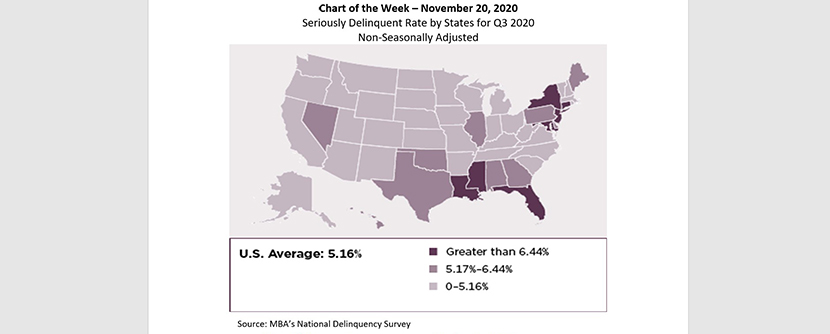 MBA released its National Delinquency Survey results for the third quarter last week. The delinquency rate for mortgage loans on one-to-four-unit residential properties at the end of the quarter decreased 57 basis points to a seasonally adjusted rate of 7.65 percent of all loans outstanding. The decrease in the mortgage delinquency rate was driven by a sharp decline in newer 30-day delinquencies and 60-day delinquencies. However, later-stage delinquencies continued to grow, reaching their highest level since the fourth quarter of 2013.
This week's chart highlights the seriously delinquent rate – the percentage of loans that are 90 days or more delinquent or in the process of foreclosure – in every state across the country. The seriously delinquent rate was 5.16 percent for the U.S. However, the seriously delinquent rate was substantially greater in the South and the Northeast, with averages of 5.69 percent and 6.56 percent, respectively. States with a prevalence of leisure, hospitality and other service industry jobs have been especially hard-hit by the COVID-19 pandemic, and that is reflected in the higher percentage of seriously delinquent loans in those areas.
While the overall delinquency rate has improved from the previous quarter, many homeowners remain in distress. Another wave of COVID-19 cases could slow or halt the recovery in some areas. Meanwhile, the passage of another stimulus package is still uncertain. Despite this ongoing concern, steady home-price gains and homeowner equity accumulation seen in most of the country in the last several years potentially work in favor of borrowers in distress.
–Anh Doan adoan@mba.org; Marina Walsh, CMB mwalsh@mba.org.