FHFA Announces Refi/Home Purchase Eligibility for GSE Borrowers in Forbearance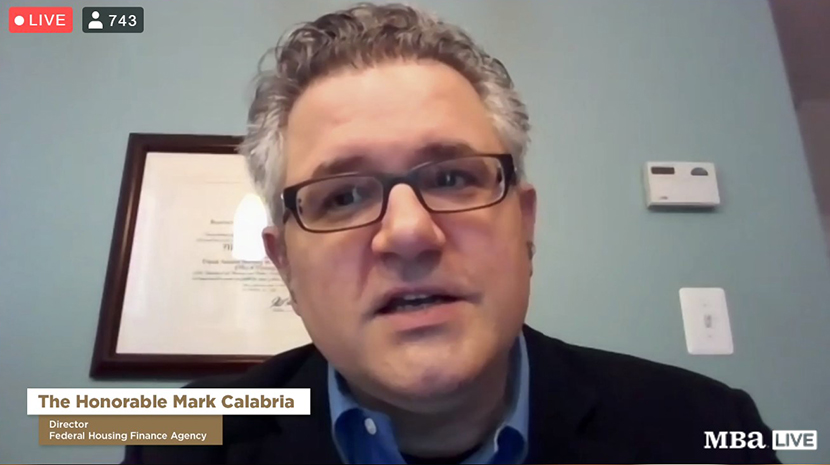 Fannie Mae and Freddie Mac issued temporary guidance regarding the eligibility of borrowers who are in forbearance, or have recently ended their forbearance, looking to refinance or buy a new home.
The Federal Housing Finance Agency, which has overseen the government-sponsored enterprises' safety and soundness since 2008, said borrowers are eligible to refinance or buy a new home if they are current on their mortgage (i.e. in forbearance but continued to make their mortgage payments or reinstated their mortgage). Borrowers are eligible to refinance or buy a new home three months after their forbearance ends and they have made three consecutive payments under their repayment plan, or payment deferral option or loan modification.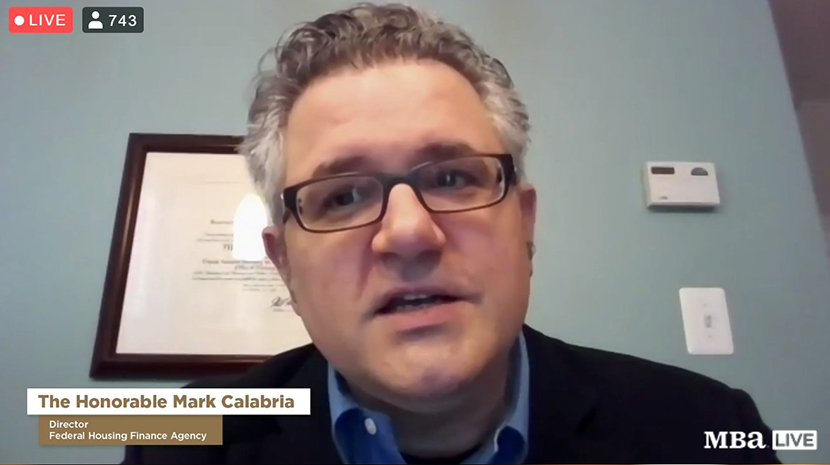 "Homeowners who are in COVID-19 forbearance but continue to make their mortgage payment will not be penalized," said Director Mark Calabria. "Today's action allows homeowners to access record low mortgage rates and keeps the mortgage market functioning as efficiently as possible."
Calabria, speaking this afternoon at MBA Live: State of the Industry, said FHFA data show one-third of borrowers in forbearance have continued making their monthly payments. "We didn't want to penalize those borrowers, or those borrowers who fully reinstate," he said.
FHFA also extended the GSEs' previously announced ability to purchase single-family mortgages in forbearance. Fannie Mae and Freddie Mac can now buy forborne loans, with note dates on or before June 30, as long as they are delivered to the Enterprises by August 31 and have only one mortgage payment has been missed. The previous policy was set to expire on May 31.
MBA President and CEO Robert D. Broeksmit, CMB, released a statement commending the FHFA action.
"This provides much-needed clarity for borrowers, mortgage lenders and servicers," Broeksmit said. "We also commend FHFA for extending the GSEs' previous policy on purchasing single-family mortgages in forbearance. These welcome moves ensure that homeowners who continue to make on-time payments – and those who have successfully exited forbearance – can benefit from near record-low mortgage rates. It also keeps the mortgage market functioning efficiently and helps ease current credit availability constraints."
Broeksmit said MBA continues to advocate strongly for policies that provide assistance to homeowners and renters during the ongoing pandemic. "The housing market will play a leading role in the economic recovery, and we appreciate FHFA for taking into consideration the industry's feedback on ways to bolster these efforts responsibly while providing necessary relief to borrowers in need," he said.
Calabria, speaking Tuesday at MBA Live: State of the Industry, said he's encouraged by what he sees as stabilization of forbearance rates. "Forbearance rates appear to be manageable and have been flattening out over the past few weeks," he said. "We expect that pattern to continue."
Calabria said FHFA and the GSEs will continue to monitor the impact of the coronavirus national emergency on the housing finance market and update policies as necessary.
"The risks that existed in 2008 are still evident today; and Fannie Mae and Freddie Mac remain over-leveraged," Calabria said. "No financial institution will survive another downturn of that scale, and the taxpayers should not be on the hook for that."
Calabria said he does not view keeping the GSEs in conservatorship as a "choice," but emphasized that he did not believe Fannie Mae or Freddie Mac were yet adequately capitalized. "It is the job I was charged with to move Fannie and Freddie out of conservatorship," he said. "And I am committed to seeing it through…but without adequate capital, that is not possible."