(#MBALive) C-Suite Perspectives: How COVID-19 Has Changed Business Strategies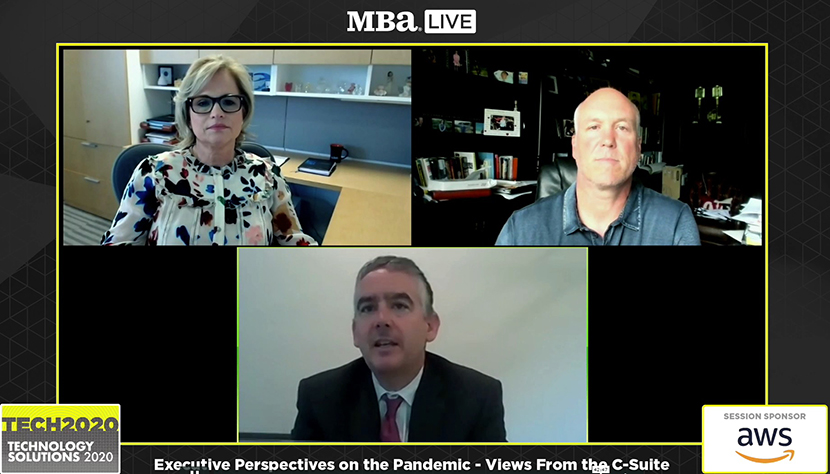 (Caption clockwise from top: Laura Escobar (Eagle Home Mortgage); Bill Emerson (Quicken Loans); Mike Fratantoni (MBA Chief Economist.)
The economy might be teetering; and the COVID-19 pandemic hasn't yet shown clear signs of subsiding. But thanks to technology and aggressive business strategies, the mortgage industry is showing remarkable resilience—and uncharacteristic innovation.

"The pandemic came up on us quickly and challenged us to change our business practices—especially long-entrenched business practices," said Laura Escobar, President of Eagle Home Mortgage LLC, Miami, speaking yesterday at MBA Live: Technology Soltuions Conference. "I'm proud that we were able to pivot so quickly."
Escobar said when the pandemic hit, "Eagle were already in a position to deliver an all-digital experience. We started our journey in 2018 with 100 percent digital adoption. It prepared us for where we are now."

Bill Emerson, 2016 MBA Chairman and Vice Chairman of Quicken Loans, Detroit, said Quicken began planning for the effects of the coronavirus back in mid-February, "when we first started hearing about the potential impact of the coronavirus."
"I started working from home on March 11; our entire staff, except for 200 essential employees, have been working from home since March 18—more than 17,000 team members."
Emerson said the transition has been "incredibly efficient. During this period we've been seeing record volumes," he said. "But this is also an important time for management. I've been talking about the need for improved technology for years at MBA conferences. When Quicken made the decision to go remote we invested a lot in getting our team members—some who did not have the capabilities to work from home—up to speed as quickly as possible. When the coronavirus hit we arranged for staff to have 'drive-by' visits to headquarters to pick up monitors and other equipment to set up at home."
Now that most companies (MBA included, which has been working remotely since March) have a couple of months of remote work under their belts, Emerson and Escobar said new challenges have arisen.
"We want to make sure that people aren't work too many hours, which is so easy to have happen," Emerson said. "Recently we had a company-wide -day off'—we combined everyone's birthdays over a 12-day period and instructed everyone to take one of those days off to keep fresh and focused."
Escobar said communication—frequent and positive—is key. "My job is to ignite the spark in every employee, to get them to give 100 percent every day. I remind them that we facilitate the American Dream," she said. "I have a fundamental need to know that we've made a difference. Genuine gratitude helps meet that need. It's the small efforts that yield exponential results. Communication is so important. My motto is to 'make it simple, make it fun, make it meaningful.'"
The results, so far, have been effective. "Our customer satisfaction numbers have been increasing since the pandemic; and we've also noticed increased satisfaction from our employees," Escobar said. "Some of them are working longer hours, but they generally enjoy working from home and they don't miss the commute."
With 17,000 employees, Emerson noted clear communication is essential. "We have weekly calls to update senior management and we have the Rock Health Collective, which was opened up just before the pandemic to discuss and inform about health issues, so we share that with team members," he said.
"Recently we asked our employees' children to show what COVID-19 means to them," Escobar said. "The resulting artwork was amazing. This engagement has enabled us to become much more connected as human beings during a period that could have been cold and impersonal."
Looking ahead, Emerson and Escobar said the industry is already irrevocably changed.
"How the industry changes long-term is a company by company thing," Emerson said. "For us, more and more employees will continue to work remotely. But we've also noticed culturally, we're scoring higher and we've been able to effectively communicate our mission.
"One of my challenges is 'how do I keep this cultural change alive?' Escobar said. "When it all settles down, where is that balance?" "The best innovation and processes happen in challenging times," Emerson said. "We're excited about how we are going to continue to evolve from a business perspective. As we go forward, things are going to be different as we determine who will come back in, who will want to continue to work from home."