(#MBALive) Closing Loans During a Pandemic With RIN and RON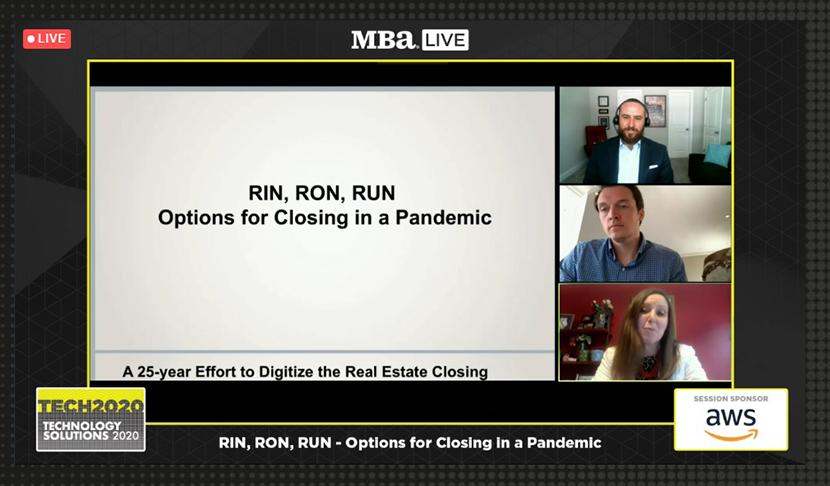 (Caption, top to bottom: Geno Yoscovits, Pat Kinsel, Suzanne Garwood.)
Enterprising mortgage companies are using what they have to ensure consumers can still obtain loans during the COVID-19 crisis.
"Right now, 90 percent of consumers search for their real estate online and 70 percent apply for a mortgage online," said Suzanne Garwood, Executive Director/Associate General Counsel with JP Morgan Chase, during the recent MBA Live: Technology Solutions Conference. "But nearly zero percent are closing online. The closing industry is still relying on paper."
Garwood said there are 280 pages in an average loan file for a closing, and it takes 27 days on average from application to closing. "We need a digital process," she said. "We need to improve the process to get more speed into the process and to get our customers to closing faster. We also estimate there could be over $1,000 in cost savings per file."
Pat Kinsel, Founder and CEO of Notarize Inc., Boston, said the concept of Remote Online Notarization started in 2012. "There are very strict standards for identification verification to ensure the person is properly identified. And it's an entirely electronic transaction so every document is e-signed, creating a secure chain of custody."
Kinsel noted "a ton of momentum" toward adopting RON. "In 2019, there were 23 state laws passed and underwriters accept RON in as many as 38 states. So there was a lot of progress coming into COVID and of course we've seen acceleration since then."
A "flurry" of executive orders were released after COVID hit, said Garwood. "Among these were executive orders created what we call the RIN," she said. "A RON is an electronic notarization; a RIN is a remote ink notarization, so you're always going to be dealing with a paper document."
Garwood said a RIN uses RON concepts in that the two parties do not need to be in the same place. "The notary could be elsewhere," she said. "The signature the consumer is going to do on the document is going to be an ink signature. That ink signature is then sent to the notary via two different methodologies. It could be transmitted electronically via email or facsimile. The remote notary then prints the document and notarizes it."
Garwood noted pros and cons to both RON and RIN. "Speaking from a creditor perspective, the preferred method is probably the RON method," she said. "The RON methodology is going to give you more security for that audio-visual record of the transaction. Keep in mind that the RIN executive orders were permitting parties to engage in this RIN activity over FaceTime or Skype or Zoom, whereas RON is a more dedicated platform."
Geno Yoscovits, Director of State Government Relations with Rocket Mortgage, Detroit, said the proposed Securing and Enabling Commerce Using Remote Electronic Notarization Act https://www.congress.gov/bill/116th-congress/senate-bill/3533 would create national acceptance and a national minimum standard for remote online and electronic notarization. The proposed act re-affirms the principle of interstate recognition, explicitly states physical presence is satisfied by remote presence when required under both federal and state law and creates certainty for third parties. The act does not require every state to authorize its notaries to perform RON.
"The SECURE Notarization Act is a great thing," Yoscovits said. "MBA and others are pushing for it as an industry. But it might not get there. We have an opportunity now as an industry to really engage our state leaders to create more permanent laws. We need that certainty where we know we can conduct closings without the executive orders expiring. So, this is a bit of a call to action: please support our efforts with the SECURE Notarization Act. If the states are going to move forward, we need to get involved and have a voice, so exercise that voice and get a permanent solution for our clients. This is our opportunity."
Yoscovits said MBA and the American Land Title Association are finishing a digital "boot camp" that explains all the bits and pieces needed to build a digital process. "You'll see more about that in the coming weeks," he said.