Fitch: Mortgage Insurers See Consistent Losses, Market Stability in 2022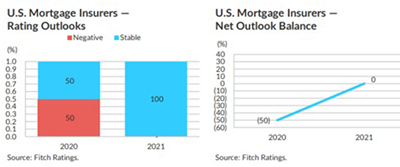 Fitch Ratings, Chicago, said the operating environment for U.S. mortgage insurers is expected to remain steady in 2022, as economic indicators have generally improved since the low point of the pandemic, with lower than expected losses from the pandemic fallout and continued home price appreciation supportive of credit fundamentals of the rated peer group of private MIs.
The report said the U.S. mortgage insurance sector continues to benefit from fewer new notices of default and increasing levels of cure activity leading to lower overall delinquency levels. Economic conditions that supported lower losses that persisted throughout 2021 are expected to generally remain in place through 2022.
Fitch said as of October, 15% of all U.S. mortgage holders, or 7.7 million homeowners, participated in a forbearance program within the past 18 months. Eighty-four percent of homeowners in recent forbearance have since exited, with 74% of the loans reperforming or paying off in full through a home sale or refinance.
U.S. mortgages in forbearance fell sharply in 2021, including a 21% year over year decline in September to 2.3% of loans outstanding. As forbearance programs expire into 2022, Fitch said MIs should benefit from modest favorable development of loss reserve estimates as the result of better than expected cure rates for loans exiting forbearance.
Fitch projects national home prices to appreciate 4.8% in 2022, with the relative strength of the housing market leading to lower mortgage insurance losses. However, reversal of home price appreciation would negatively affect the frequency and severity of mortgage insurance losses.
Fitch said rising inflation or potential Fed action could lead to higher near-term mortgage interest rates, reducing the population of borrowers expected to refinance, which would pressure refinance origination revenues for MIs. Offsetting this reduction is the expected benefit from lower cancellation rates that often accompanies a rising rate environment.