Crapo Urges Treasury, Fed for Quick Guidance on Title IV of CARES Act
Senate Banking Committee Chairman Mike Crapo, R-Idaho urged the Treasury Department and the Federal Reserve to act quickly to provide guidance on Title IV of the Coronavirus Aid, Relief and Economic Security (CARES) Act, which was signed into law Friday.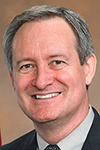 The letter stresses the importance of the Treasury Department and Federal Reserve acting quickly to issue guidance to the marketplace to ensure that businesses – including small and medium-sized businesses – states, municipalities, and tribes understand what programs and facilities are available, the terms and conditions of those programs and facilities, and a point of contact or inquiry portal for them to discuss access to those programs and facilities. It also encourages them to prioritize 13(3) facilities that stabilize markets the FSOC has highlighted, such as mortgage servicing.
"It is critical to quickly provide the greatest amount of information about how to access resources, who is eligible, where additional information can be obtained and clarifying qualification of industries with specific characteristics that could otherwise unintentionally impede access," Crapo said.