Home Price Appreciation at 11-Year Low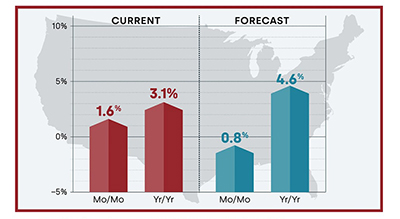 Home price reports from CoreLogic, Irvine, Calif., and Black Knight, Jacksonville, Fla., show home prices, while continuing to rise, have slowed to levels not seen since 2012.
The CoreLogic Home Price Index and HPI Forecast showed home prices nationwide, including distressed sales, increased year over year by 3.1% in March from March 2022, the lowest rate of appreciation since the spring of 2012. While home price growth rose for the 134th consecutive month, it declined from one year earlier in 10 states, mostly those in the West, which partially reflects the region's lack of affordability and continued inventory shortages. Also, demand for higher-priced homes is slowing compared with median-priced homes, thus pulling appreciation down in that region at a faster pace.
On a month-over-month basis, home prices increased by 1.6% in March from February, which got the attention of CoreLogic Chief Economist Selma Hepp.
"While housing markets across the country continue to send mixed signals, prices in many large metros appeared to have turned the corner, with the U.S. recording a second month of consecutive monthly gains," Hepp said. "At 1.6%, the month-over-month increase was twice the average seen between 2015 and 2020. The monthly rebound in home prices underscores the lack of inventory in this housing cycle. In addition, while the lack of affordability generally weighs on home price growth, mobility resulting from remote working conditions appears to be a current driver of home prices in some areas of the country."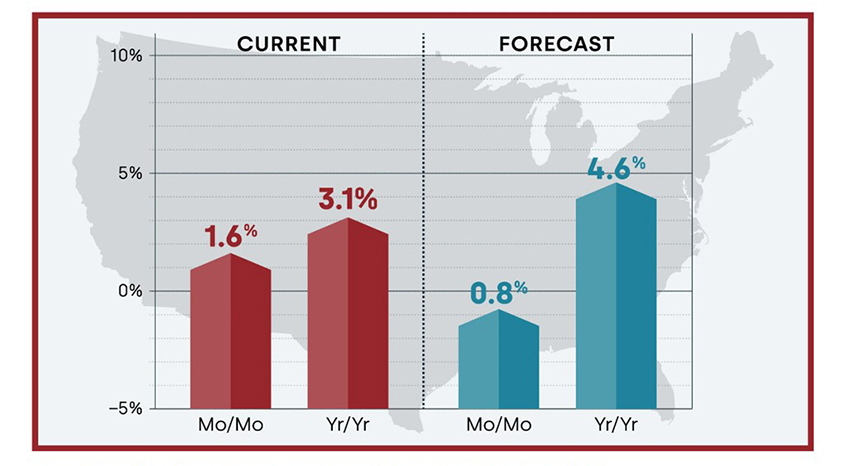 The CoreLogic HPI Forecast indicates that home prices will increase on a month-over-month basis by 0.8% from March to April and increase on a year-over-year basis by 4.6% from March 2023 to March 2024.
The report said nationally, home prices increased 3.1% year over year in March. Arizona, California, Colorado, Idaho, Montana, Nevada, New York, Oregon, Utah and Washington saw annual declines in home prices. States with the highest increases year over year were Vermont (9.9%), Indiana (9.2%) and Florida (8.9%).
Similarly, the Black Knight Home Price Index reported home prices rose in March on both non-adjusted and seasonally adjusted bases, driven by a modest bump in demand and further deterioration in for-sale inventory levels. The report said home prices rose by a seasonally adjusted 0.45% in March (+1.38% non-adjusted) for the third consecutive month of increases, with 92% of markets seeing prices increase in the month. Annual home price growth continues to cool; prices were up just 1.0% on an annual basis, a backward-looking metric that has been falling by 1.3-1.4% each month since the start of 2023
"A modest bump in homebuyer demand ran headlong into falling for-sale supply, leading to the third consecutive monthly increase in home prices after they'd been pulling back from recent peaks through the tail end of 2022, essentially nationwide," said Black Knight Vice President of Enterprise Research Andy Walden. "Just five months ago, prices were declining on a seasonally adjusted month-over-month basis in 92% of all major U.S. markets. Fast forward to March, and the situation has done a literal 180, with prices now rising in 92% of markets from February. Despite the home price strengthening of these past couple of months, the backward-looking annual growth rate continued to cool as the influence of the red-hot spring 2022 market fades in the rearview mirror. Prices are now up just 1.0% year over year, with the annual growth rate on track to fall to roughly 0% by April. That said, low inventory levels will limit just how far that metric will fall in coming months."
Walden said the strengthening in home prices is the direct result of a second month of modest increases in sales volumes meeting a continually shrinking for-sale inventory. "Given the modest rise in sales volumes, current available inventory represents just 2.6 months of supply on a seasonally adjusted basis, tipping the scale back toward sellers in a tightly constricted market," he said.