Why You Should Participate in MBA Residential Committees, Councils and Networks

The Mortgage Bankers Association has more than three dozen opportunities for participation on MBA residential committees, councils and networks, to formulate policy, connect with colleagues and further the success of the real estate finance industry.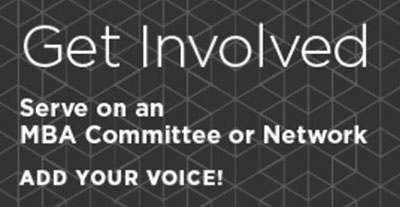 Share your unique perspectives and lend your voice to the collective power of the mortgage banking community by serving on an MBA residential committee, council, or network. MBA needs your expertise and feedback to drive the industry's response to the issues and challenges facing your business. It's also a great way to connect with other members and learn from each other's experiences.
"Participating in a group is a great way to maximize your MBA membership," said Tamara King, MBA Vice President of Strategic Industry Engagement and Residential Policy. "Any employee of an MBA residential or commercial/multifamily member company or a select or premier level associate member company may join one or more of these groups."
While most committees, networks and councils have occasional face-to-face meetings, such as at MBA conferences or at MBA headquarters, most enable members to participate by phone call or by video conference.
MBA divides member opportunities into three categories:
—Committees. These are residential policy groups of which any MBA member can participate. They assist MBA in developing policy positions for the industry and recommendations for regulatory changes; committee members are also asked to provide MBA with feedback on comment letters, which King said is important to MBA's mission to its members. "These groups are essential for effective advocacy," she said. "Member expertise enhances MBA's policy positions. We need representation from all parts of the industry."
—Networks. These are residential groups that have a narrower membership definition; for example, the MBA IMB Network is open only to senior executives who work at independent mortgage banks. These groups allow for a curation of issues and information tailored to a specific part of the industry. "The networking groups allow members to discuss primarily business issues from where they sit," King said. "They allow 'in the family' discussions; for example, technology is an issue with all of our members, but challenges can be different depending on whether you work for a community bank, credit union, IMB or large depository."
—Executive Councils. These are invitation-only bodies or groups that focus on specific industry segments or issues.
Most MBA residential committees and networks have rolling membership; you can join at any time.
"We encourage your participation," King said. "It's a great way to become more involved with MBA and the real estate finance industry. And it can help you grow your personal network."
For more information about MBA Residential Committees, Networks and Councils, and for a list of current membership opportunities, visit https://www.mba.org/membership/serve-on-an-mba-committee-or-council.
For more information about Association Governance, including the MBA Board of Directors, as well as the MBA Residential Boards of Governors (RESBOG) and the MBA Commercial Real Estate/Multifamily Finance Board of Governors (COMBOG), click here.