Senators Introduce MBA-supported Bill to Reform Davis-Bacon Rules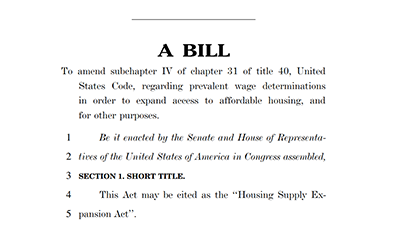 Sens. John Thune, R-S.D., and Jerry Moran, R-Kan., on Friday reintroduced the Housing Supply Expansion Act, legislation that would address the affordable housing shortage by making targeted reforms to Davis-Bacon Act requirements.
Enacted in 1931, the Davis-Bacon Act requires construction contractors involved in certain federally funded or assisted construction contracts, such as those participating in federal housing programs, to comply with the prevailing wages of the vicinity in which the construction project is located. However, application of the rules places significant recordkeeping and administrative burdens on housing developers and greatly complicates the construction process.
The Mortgage Bankers Association commended Thune and Moran for taking action to improve and encourage access to quality affordable housing, said Bill Killmer, Senior Vice President of Legislative and Political Affairs at MBA. "The improper application of Davis-Bacon wage rates is an unnecessary barrier to the modernization and development of multifamily housing, and this bill will help reduce the administrative burden and complexity for residential housing projects," he said.
Thune said affordable housing shortages affect prospective homebuyers and renters as well as small businesses trying to overcome pressing workforce needs. He called the proposal "common-sense legislation that would reform archaic requirements in the Davis-Bacon Act, cut through its overly burdensome red tape and increase the supply of affordable housing."
Killmer noted MBA has long-advocated in favor of policies that both ensure a healthy real estate market and provide consumers with sustainable housing choices. During MBA's National Advocacy Conference in April, attendees suggested to their elected representatives that all FHA-financed projects for new construction or substantial rehabilitation of multifamily and residential healthcare properties be assigned only "residential" wage rates for Davis-Bacon purposes, consistent with the inherently residential character of the projects and the housing mission of FHA and HUD.
In addition, in response to MBA advocacy efforts, the Department of Labor Wage and Hour Division in late 2020 increased the Davis-Bacon threshold from $1 million to $2.5 million for split-wage decisions for FHA-backed multifamily construction projects–the first update in 40 years.