ULI: Zoning for a More Resilient and Sustainable Future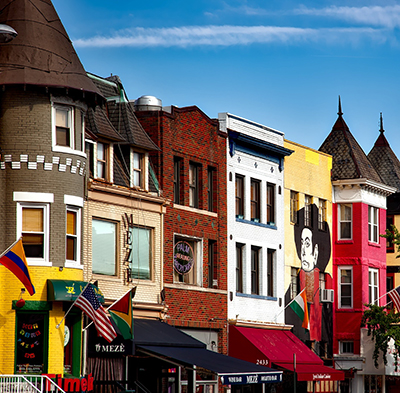 (Washington, D.C.'s Adams Morgan neighborhood)
Updating zoning regulations can increase housing attainability, reduce carbon emissions, promote social equity and improve community health, reported the Urban Land Institute, Washington, D.C.
"When done right, these updates also hold potential to streamline the development process and expand opportunity for small-scale developers," ULI said in Reshaping the City: Zoning for a More Equitable, Resilient and Sustainable Future.
The report said communities across the country are updating their zoning to address many issues American cities face today, including the need to increase the housing supply, incentivize low-carbon development, create more walkable places and prepare for the effects of climate change.
"Three-quarters of the land in major U.S. cities today is zoned exclusively for single-family homes," said Matthew Norris, Senior Director with the ULI Building Healthy Places Initiative. "This contributes to community segregation, exacerbates the housing attainability crisis and deepens our dependency on cars—leading to increased greenhouse gas emissions."
Norris said ULI hopes to help municipalities update their zoning to support equitable development objectives, encourage a variety of housing types "and advance the types of walkable, mixed-use projects the market demands."
The Washington Post reported that suburban Arlington County, Va., changed its zoning this week to end single-family-only zoning. It noted the new policy will make it easier to build townhouses, duplexes and small multifamily buildings in neighborhoods that for decades required one house with a yard on each lot.
"As housing stock locally and nationally has failed to keep up with demand, Arlington becomes the first locality in the D.C. region–and much of the East Coast–to loosen its zoning rules for more 'missing middle' housing, an increasingly popular but often contested idea in urban planning," the Post said.
ULI offered case studies to highlight how cities across the country are using zoning tools already familiar to many that align policies around livability and equity.
"We have the power to choose how our neighborhoods look, and communities across the country are advocating to reform their zoning to allow for more attainable housing and mixed-use development to create more places that people want to live," said Toccarra Nicole Thomas, Director of Land Use and Development at Smart Growth America, Washington, D.C. She noted zoning reform options restore choice to communities and can move beyond the inflexibility that has led to the housing crisis caused by traditional zoning.