Inflation Rate Continues to Slow…Slowly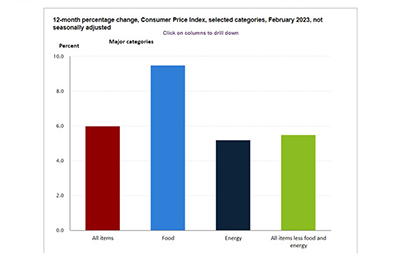 The federal government's key measure of inflation—the monthly Consumer Price Index—continued to slow in February, albeit not by much.
The CPI for All Urban Consumers rose by 0.4 percent in February on a seasonally adjusted basis, after increasing by 0.5 percent in January, the U.S. Bureau of Labor Statistics reported Tuesday. Over the past 12 months, the all-items index increased by 6.0 percent before seasonal adjustment, down from 6.4 percent in January, the smallest 12-month increase since September 2021.
The index for shelter contributed most to the monthly al- items increase, accounting for more than 70 percent of the increase, with the indexes for food, recreation, and household furnishings and operations also contributing. The food index increased by 0.4 percent over the month with the food at home index rising 0.3 percent. The energy index decreased 0.6 percent over the month as the natural gas and fuel oil indexes both declined.

The index for all items less food and energy rose by 0.5 percent in February, after rising by 0.4 percent in January. Shelter, recreation, household furnishings and operations and airline fares led. The index for used cars and trucks and the index for medical care were among those that decreased over the month.
"Consumer price inflation did not show many signs of cooling in the February CPI," said Sarah House, Senior Economist with Wells Fargo Economics, Charlotte, N.C. "There were only a few positive developments in the data. Prices at the grocery store rose just 0.3%, the smallest increase since March 2021. Used auto prices continued to come back down to Earth and fell another 2.8% in the month.
House said core CPI inflation remained "entrenched at uncomfortably high levels," noting the report should do little in dissuading the Federal Open Market Committee to impose another 25 basis-point increase at its policy meeting next week.
"The fallout from the failures of Silicon Valley Bank and Signature Bank raise additional concerns about the economic outlook," House said. "Policymakers have taken meaningful steps to address the financial system challenges, such as the Fed's new bank lending facility and making all depositors whole at the aforementioned two banks. If the medicine proves effective, we suspect the Fed will continue to gradually tighten monetary policy in the months ahead. But, with more than a week to go until the next FOMC meeting, a 25 bps rate hike is still a distinct possibility if financial stresses ease."