Industry Briefs Mar. 30, 2023: Total Expert Updates on Salesforce AppExchange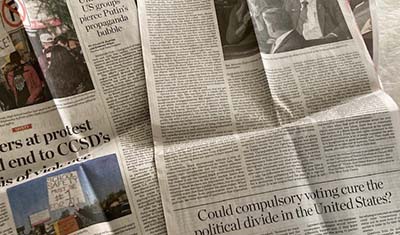 Total Expert Announces Updates on Salesforce AppExchange
Total Expert updated its products on Salesforce AppExchange, providing customers new ways to enhance the ROI of their Salesforce integrations.
By leveraging Total Expert, financial institutions can identify more sales opportunities, extend the personalization and customization of prospecting and marketing activities and act quickly on customer intelligence data to attract more borrowers, close more deals and create more loyal customers.
Salesforce AppExchange empowers companies, developers and entrepreneurs to build, market and grow in new ways. With more than 7,000 listings, 11 million customer installs and 117,000 peer reviews, AppExchange connects customers of all sizes and across industries to ready-to-install or customizable apps and Salesforce-certified consultants to solve business challenge.s
New American Funding Launches Rebrand
New American Funding, Tustin, Calif., debuted a fresh look and modern brand identity. Over the next several months, New American Funding and its family of companies will roll out a full rebrand that unifies the companies under a single brand – NAF. Customers will see the new look on everything NAF does.
Aligning the companies' brand identities represents the unification of the quality, service, and reputation that each of the NAF Family of Companies provides. New American Funding customers will see the new branding across NewAmericanFunding.com, in each of NAF's more than 165 nationwide locations, and with all customer communications.
CFPB Issues Determination that State Disclosure Laws on Business Lending are Consistent with the Truth in Lending Act
The Consumer Financial Protection Bureau determined that state disclosure laws covering lending to businesses in California, New York, Utah, and Virginia are not preempted by the federal Truth in Lending Act.
The CFPB examined the state disclosure laws to determine if they were inconsistent with and preempted by the Truth in Lending Act. After analyzing public comments on its preliminary determination, the CFPB affirms there is no conflict because the state laws extend disclosure protections to businesses and entrepreneurs that seek commercial financing.
In 2022, the CFPB received a request from an industry trade association to determine whether New York's commercial financing disclosure law is preempted by the Truth in Lending Act. After carefully considering the request, the CFPB's preliminary determination was that the New York law is not preempted by the Truth in Lending Act because the New York law regulates commercial financing transactions rather than consumer-purpose transactions. The CFPB requested comment on whether it should finalize its preliminary determination that the New York law – as well as similar laws in California, Utah and Virginia – are not preempted.
National MI Integrates with Blend
National Mortgage Insurance Corp., Emeryville, Calif., is now directly integrated with Blend's Loan Officer Toolkit, which supports loan officers on key workflows across the entire loan process in one workspace. The integration allows lenders using LO Toolkit to obtain accurate mortgage insurance quotes through National MI's Rate GPS tool, giving prospective borrowers the opportunity to view the latest available rates before starting a full application.
Blend's LO Toolkit optimizes loan officer workflow efficiency and mirrors how they interact with their borrowers in one end-to-end platform, including starting applications and locking in rates.
Agile Enables Automated Assignment-of-Trade Transaction
Agile, Philadelphia, facilitated execution of a fully automated Assignment of Trade transaction. AOTs involve three counterparties – mortgage originator, mortgage investor and broker dealer – transferring loan collateral and hedge positions to a mortgage investor.
Agile's new AOT process replaces the manual and legacy work practices used by many broker dealers and mortgage investors. The legacy process includes printing, executing, and faxing tri-party agreements between all parties. Dealer to dealer assignments are also electronically executed on Agile.
WFG Lender Services Launches Rapid Legal and Vesting Service
WFG National Title Insurance Company's Lender Services division, Portland, Ore., expanded its DecisionPoint Instant Title platorm suite to include Rapid Legal & Vesting services. This new offering complements the organization's existing roster of comprehensive national title and closing services offered through the company's Enterprise Solutions group.
The DecisionPoint Rapid Legal and Vesting Service provides home equity lenders with fully automated legal and vesting reports – including a recordable legal description from a property's last full-value transfer and verified vesting information from the most recent deed. Delivered as quickly as 30 minutes from request through the company's proprietary Valutrust platform, WFG's Rapid Legal and Vesting offering is available to lenders of all sizes and features expedited account setup and standardized data delivery, enabling lenders to sign up and obtain needed property-related information quickly and efficiently.
FHFA to Host May 19 Public Hearing on Appraisal Bias
On May 19 from 10:00 a.m.-1:00 p.m. ET, the Federal Housing Finance Agency will host the Appraisal Subcommittee for its second public hearing on appraisal bias. The hearing will be held at FHFA Headquarters located at 400 7th St SW, Washington, DC 20024. It will also be live-streamed for those who cannot attend in person.
Advanced registration is required, and all visitors to the building must present a government-issued identification to gain entry. For more information, click https://www.fhfa.gov/Media/PublicAffairs/Pages/FHFA-to-Host-Public-Hearing-on-Appraisal-Bias.aspx.
HUD Publishes Updated Guidance for Section 8 Project-Based Rental Assistance Contract Renewals
HUD's Office of Multifamily Housing Programs announced updated guidance for owners of properties participating in its Section 8 Project-Based Rental Assistance program. The changes published today in Chapter Nine of HUD's Section 8 Renewal Policy Guidebook are designed to streamline the contract renewal process by making it easier for owners to prepare and submit the Rent Comparability Studies that are used to establish contract rents. The changes also clarify the conditions under which such rents may reflect the value of providing services to residents. HUD last updated the Guidebook in 2017.
The updated Guidebook chapter was developed by HUD following feedback received from program stakeholders on its draft published in April 2022. Chapter Nine of the Guidebook now includes the following key updates:
• Revises options available for owners seeking to renew their contracts without a rent comparability study, when eligible, to reduce administrative and processing costs and time for owners.
• Enhances consistency in valuing non-shelter services to better support properties with services to residents, such as on-site health screening.
• Allows internet and broadband services to be considered an eligible non-shelter service for valuation purposes.
Snapdocs Research Identifies Opportunities for Mortgage Lenders to Increase Per-Loan Profits
Mortgage lenders can save more than $400 per loan by using eClose technology to digitize and automate the mortgage closing process, according to research by Snapdocs, San Francisco. This newly released research validated this savings potential across all digital closing types including hybrid, hybrid with eNote, and full eClose (also known as Remote Online Notarization, or RON).
The Snapdocs research found lenders can experience near-immediate savings of more than $110 per loan with hybrid closings, in which the borrower previews and eSigns the majority of closing documents. When the promissory note is also digitized (hybrid with eNote), average lender savings nearly triples to $290 per loan, Snapdocs reported. By fully digitizing the mortgage closing process with eNote and RON, the study found that lenders can generate savings of $400 per loan or more. These potential savings come at a time when margins remain under pressure, and lenders are prioritizing cost-savings initiatives.
Fannie Mae: Banking System Instability May Prove Catalyst for Recession
Due to stronger-than-expected economic data, Fannie Mae's Economic and Strategic Research Group revised upward its first quarter GDP forecast, and now projects a modest recession to begin in the second half of 2023.
The report noted while uncertainty has risen following turbulence in the banking sector, the ESR Group noted in its latest monthly commentary that bank failures often foreshadow economic downturns. As such, the ESR Group believes that the recent events may act as the catalyst that tips an already precarious economy into recession, primarily via the combination of tighter lending standards among small and midsized regional banks and weakened business and consumer confidence.
"Inflation has now been joined by financial stability concerns as threats to sustained growth," said Doug Duncan, Fannie Mae Senior Vice President and Chief Economist. "These particular pre-recessionary conditions are not unusual, as bank failures often follow monetary tightening – but this may well be the catalyst for the modest recession we've been expecting since April 2022."
NAACP, TransUnion Provide Credit Education for All Stages of Life
The NAACP, Baltimore, and TransUnion, Chicago launched Connecting to Our Financial Future, a credit education website designed to promote financial inclusion among traditionally underserved and underrepresented communities. The announcement comes at a time when more than 45 million consumers in the U.S. are considered to be either credit unserved or underserved, meaning they have little to no credit products.
The website is designed to reach people where they are in their credit journey — whether just getting started, maintaining financial health or advancing toward prosperity. This includes a connection point to The Blueprint by MoCaFiTM from Mobility Capital Finance Inc., a fintech platform for economic empowerment. This free application is designed to provide a complete picture of a person's financial position including assets, liabilities, net worth, and credit profile.
Visit www.naacp.org/credit-101 to access the website.