Industry Briefs Mar. 17, 2023: HUD Overhauls Disaster Recovery Program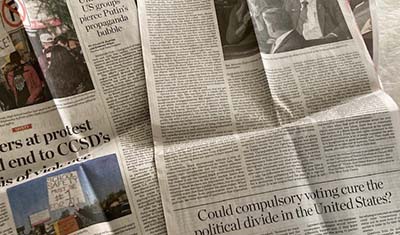 HUD Overhauls Disaster Recovery Program
HUD announced an overhaul of the agency's disaster recovery efforts to better serve communities that face the direct impacts of weather-related disasters.
Based on the increasing number of disasters and the increasingly important role that HUD is playing in federal government's preparedness, response and recovery efforts, the Department established the Office of Disaster Management in the Office of the Deputy Secretary, the Office of Disaster Recovery within the Office of Community Planning and Development, addition of dozens of new HUD staff members to help expedite recovery processes, and allocation of more than $3.3 billion in Community Development Block Grant-Disaster Recovery funds.
HUD said these steps will streamline the agency's disaster recovery and resilience work by increasing coordination, reducing bureaucracy, and increasing capacity to get recovery funding to communities more quickly by facilitating collaborative, transparent disaster recovery planning with communities earlier in the process.
CFPB Heightens Scrutiny of Unlawful Collection of Payments on Discharged Student Loans
The Consumer Financial Protection Bureau released a bulletin warning servicers of their obligation to halt unlawful conduct with respect to private student loans that have been discharged by bankruptcy courts.
The bulletin details recent findings by CFPB examiners that certain loan servicers were illegally returning loans to collections after bankruptcy courts had discharged the loans. The CFPB is directing these servicers to return illegally collected payments to affected consumers and immediately cease these unlawful collection tactics. The bulletin also makes clear that the CFPB will continue to examine student loan servicers' handling of these loans to detect whether these illegal practices persist at other companies.
"When a court orders the discharge of a loan, lenders and servicers should not treat this as a suggestion," said CFPB Director Rohit Chopra. "The CFPB has found that some servicers are ignoring bankruptcy court orders. The student loan servicing industry should ensure that their collection practices are compliant with the law."
AppraisalWorks Partners with Fannie Mae on Property Data Framework
AppraisalWorks, Cleveland, Ohio, announced its platform provides turnkey support for Fannie Mae's Value Acceptance + Property Data framework.
AppraisalWorks delivers desktop appraisal, hybrid appraisal and mobile data collection technology needed to comply with Fannie Mae's Value Acceptance + Property Data guidelines and provides lenders with a cloud platform supporting all industry appraisal modernization initiatives on the market today. The AppraisalWorks platform also provides support for approved Fannie Mae Value Acceptance + Property Data-service providers with proven experience in complying with the Value Acceptance + Property Data framework.
BlackFin Group Launches BlackFin University
BlackFin Group, Englewood, Colo., launched BlackFin University. The consultancy is now offering management and leadership development training programs, workshops, and personal business coaches.
Ranging from Mortgage 101 to Program Management, or Soft Skills development workshops, the menu of development programs and trainings at BlackFin are built based on real world industry scenarios to deliver practical, industry specific, strategies and techniques to solve problems and lead teams.
New American Funding Launches Program to Help First-Time Homebuyers
New American Funding, Tustin, Calif., launched its Pathway to Homeownership initiative, which features several new loan programs that provide deserving borrowers with money that will help them buy a home.
The Pathway to Homeownership offers qualified borrowers in select areas up to $8,000 in assistance. These funds are not a loan that needs to be repaid and are available to first-time homebuyers in designated areas.
Fitch: U.S. Bank Fallout Extends to Various Non-Bank Financial Sectors
Fitch Ratings, New York, said while the recent and sudden deterioration of several U.S. banks has been most impactful to the depositors, shareholders and lenders to these institutions, non-bank financial institutions, insurance companies and funds have experienced a variety of knock-on effects that, although not yet material from a rating perspective, serve to underscore the risk of financial system interconnectedness.
Fitch also notes a number of broader second-order effects on the financial system as a whole related to asset price volatility, increased market scrutiny of unrealized losses and general market-risk aversion, that could ultimately adversely impact the financial profiles and ratings of non-bank financial institutions, insurance companies and/or funds if sustained and material.
BSI Financial Joins MCT's Co-Issue Marketplace
Mortgage Capital Trading Inc., San Diego, announced BSI Financial Services became the latest investor to join BAMCO, MCT's new marketplace for co-issue loan sales. BAMCO brings co-issue transactions directly into MCT's whole loan trading platform and improves price transparency by connecting unapproved sellers to live executions from potential buyers.
Co-issue loan sales, also known as flow-based mortgage servicing rights (MSR) sales, are a three-way transaction involving the sale of loans to one of the agencies with a simultaneous sale of the MSR to a separate third party, such as BSI Financial. BAMCO supports live, flow-based, loan-level MSR pricing, expanding execution options for sellers while creating new client acquisition opportunities for buyers. While co-issue executions via agency integrations have always been and will continue to be included in lenders' loan sale best execution analysis, BAMCO provides a new section featuring direct co-issue pricing for both approved and unapproved buyers. Co-issue buyers have the choice to deliver standard grid-based co-issue pricing or loan-level bid tape co-issue pricing.
Guild Mortgage Acquires Cherry Creek Mortgage
Guild Mortgage, San Diego, acquired Cherry Creek Mortgage LLC, a privately held Colorado-based lender with physical branches across the country whose business and customer-centric approach closely aligns with Guild's.
Cherry Creek Mortgage was co-founded by Jeff May in Greenwood Village, Colorado in 1987. It now has 68 branches in 45 states and will become its own division of Guild, headed by May.
JMP Securities is the investment bank representing Cherry Creek in this transaction and the terms of the acquisition were not disclosed.
Fitch: HFA Loan Performance Compares Favorably to RMBS Loans
Fitch Ratings, New York, said loans originated by state housing finance agencies show strong performance, with generally lower delinquencies than securitized loans with similar credit characteristics in residential mortgage-backed securities pools, due in part to HFAs' pre-mortgage engagement with potential borrowers and continued engagement after the mortgage is closed.
As of June 30, 2022 (the most recent data), the average 60+ day delinquency rate for HFA loans was higher than that of prime loans but lower than average delinquency rates for RPL and alt-A loans, which have similar FICO scores, and for subprime loans.
Qualia Launches Atlas for Connected Real Estate Transactions
Qualia, San Francisco, launched Qualia Atlas, which combines title and escrow production and vendor management along with client and homebuyer connectivity. It is built with newly developed advanced configurability and automations to manage the unique complexity of national enterprise operations.
In addition, Atlas provides companies with a standardized integration layer to manage across all transaction parties, eliminating the need for rigid custom-built integrations. This integration layer enables title companies to partner with their lenders, real estate agents, vendors, consumers, and underwriters. These integrations automate title & escrow companies' workflows and the dependent workflows for their transaction partners.